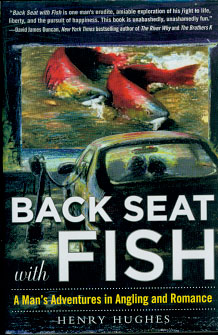 Back Seat with Fish:  A Man's Adventures in Angling and Romance by Henry Hughes.  Skyhorse Publishing, New York.  ISBN 9781510703636
.
Amazon.com: More Information or Purchase
First off, a warning which, undoubtedly will make the book more appealing—or less—depending upon your perspective.  In movie lingo, Back Seat with Fish would be rated "R" (can contain scenes including strong language, violence, nudity, sex and drugs).  Indeed, there is some drug use, plenty of drinking, occasional nudity, and a fair amount of sex.  Did I say drinking?  Yes, lots of that.
And did I say sex?  Oh yes.  Plentiful sex, but before you get the wrong idea, the book's steamy scenes are portrayed in a tactful and ginger manner.  Well, mostly ginger.
Strong language?  Very little of that. 
Violence?  None.  Oh wait.  There is some killing of fish.  Afterwards, however, the fish is prepared with great relish and cooked (or sometimes not cooked!) for a meal that Hughes describes in exquisite, mouthwatering detail.  

The writing?  Holy cow.  Can Henry Hughes write!  Among our "Best of the Year" choices, Back Seat with Fish is among the most literate.  Hughes draws from a foundation in poetry (he has published several collections of poems) which freshens the book with inviting imagery and provides it with an underlying momentum that allows it to flow easily along. 
In a nutshell, Backseat with Fish is a memoir which begins with Hughes earliest interest in fishing as a child.  He grew up on Long Island, the son of a plainspoken and hard working, blue-collar Met's fan.  His father really wasn't much of a fisherman, but he does help his son get started and even brings home a cast-off boat that they restore together.  Fishing quickly becomes Hughes passion, and in time, it leads him far and wide. 

His first experiences in that wider—and wilder—world are when he goes off to college in South Dakota.  Like many young people indulging in that first taste of freedom, his undergraduate years were a raucous time:  drinking, fishing, hook-ups, carousing, one-night stands followed by blurry mornings and blurry mornings followed by fishing. 
His father likely has an idea of what might be going on in South Dakota.  At one point in the narrative, Hughes tells his father about a fellow student that had been killed drinking and driving.  His father responds simply by saying: "You better think about that."  Those few words say so much about the reserved, but wise, influence that he had in his son's life.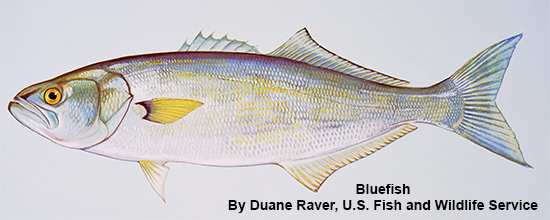 This is a fishing book.  There's no doubt about that, and if you like fishing you'll find plenty there to keep the pages turning.  During his days in South Dakota, he describes fishing for walleye and paddlefish.  All the precise detail is there:  the place (in South Dakota, it's the Missouri River), the bait used and how it's placed on the hook, the weight of the line and its depth, and the action of the rod.  And then the fun part: the setting of the hook, the thrill of the fight, and finally the beauty of fish rising from the water. 
He does the same with fishing for flounder, snapper, mackerel, bluefish and porgies in the Long Island area.  When he moves to Indiana for graduate work, he is on the hunt for bass and catfish.  And then we're whisked off with him to Japan, Alaska, Thailand and China, and he's casting about for an even wider selection of species.

Fish are caught, and so are women (or they catch him).  And—you probably knew that I was going slip this in somehow—they sometimes end up in his backseat. 
But none of these encounters turn out to be more than passing whimsies.  It's all pretty much catch and release, and you start wondering if Hughes has been angling for fish and love in all the wrong places—or has he been doing it on purpose? 
Is commitment to Hughes just tossing cast after cast, hoping that a passing beauty might latch onto his line—or is it something more?  Only one way to find out.  Pick up a copy of this fine book and discover for yourself.
________
Amazon.com: More Information or Purchase
[End of Review]
---