Best Books of 2007
By Ron Watters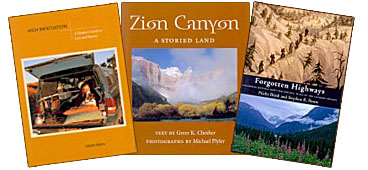 Best Books of 2007
Winners of the National Outdoor Book Awards and the following . . .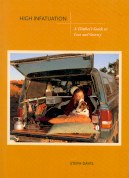 High Infatuation:  A Climber's Guide to Love and Gravity.  By Steph Davis.  The Mountaineers Books, Seattle  ISBN 9781594850653
Steph Davis is one of the finest female climbers in the world -- and she's also on her way to becoming one of climbing's finest writers. 
Things could have been a lot different for Davis.  She could have been a concert pianist, but life is funny that way.  You try something new, ambling tentatively in one direction, and suddenly you veer off another way and find yourself whisked off to the lonely, vertical heights of Patagonia, Baffin, Kyrgyzstan, Pakistan and, not-so-lonely, Yosemite. 
In a series of short narratives, Davis not only tells of these climbing adventures but also of the challenge of balancing relationships with a vagabond life on the road. 
By far her best piece comes early in the book about a trip to Fremont Canyon in Wyoming.  It certainly numbers among some of the best climbing writing ever:  a chilling and haunting piece that places her creative talents on full display.  And while the rest of the book doesn't quite rise to the high standards she sets early on, it's still quite good, far more creative than most.  All in all, it's a fine first effort and we look forward to more from Davis:  climbing and writing.
Amazon.com:  More Information or Purchase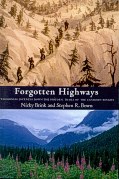 Forgotten Highways:  Wilderness Journeys Down the Historic Trails o fhte Canadian Rockies.  By Nicky Brink and Stephen R. Brown.  Brindle & Glass Publishing.  ISBN 9781897142240
Nicky Brink and Stephen Brown have a great idea:  to travel the historic trails of the Canadian Rockies on foot or ski, and then write about it -- which they do quite well.  They follow the trails of David Thompson, Sir George Simpson, Captain John Palliser and Mary Schaffer, and very effectively weave their stories of personal exploration along with those of historic exploration.  The book is nicely written and well balanced:  interesting and educational, a fine way to familiarize oneself with Canadian pioneering history and wildland geography.
Amazon.com:  More Information or Purchase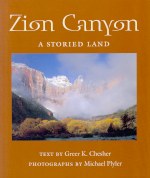 Zion Canyon:  A Storied Land.  By Greer K. Chesher.  Photographs by Michael Plyler. The University of Arizona Press, Tucson.  ISBN 0816524874
This short volume leaves us wanting more from the Greer Chesher's pen, but it's a good sampler with some fine and artistic black and photography to boot.  The book, only 80 pages long, is primarily intended to give readers a feel for this unique national park. 
It's the sort of pictorial book you often find at National Park visitor centers, but this one easily rises above the typical fare.  Chesher and photographer Michael Plyler are from southern Utah.  They haven't been sent out to Zion on a two week research trip by a New York publisher.  Thank goodness.  Rather, it's their backyard, and, thus, the book is not artificially contrived and speaks to the reader with a comfortable intimacy. 
One of the highlights of the book is Chesher's story of a canyoneering trip through the Right Fork of North Creek, a journey which culminates with a scary night following a surprise flash flood.  If you are planning to visit Zion, this is the perfect introduction.
Amazon.com:  More Information or Purchase
Links to the Best Books of Other Years:  See List
---