Best of the Year 2010
By Ron Watters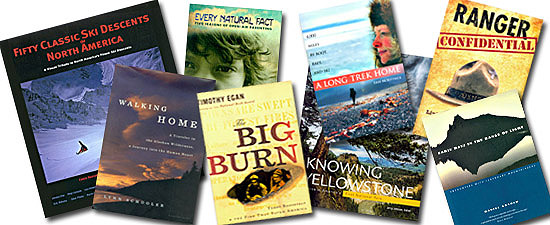 Best Books of 2010 includes:
Winners of the National Outdoor Book Awards
and the following . . .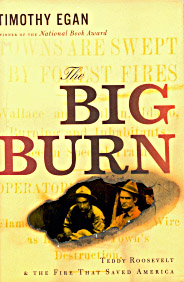 2010 Best of the Year Outdoor Book:
The Big Burn: Teddy Roosevelt and the Fire that Save America. By Timothy Egan. Houghton Mifflin Harcourt, New York. ISBN 9780618968411
The worst forest fire in US history occurred in 1910 in the states of Washington, Idaho and Montana. The Big Burn is the gripping story of that fire. It's also the story of heros and villains. The heros are underpaid and overworked forest rangers trying to stop a force of nature, the likes of which had never been seen before. The villains are corrupt politicians and robber barons using money and influence to dismember the fledgling Forest Service. Caught square in the firestorm are Teddy Roosevelt and his chief forester Gifford Pinchot. Will the big fire destroy the forests, and along with them, Roosevelt's dream of forest preserves and public lands for all Americans? When the final flames are gone, will the Forest Service, the stewards of the National Forests also be extinguished with them? You'll find out in this outstanding and engrossing piece of historical work.
Amazon.com:  More Information or Purchase
2010 Best of the Year Outdoor Book:
Early Days in the Range of Light. By Daniel Arnold. Counterpoint Press, Berkeley, CA ISBN 9781582435190.
Author Dan Arnold could have written an interesting book about the history of mountaineering in the Sierra Nevada Mountains. But Arnold wasn't satisfied with a simple history book. He wanted something more. He wanted to re-live those pioneering days. He accomplished that by putting himself in the boots of the early mountaineers, retracing their paths through the Sierras and repeating their climbs utilizing the same equipment that they used. At times, he leaves pack and sleeping bag behind, and like John Muir travels alone with his gear and food rolled in a sack and slung from his shoulder. It's a wonderful and effective way to approach history: by the doing of it. As a result, Arnold has created an immensely satisfying and illuminating work.
Amazon.com:  More Information or Purchase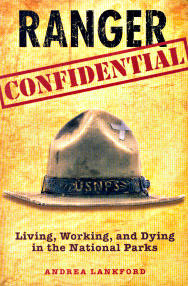 2010 Best of the Year Outdoor Book:
Ranger Confidential: Living, Working and Dying in the National Parks. By Andrea Lankford. Falcon Guides, Guilford, CT. ISBN 9780762752638
You'll love this book! This is the real deal: an honest and true look at what it's like to be a ranger in the National Parks. Author Andrea Lankford has a dream job. She works in some of the nation's most famous parks including Yosemite, the Grand Canyon and Denali. And, even better yet, she gets to wear that cool brown uniform and Smokey the Bear hat. There's nothing fancy or pretentious about this book. It's simply good story telling through and through. She's perfect for the job — just the sort of person that you'd want to have on a camping trip, never taking herself too seriously and willing to roll with the punches. She can be serious, of course, and she slips in a parable or two, but mostly this book is fun to read.
Amazon.com:  More Information or Purchase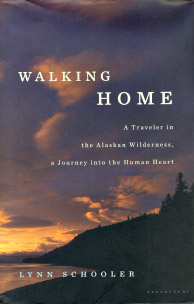 2010 Best of the Year Outdoor Book:
Walking Home: A Traveler in the Alaskan Wilderness. By Lynn Schooler. Bloomsbury, New York. ISBN 9781596916739
Here's an interesting tidbit about the 2010 outdoor book scene. Two books, both high quality works, incorporated the theme of walking home in their titles: Walking Home by Lynn Schooler and Long Trek Home by Erin McKittrick. That may not be particularly unusual, except when you realize that both books are about a walking journey through the same area: the rugged northwest coast along the edge of the Pacific. Erin McKittrick's journey (see review below) was the by far the longest, while Lynn Schooler's walk covered a portion of the coast, albeit a very difficult portion.
Schooler's journey started north of Juneau, Alaska at Lituya Bay and he finished where the Alsek River flows into the ocean at Dry Bay. This is not an easy walk in the park, and he finds himself in some dicey situations, including a close encounter with a grizzly and a dangerous river crossing. What makes Walking Home shine is how he artfully mixes the adventures of the journey along with accounts of explorers, trappers, and the Tlingit Indians. There's a smooth quality to his writing. It moves along, page to page, like a boat slipping across a windless stretch of water. Then there are matters of the heart. Something isn't quite right, the reader realizes early on between Schooler and his wife, an exotic beauty of mixed Filipino and Chinese descent. He's in his fifties and she's much younger. Will the journey help? Will the separation bring them closer together? Or could it be that future of their relationship is a foregone conclusion? His walk home, we find is more of the human kind than of the natural kind.
Amazon.com:  More Information or Purchase
2010 Best of the Year Outdoor Book:
A Long Trek Home. By Erin McKittrick. The Mountaineers Books, Seattle ISBN 9781594850936
This is the story of an epic journey taken by Erin McKittrick and her husband Bretwood Higman. Starting in Seattle and travelling solely by human power, they worked their way north along the trailless, rain-drenched northwest coast, all the way to the Aleutian Islands. They covered an incredible 4,00o miles. If that wasn't enough, during the last few weeks of the journey, Erin was pregnant. The scope of their journey alone would put this book on a must-read list, but it's the writing that makes it a winner. McKittrick tells the story in a distinctly effective way, much different than the typical big trip narrative. She doesn't bog down the story in minutiae, rather providing detail only when needed to move the book along. All in all, this is an exceptionally well-written narrative about one amazing journey.
Amazon.com:  More Information or Purchase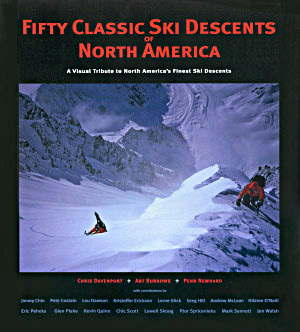 2010 Best of the Year Outdoor Book:
Fifty Classic Ski Descents of North America: A Visual Tribute to North America's Finest Ski Descents. By Chris Davenport, Art Burrows and Penn Newhard. Capitol Peak Publishing, np. ISBN 9780982615430
Fifty Classic Ski Descents is a sumptuous feast for the eyes. It's a large format, coffee table sized book, filled with breathtaking, edge-to-edge photographs. The finest ski descents in the U.S. and Canada are found within its covers: alluring, steep and heart-thumping runs. Supplementary text includes first person accounts by notable skiers and commentary on the past and future of ski mountaineering. If you love mountains and dream of skiing the steep, this is a got-to-have book.
Amazon.com:  More Information or Purchase
2010 Best of the Year Outdoor Book:
Every Natural Act: Five Seasons of Open Air Parenting. By Amy Lou Jenkins. Holy Cow Press, Duluth, MN. ISBN 9780982354513
This is a beautifully written account of a Wisconsin mother (Amy Lou Jenkins) who takes her son on regular nature outings. The narrative takes place over a several year period, in which, as Jenkins describes, she grows into middle age and her son grows into manhood. Adeptly combining observations of the natural world along with the demands of parenthood, Jenkins explores her inner and outer self: her struggles as a woman and a mother, and the challenges of finding a balance in relationships. It's truthful everyday life, enlivened by a connection to the natural world, and told poetically through the pen of a thoughtful woman.
Amazon.com:  More Information or Purchase
2010 Best of the Year Outdoor Book:
Knowing Yellowstone: Science in America's First National Park. Jerry Johnson, ed. Taylor Trade Publishing. Lanham, Maryland. ISBN 9781589795228
Yellowstone National Park is more than a place of wonder. It's also a vast outdoor laboratory where scientists can undertake research of the unspoiled natural world. But how do we learn about this research — and what are scientists finding from their research? Most of us don't subscribe to biological journals, and the only information we glean about natural science research is highly filtered and compressed in a paragraph or two in our local paper or on-line media. Editor Jerry Johnson has set out to change that. He has assembled a representative sample of noteworthy research undertaken in Yellowstone. This is not the filtered version. Rather the book is a series of chapters written by the scientists themselves. Augmented with tables, charts, illustrations and maps, Knowing Yellowstone has been written and edited in a style which is understandable by the layman but retains an authoritative, primary source accuracy. It's all put together in an attractive, colorful and well designed package. Bravo to Johnson and his scientific collaborators for this excellent and highly useful text.
Amazon.com:  More Information or Purchase
Links to the Best Books of Other Years:  See List
---