Best of the Year 2011
By Ron Watters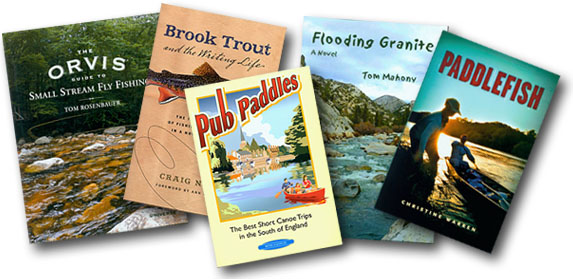 Best of the Year Books of 2011 includes:
Winners of the National Outdoor Book Awards
and the following . . .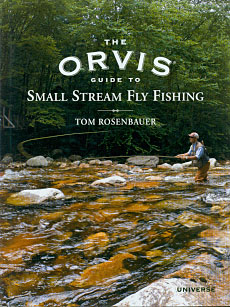 2011 Best of the Year:
The Orvis Guide to Small Stream Fly Fishing. By Tom Rosenbauer. Universe, New York. ISBN 9780789322258
With the publication of this large format, scrumptiously illustrated work, Tom Rosenbauer has added another splendid book to his burgeoning list of titles on fly fishing.  His previous Guide to Fly Fishing has been exceptionally successful among the fishing kindred, and the Orvis Fly-Tying Guide authored by Rosenbauer was a 2001 National Outdoor Book winner.
In this book, Rosenbauer concentrates on small streams - that is streams less than 30 feet across.  Or to put it another way, streams where a single cast can, without much effort, end up snagged in the brush on the other side. 
Why small streams?  James Babb the editor of Gray's Sporting Journal who wrote the introduction to Rosenbauer's book, posits that these are the streams where one can truly learn about fly fishing.  Most importantly, these are the streams on which one can really get away from the crowds and still find solitude.  Babb explains it this way: 
"Fly fishers these days seem mostly inspired by magazine covers featuring buff dudes wearing flashy clothes and brandishing big fish caught from name-brand waters, where their long, carefully schooled casts unfurl like candy canes.  But on a small stream, there's no room for that beautiful school room cast.  And your reward, if you make the cast and don't fall splat into the pool?  A wild trout the length of a dollar bill, most likely.  Try that for a magazine cover."
If you want to get away from streams found on magazine covers - and experience the essence of fly fishing - Rosenbauer's book is a fine and pleasant way to get underway.
Amazon.com:  More Information or Purchase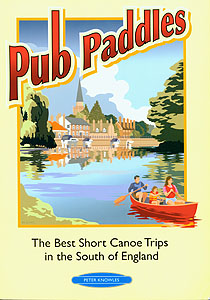 2011 Best of the Year:
Pub Paddles: The Best Short Canoe Trips in the South of England. By Peter Knowles. Rivers Publishing, Keswick, Cumbria, UK. ISBN 9780955061417.
Can there be a better way to explore southern England? Not if you love water and tranquil rivers! With this colorful and superbly done guide, you can enjoy some of England most famous tourist attractions from the seat of a canoe, kayak or rowboat: paddle past royal palaces, castles and country houses; slip quietly under ancient stone bridges; and stop for refreshments at pubs and tea houses along the way. Don't have a canoe? No problem. Author Peter Knowles provides information on where you can rent boats for the trips - some liveries will even deliver and pick up boats for your trip. Whether you live in the UK or you're visiting from elsewhere, this book is just the ticket. Guides don't get any better than this. Well done Peter Knowles!
Amazon.com:  More Information or Purchase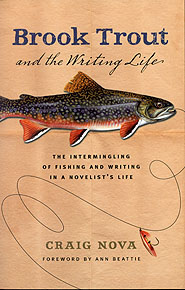 2011 Best of the Year:
Brook Trout and the Writing Life: The Intermingling of Fishing and Writing in a Novelist's Life. By Craig Nova. Eno Publishers, Hillsborough, NC.. ISBN 9780982077146.
Craig Nova is a novelist of note, having written twelve fictional works and one autobiography. This book is a little bit about trout fishing and a lot about his writing life and family. Throughout the book, these three subjects intersect at times, diverge and intersect once again. Nova has a nice way with words: they tumble out over the page, soothingly and revealingly, like water flowing over a stony river bed.
Amazon.com:  More Information or Purchase
Honorable Mention: 2011 Best of the Year
Flooding Granite: A Novel By Tom Mahony.  Casperian Books, Sacramento, CA.  ISBN 9781934081341
This is a fine first novel by an author who has nicely captured the ambiance of a whitewater river trip:  the interactions between guides and members of the party, the challenges of the river, all played out against the backdrop of the natural environment. 
The story centers on Zack Pruitt who is a guide on three-day trip down a Class V river in the Sierras.  In his boat is a family of three:  father, mother and their grown daughter.  The father comes across as a potent and masculine figure who works for a security firm providing protection to select clients.   Victoria, the daughter, is in her twenties and possessing with a rebellious streak, drops hints to Pruitt that she's open for something more than a client-guide relationship. 
Pruitt senses danger in both the father and Victoria, and that's mirrored by the dangers of the river.   The river, however, is getting the best of him.  He keeps making mistakes while maneuvering the boat through rapids, and at one point, dumps the father overboard.  His confidence diminishing, he is haunted by the thought of the last rapids on the river, the most treacherous one.  He needs to pull himself together before they reach it. 
It begins to rain.  The river rises dramatically.  The dangers increase and demons appear.   Pruit is facing his own demons.  When not re-hashing his performance on the river, his mind is occupied by his ex-girlfriend and their young son.  Slowly it is dawning upon him that he has made a mess of things and that he may be slipping beyond the point of saving the relationship and having a chance to be a father to his son. 
Victoria has her demons as well, and one night, roused by them, she slips into Pruitt's tent.   How does Pruitt respond?  Has Victoria been seen entering Pruitt's tent - and, if so, by whom?  What does the father learn?  The tensions between the characters - Victoria, the father and Pruitt - rise as the water rises and floods the granite walls of the canyon.  One last rapids looms . . . .
Amazon.com:  More Information or Purchase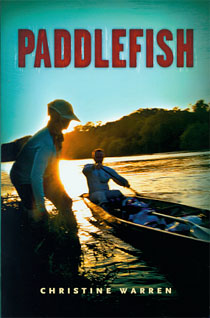 Honorable Mention: 2011 Best of the Year
Paddlefish By Christine Warren.  Departure Publishing, Austin, TX.  ISBN 9780983385721
Christine Warren is a divorced mom, very much devoted to her daughter, and a "girly-girl-tomboy" as she describes herself.  But somewhere along the line, she develops a fascination with the idea of racing in the Texas Water Safari, a grueling 260-mile paddle race down the San Marcos and Guadalupe Rivers.   The term "grueling," however, doesn't quite describe this race.  It's downright brutal: a punishing paddling marathon which pushes contestants to the limits of their endurance.
Paddlefish is the well told story of that race and one woman's quest to survive it .
Warren and her paddling partner Phil Meyer spent 73 hours trying to reach the finish line.   For most contestants, the race turns into a complete blur of endless broiling days, slippery muddy banks, innumerable portages - and in the absence of sleep, hallucinations.   Somehow, Warren manages to re-construct those 73 hours, recalling her own thoughts as the race proceeds, capturing the dialog between Phil and herself, and laying bare the tensions and emotions that invariably crop up when two people are placed under the stress of a race like the Safari. 
Conflicts between the two come up early.   Phil is an experienced paddler.  Warren, although she has trained with Phil, is not so experienced.  He's been in the Safari race on a previous occasion, and he clearly has a competitive bent, occasionally snapping at her blunders.  
"What the . . .  ?"  She thinks to herself after one of his outbursts, "Who is THIS Phil?"  But later she gets even.  Phil, as it turns out, has a bit of a problem with right and left and sometimes confuses the two.  At one point while they approach a bridge, he yells "Draw right! Draw right!"  Warren knows that she should draw left or otherwise they'll end up turning toward a concrete bridge piling.   She draws right as instructed and they end up slamming into the piling.  
They bounce off the concrete.  The boat is unhurt and they continued down the river.  Touché! 
They both know, however, that conflicts left to fester can destroy the partnership and their chances to finish the race.   As the day stretches into night and fatigue sets in, they gradually come to understand one another better and work together as team.  In the dark of night, they navigate the river by headlight.   When the exhaustion becomes too much, they pull off, catching a short hour of sleep and then they are back at it.
On the river, there are rapids to navigate, log jams to avoid, and portages in which they must carry and drag their boat around old dams.   At times, they capsize.  The boat full of sloshing water must be pulled over to the shore, hefted up and emptied before continuing.  Christine has an encounter with poison ivy and the itching drives her nearly mad. 
The last of the race is a 6-mile crossing of the exposed waters of Guadalupe Bay, but as luck would have it, upon reaching it, the winds are howling and the waves splashing over the sides of their boat.   It's at night.  It's pitch black and it's too dangerous to attempt a crossing.  Hope is at low ebb.  Can they finish within the 100 hours cut-off time?  Will she reach the goal she has worked so hard to achieve?  There's only one way to find out.
Amazon.com:  More Information or Purchase
Links to the Best Books of Other Years:  See List
---