Winners of the Outdoor Classic Category
National Outdoor Book Awards (NOBA)
The most important book award program in the outdoor field is the National Outdoor Book Awards. Past winners of the Outdoor Classic Category are listed below:
Classic Category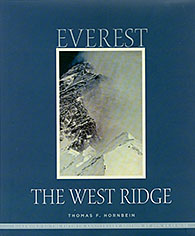 Winner.  Everest: The West Ridge.  By Thomas F. Hornbein.  The Mountaineers Books, Seattle. 
ISBN 9781594857072.
No doubt about this one.  Everest: The West Ridge is a mountaineering classic.  It's the story of the 1963 Everest ascent by a bold and entirely unknown route: the West Ridge.  After an exhausting final push, author Thomas Hornbein and his climbing companion Willie Unsoeld, reach the summit, but it is so late in the day that they find themselves caught out at 28,000 feet.  They have no shelter, food, or oxygen, and are well within what is known as the death zone.  No one knew whether it was even possible to survive a night at that elevation.  Thanks to the Mountaineering Books, The West Ridge has been re-issued in an impressive special 50th anniversary edition.  It's all there: the original text, the photographs, and a special addendum which follows-up on the lives of each of the members of the expedition now fifty years later.
Amazon.com:  More Information or Purchase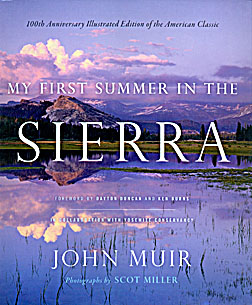 Winner.  The Works of John Muir.  (Including titles such as My First Summer in the Sierra, Stikeen, Steep Trails and others) 
My First Summer in the Sierra:  100th Anniversary Illustrated Edition of the American Classic.  By John Muir.  Photographs by Scot Miller.  Houghton Mifflin Harcourt, Boston.  ISBN 9780618988518
This year, with the submission of My First Summer in the Sierra by Houghton Mifflin Harcourt, the judges decided to take the opportunity to honor the writings of John Muir and the monumental contributions he made toward preserving the American outdoor heritage.  John Muir who died in 1914 published six books during his lifetime.  Additional books and collections of his writings have been published since then.  Muir's prolific pen and his activism helped save such American treasures as Yosemite National Park, and he is truly one of the great wilderness figures of all time.
This new edition of My Summer in the Sierra celebrates the 100th anniversary of the book's first publication.  Beautifully illustrated with photographs by Scot Miller, this is perhaps the best loved of all of Muir's books.  Written in journal style and covering his travels in the high Sierra of 1869, it is a work of personal discovery: discovery of the natural world, of flora and fauna, and of the geological processes which shaped the soaring heights of Yosemite Valley.  But it goes deeper than simple observation.  This is Muir, after all.  His thoughts lead him toward the concept of the interconnectivity among all living things.  In time, this idea will become a part of his litany for the preservation of wild areas.  Muir can hardly contain his excitement, especially when expressing the beauty of nature, and his writing brims with religious intensity.  He is, in fact, a religious figure, an evangelist for the wild outdoors, and because of his writing and his work, we are all the richer for it.
Amazon.com:  More Information or Purchase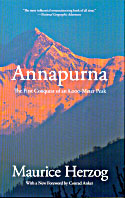 Winner. Annapurna: First Conquest of an 8,000-meter Peak.  By Maurice Herzog.  Lyon Press, Guilford, CT.  ISBN 9781599218939
There is no question that Annapurna is an outdoor classic.  National Geographic calls it the "most influential mountaineering book of all time."  It appears in Sport's Illustrated top 100 sports books, and likewise on Outside Magazine's list of best outdoor books.  Brilliantly told by Maurice Herzog, it is the riveting account of the 1950 ascent the 26,493-foot Himalayan giant.  What made the climb even more challenging was that it was unknown territory.  No one really knew from what side to climb the mountain.  Herzog's team reached the summit, a remarkable achievement in itself, but what happened on the descent is some of the most gripping in all of mountaineering literature.
Amazon.com: More Information or Purchase
Winner.  Kayak: The New Frontier.  By William Nealy.  Menasha Ridge Press, Birmingham.  ISBN 9780897325899
It is unfortunate that William Nealy left us so early.  When he died in 2001, he was still young, at the height of his creative genus, and well established as the outdoor world's most famous cartoonist.  His work was as zany and outrageous as it was smart and insightful.  His best known book is Kayak which sold over 300,000 copies and was translated into five languages.  And now Kayak is back.  Thanks to Menasha Ridge Press, Kayak lives on with the release of a newly updated edition, just in time to entertain a new generation of paddlers.
Amazon.com: More Information or Purchase
---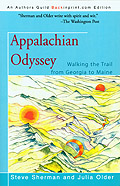 Honorable Mention.  Appalachian Odyssey: Walking the Trail from Georgia to Maine.  By Steve Sherman and Julia Older.  Author's Guild, New York.  ISBN 9781440115301
We'll let the words of the late Edward Abbey speak on behalf of Appalachian Odyssey, first published in the 1970's: "It's a good book" he wrote in the preface.  "In it you'll find everything you ever wanted to know about hiking the Great Hike.  Everything and then some—none of the misery has been left out, none of the tedium, none of the chiggers, snakes, mosquitoes or odd-ball hikers, and none of the glory, exaltation and satisfaction either."
Amazon.com: More Information or Purchase
---
Winner.   Through the Grand Canyon from Wyoming to Mexico.  By Ellsworth L. Kolb.  Grand Canyon Association, Grand Canyon, AZ.  (Originally published by MacMillan in 1914). ISBN  0938216961
During the fall and winter of 1911-12, Ellsworth and Emery Kolb rowed two wooden, flat-bottomed boats on a 1,600 mile journey down the Green and Colorado Rivers.  They re-traced John Wesley Powell's famous journey from Green River, Utah through the Grand Canyon, but they went even farther, eventually arriving at the Gulf of California.  Long out of print, this vivid, historical account is one of the great adventure tales of the American West.  Thanks to the Grand Canyon Association, Through the Grand Canyon is now back in print and available to a new generation of readers.
More Information or Purchase: Amazon.com


---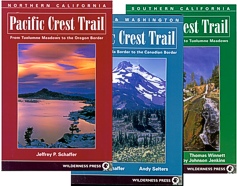 Winner.   The Pacific Crest Trail (Series).  In three volumes: Southern California, Northern California and Oregon &Washington.  Authors include Thomas Winnett, Ben Schifrin, Jeffrey Schaffer, Ruby Johnson Jenkins, and Andy Selters.  Wilderness Press, Berkeley.  ISBN's: 9780899973166, 9780899973173, 9780899973753.
The 2,650 mile Pacific Crest Trail is one of the great hiking trails of the world, passing along the spine of the Sierras of California and the snow-capped Cascades of Oregon and Washington.  A great trail deserves a great guidebook, and the three volumes making up the Pacific Crest Trail series rise to the challenge.  Written by accomplished hikers and regularly updated, accompanied with useable maps, and filled with helpful information on the trails, the Pacific Crest Trail guides have been and remain the best of the best.
Southern California: Amazon.com
Northern California: Amazon.com
Oregon & Washington: Amazon.com
---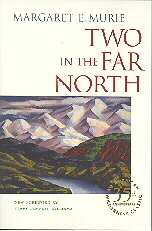 Winner:Two in the Far North By Margaret Murie.  Published by Alaska Northwest Books.
This book, first written in the 1950s and still in print, is authored by the grand dame of the wilderness movement, Margaret Murie.  Margaret has helped generations of men and women understand the need to preserve wild landscapes.  In Two in the Far North, she describes her life in Alaska:  her growing up in Anchorage and her adventurous trips into the Alaska wilderness with her husband and biologist, Olaus.  It is a wonderful read and a true American wilderness classic. 
Amazon.com: More Information or Purchase
---
Winner: Mountaineering: The Freedom of the Hills
Edited by Don Graydon and Kurt Hanson.  Published by The Mountaineers.
Freedom of the Hills is the classic English-language text on mountaineering and the best selling climbing instruction book of all time.  First published in 1960 and now on its sixth edition, this authoritative and expansive book has evolved with the times, while maintaining its high and exacting standards.  It is an essential part of any outdoor library.
Amazon.com:More Information or Purchase
---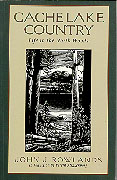 Winner: Cache Lake Country:  Life in the North Woods
By John J. Rowlands with illustrations by Henry B. Kane.  Published by The Countryman Press.
This book, first published in 1947, carries the reader back to an earlier, simpler time in the twentieth century.  It's about John Rowland's life on Cache Lake, a lake located in forests of northern Ontario reached only by canoe.  Rowlands writes of the seasons, the wildlife, and his explorations with nearby northwoods neighbors including a Cree Indian chief and an artist.  The book is interspersed with descriptions and drawings of Rowland's hand-made backwoods inventions and woodcraft projects of all manner and shape.  Full of a down-to-earth eloquence and commonsensical backcountry wisdom, it's a cozy and heartwarming book to curl up with.
Amazon.com:More Information or Purchase
---
Winner: A Sand County Almanac: A Sketches Here and There By Aldo Leopold. Published by Oxford University Press
What can be said of Sand County Almanac?  It is simply one of the great works of nature literature and from it has sprung the environmental movement.  This special edition of Sand County Almanac, published by the original publisher, is a tribute to Leopold, commemorating the one-hundredth anniversary of his birth.  It was over 50 years ago that the book was first published, but his words and insights are as fresh as ever.
Another Review | Amazon.com: More Information or Purchase
---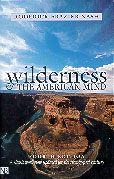 Winner: Wilderness and the American Mind. By Roderick Nash.  Published by Yale University Press, New Haven.
This groundbreaking book, first published in 1967, is Roderick Nash's classic study of American attitudes toward wilderness.  Beginning with the Old World's roots of opinion and reaching through the early twenty-first century, it ties together disparate elements of philosophy, history, politics, and popular attitudes into a concurrent and understandable whole.  Scholarly and perceptive, Wilderness and the American Mind numbers among the great works on the outdoors.
Amazon.com: More Information or Purchase  
---
Honorable Mention.  Backwoods Ethics: A Guide to Low-Impact Camping and Hiking.  By Laura and Guy Waterman.  Published by The Countryman Press, Woodstock. VT.  ISBN 088150257X.
Laura and Guy Waterman weren't the first to write about the impacts of recreation on wild lands, but their book Backwoods Ethics, originally published in 1979, is still with us today, and still remains a thoughtful and sensible call to action.  The book has a significant following, particularly in the east, where many of their original suggestions continue to guide trail building and land management programs.

Amazon.com: More Information or Purchase 
---
Winner. Alone.  By Richard E. Byrd.  Published by Island Press,  Washington, DC.  ISBN 1559634634
Alone is the story of Richard Bryd's six months of isolation in a remote weather station in Antarctica in 1933.   The lack of companionship, coupled with the long, black days of the interminable polar winter, extract a mental and physical toll from Byrd.  Yet there is something else, some other sinister element at the root of the explorer's deteriorating condition.  Almost before it is too late, Byrd discovers that he has been slowly poisoned by a carbon monoxide leak from a defective stove installation.  Reissued by Island Press, this classic story of Arctic adventure is now available to a new generation of readers. 
Amazon.com: More Information or Purchase  
---
Winner.  Walden. By Henry David Thoreau.  Edited by Jeffrey S. Cramer.  Yale University Press, New Haven.  ISBN 0300104669
There is absolutely no question about Henry David Thoreau's Walden.  Walden is a literary and outdoor classic.  Knowingly and unknowingly, many of the reasons that people offer these days why they participate in outdoor activities can be traced to the pages of Walden.  "Simplicity, simplicity, simplicity," wrote Thoreau.  Indeed, in part, we enjoy outdoor activities because they allow us to get away from the rush of modern society and simplify our lives—even if it is just for a few days.  For all its impact on the literary and outdoor worlds, however, Walden is not an easy book to read.  That's why this new annotated version, edited by Thoreau scholar Jeffrey S. Cramer, is so invaluable.  Cramer's explanatory notes accompanying Thoreau's text help readers understand the richness of his writing—and why Walden is truly a great work of art.

Amazon.com: More Information or Purchase
---
Life-time Achievement Recognition.  Farley Mowat for Sea of Slaughter, Never Cry Wolf and other works.  (Sea of Slaughter.  By Farley Mowat.  Stackpole Books, Mechanicsburg, PA.  ISBN 0811731693.)  Note: Never Cry Wolf and other Mowat books are available from a variety of publishers.
This year, with the submission of Sea of Slaughter by Stackpole Books, the judges decided to take the opportunity to honor Farley Mowat for a lifetime of work of writing about the outdoors.  Mowat's most well known, and perhaps most far reaching, book is Never Cry Wolf.  First written in 1964, Never Cry Wolf is often credited with helping change the public's image of wolves as wanton killers.  Now several decades later, the wolf is seen correctly as an integral part of the wild environment, contributing to the balance between prey and predator.
      In Sea of Slaughter, Mowat centers on the marine environment of the North Atlantic coast from Labrador to Cape Cod.  Backed up by extensive research, he documents the years of human exploitation and the resulting decimation of coastal sea life.  At the end of the book, Mowat offers one glimmer of hope.  He sees small signs that we are making progress towards protecting sea life.  "We may succeed," he writes "in making man humane . . . at last.  And then the Sea of Slaughter may again become a Sea of Life."  Let us hope that Mowat's wish may some day come to pass.
Amazon.com: More Information or Purchase
---
Honorable Mention.  Sleeping Island:  A Journey to the Edge of the Barrens.  By P.G. Downes.  Heron Dance Press, New Ferrisburg, VT.  ISBN 1933937033
Sleeping Island is the story of P.G. Downes' 1939 canoe expedition through unmapped country in the remote northern corner of Manitoba and Saskatchewan.  His journey takes him to the edge of the Canadian Barrens, a desolate arctic wasteland known to the Indians as the "Land of Little Sticks."  What helps elevate this book over many of the chronicles of early twentieth century canoe excursions is Downes' intimate knowledge of the trappers, traders, and especially the Indians who live off the land.  This is what it was like on the cusp of change, just before the advance of civilization and titanic forces that would forever transform the face of Canada's north country.
Amazon.com: More Information or Purchase
---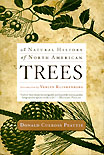 Winner.  A Natural History of North American Trees.  By Donald Culross Peattie.  Houghton Mifflin Company, Boston.  ISBN 9780618799046.
Donald Culross Peattie died in 1964, but he left us with the classical work on trees.  His Natural History is not a field identification guide, but rather it goes far deeper.  Through a lovely and poetic series of essays, Peattie describes the very essence of trees and our relationship with them.  Each chapter covers a different tree, ranging from the sequoias to the pines to the hard woods—his rich descriptions exciting our imagination and reminding us of their utility and beauty.
More Information or Purchase: Amazon.com
End of Listing
---