Winners of the Children'sCategory
National Outdoor Book Awards (NOBA)
The most important book award program in the outdoor field is the National Outdoor Book Awards. Past winners of the Children's Category are listed below: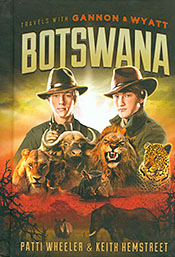 Winner. Travels with Gannon and Wyatt: Botswana.  By Patti Wheeler and Keith Hemstreet.  Greenleaf Book Group Press, Austin, TX. 
ISBN 9781608325856.
This exciting 140-page novel is the first in a series of adventure books for the 9-12 age group.  It is about twin brothers whose parents have jobs which take them to different places in the world.  In this book, the brothers travel to Botswana.  Their story is told, quite cleverly, in journal form: first one brother writing in his diary and then the other brother – a technique that might inspire young readers to keep their own diaries.  While in Botswana, the boys go on a safari.  They see and learn much about African wildlife, and at one point, they come upon a lioness that has been shot by poachers.  The brothers help nurse it back to health and take care of her cubs.  Then the boys' adventure really picks up when they run into the poachers.  Parents will find it just the right combination for growing children with lessons about nature and life in general.
.
Amazon.com:  More Information or Purchase
Honorable Mention.  The Kid's Outdoor Adventure Book: 448 Great Things to Do in Nature Before You Grow Up.  By Stacy Tornio and Ken Keffer.  Illustrations by Rachel Riordan.  Falcon Guides, Guilford, CN.  ISBN 9780762783526.
This is the perfect book to draw children (3-13 years of age) away from computers, electronic games and television.  What is its secret?  Colorful illustrations for one.  A whole book full of fun ideas for another.  And then there are those checkboxes.  Checkboxes?  Indeed!   Kids love them.  They'll be keen to check off the boxes and to run outdoors for the next adventure.   Whether you live in the city or in the country, The Outdoor Adventure Book is chock full of things to try – and children won't even need a computer to try them.
.
Amazon.com:  More Information or Purchase
Winner. For the Birds: The Life of Roger Tory Peterson.  By Peggy Thomas.  Illustrated by Laura Jacques.  Calkins Creek.  ISBN 9781590787649.
For the Birds is a delightful biography for children from 7 to 11 years of age.  Who is it about? 
Why . . . none other than "Professor Nuts Peterson."  Professor Nuts, who might carry a snake in his pocket or a bird's egg in his hat, is the American artist and passionate bird lover who created the Peterson Field Guides.  His guides weren't designed for scientists and specialists.  Rather, they were for everyone, making it easier for adults — and kids of all stripes and ages — to identifying birds, animals and plants.  Author Peggy Thomas quite handedly describes Peterson's life from his childhood, to his success as an illustrator, and to his work as a conservationist. Fitting winningly with the text are bright and cheery illustrations by Laura Jacques.
.
Amazon.com:  More Information or Purchase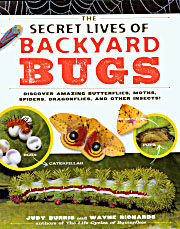 Winner. The Secret Lives of Backyard Bugs.  By Judy Burris and Wayne Richards.  Storey Publishing, North Adams, MA.  ISBN 9781603425636
Judy Burris and brother and photographer Wayne Richards are into bugs.  What sort of bugs?  Let's see.  There are grasshoppers, beetles, butterflies, dragonflies, spiders, crickets and more.  All of these creatures are shown in close-up photographs, each showing different stages of the bug's life cycle.  Clear and understandable explanations accompany each new section.  This is the perfect nature guidebook for children, and it will help lead and instruct them through the fascinating world just outside their doors. Age group:  8 to 13 years. 
Amazon.com:  More Information or Purchase
Winner. To Market, To Market.  By Nikki McClure.  Abrams Books for Young Readers, New York.  ISBN 9780810997387
Nikki McClure is a master of the cut-paper technique and she uses it with unblemished effect in her new book To Market, To Market.  The story that unfolds in the book is about a bustling farmers market.  A young boy and his mother shop for apples and cheese, and salmon and greens.  As they go about the market, the farmers explain how they grow the items they sell—and the skill and work that goes into it.  Finally with their basket full, the boy and his mother return home, and all of the members of the family join in a feast celebrating good, healthy food and the farmers that make it possible.  Age group: 4 to 8 years.
Amazon.com:  More Information or Purchase
Winner. Camping With the President.  By Ginger Wadsworth.  Illustrated by Karen Dugan.  Calkins Creek, Honesdale, PA.  ISBN  9781590784976
Camping with the President is a delightful and historically accurate book for children (ages 8-11).  It's about two icons of the outdoor world:  Theodore Roosevelt, our most outdoorsy president, and John Muir, the world famous naturalist.  In May of 1903, President Roosevelt while on a western excursion made a planned stop at Yosemite National Park.  Dismissing his Secret Service men and sending reporters away, he and John Muir went off on a camping trip.  They spent four days together, chatting about the wonders of the outdoors and discussing the need to protect wild areas.  Author Ginger Wadsworth captures those exciting days together, creating a marvelous portrait of the two men.  That's complimented perfectly with Karen Dugan's colorful and lively illustrations of the two men.
Amazon.com: More Information or Purchase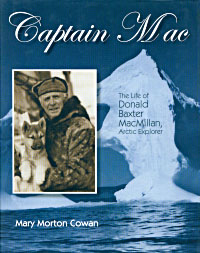 Winner. Captain Mac:  The Life of Donald Baxter MacMillan, Arctic Explorer.  By Mary Morton Cowan. Calkins Creek, Honesdale, PA.  ISBN 9781590787090
Promising explorers (ages 9-12) will be captivated by this 208-page biography.  Moving along briskly, at a pace perfect for young readers, the book is about Donald MacMillan who explored the Arctic for nearly fifty years.  MacMillan, a geologist, got his start in Arctic exploration when he accompanied Robert Peary's famous attempt to reach the North Pole in 1908-09.  Smitten with the icy northern reaches, he continued going on various scientific and exploratory journeys until the 1950's.  Author Mary Morton has done a first-class job with this book, combining solid research and exciting writing and creating a memorable likeness of this pioneering explorer.
Amazon.com: More Information or Purchase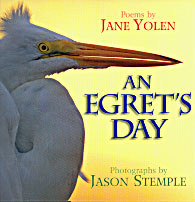 Honorable Mention.  An Egret's Day.  Poems by Jane Yolen.  Photographs by Jason Stemple.  Wordsong, Honesdale, PA  ISBN 9781590786505
Poetry is always a treat for children, and so are beautiful photographs of wildlife—particularly photographs of such a lovely and elegant bird as the egret.  An Egret's Day combines the two into a verse-and-visual delight for youngsters (ages 9-11).  Each page includes a poem, a photograph and a descriptive paragraph about egrets: what they eat, how they fly, how tall they stand, and other tidbits of egret life.
Amazon.com: More Information or Purchase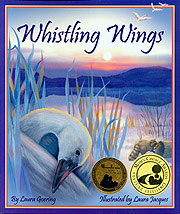 Winner.  Whistling Wings.  By Laura Goering.  Illustrated by Laura Jacques.  Sylvan Dell Publishing, Mt Pleasant, SC.  ISBN 9781934359303
Whistling Wings is an eye-catching book for the 5-9 age group.  Laura Goering's warm and inviting story combined with Laura Jacques luminous illustrations make this a winner for parents and children alike.  It's about Marcel, a tundra swan.  Marcel is flying south and stops at an inviting lake for food and rest.  Still tired, he hides in the rushes as his parents and the other swans take off, leaving him behind.  At first he's fine, but soon the lake begins to freeze and he finds himself in trouble.  Hungry and scared, he falls asleep only to be awakened by a big surprise. 
Amazon.com: More Information or Purchase
---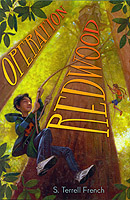 Honorable Mention.  Operation Redwood.  By S. Terrell French. Abrams/Amulet Books, New York.  ISBN 9780810983540
Boys and girls of the pre-teen years will love this fast-paced novel.  Quiet and studious Julian Carter-Li suddenly finds himself caught up in a fight to save some of the oldest trees on earth—and guess who he's up against: his powerful and greedy uncle Sibley and his wicked Aunt Daphne.  Julian comes to the aid of Robin, a girl about his age who lives near the redwoods.  As the story races along, the two discover important values of trust, honesty and commitment to a cause. 
Amazon.com: More Information or Purchase
---
Winner: The Pole.  By Eric Walters.  Puffin Canada/Penguin Group, Toronto.  ISBN 9780143167914.
The Pole is a splendid work of historical fiction oriented to pre and early teens.  It is built around the epic adventure of Robert Peary's 1909 attempt to the reach the North Pole.  Canadian children's author Eric Walters tells the story of a fourteen-year-old boy, Danny, who has obtained a job on Peary's ship as a cook's helper.  Because of his age, Danny expects to remain on the ship while the expedition to the North Pole is underway, but once they reach Greenland, he quickly establishes his worth as a dog musher.  Peary decides to take him along on the journey north, and Danny suddenly finds himself on an adventure of a lifetime.
More Information or Purchase: Amazon.com
---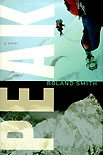 Winner: Peak.  By Roland Smith.  Harcourt, Orlando, FL.  ISBN 9780152024178.
This novel for teens is about a boy who joins his father to climb the highest mountain in the world, Mt. Everest.  If he makes it, he'll be the youngest person to reach the summit.  It's a fast-paced story that ranges from the hustle and bustle of New York to the great, high plateau of Tibet.  Does he make it?  There's only way to find out.
More Information or Purchase: Amazon.com
---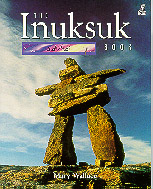 Winner: The Inuksuk Book Text and illustrations by Mary Wallace.  Published by Greey de Pencier Books (Owl Books).
An Inuksuk is a stone structure, a type of road sign, used by the Inuits of the Arctic to communicate important information.  They show the way when travelers are a long way from home, or warn of dangerous places, or point to a place of reverence.  This 64-page book, which will intrigue children of the pre-teen years, consists of a series of short stories about the Inuksuk and its importance in the Inuit culture.
Amazon.com: More Information or Purchase
---
Winner: Blueberry Shoe
By Ann Dixon.  Illustrations by Evon Zerbetz.  Published by Alaska Northwest Books
This sweet and tender tale is about a baby's shoe which is lost while a family is picking blueberries.  A wondrous scene unfolds as a sequence of creatures come along and sleep and play with the shoe.  One, a bear, even thinks he might eat the shoe. Filled with colorful and enchanting illustrations and marvelously written, it's a book that will delight children and reassure their sense of belonging to the natural world.  (For ages 4-10). 
Amazon.com: More Information or Purchase
---
Winner: Jellies: The Life of Jellyfish
Twig C. George.  Published by the Millbrook Press
Beautifully photographed, Jellies is an extraordinary book which manages to make science appeal to the minds and hearts of children.  It's rich in facts about this fascinating creature of the sea, but even richer in imagination and the joy of discovery.  (For ages 8-10)
Amazon.com: More Information or Purchase
---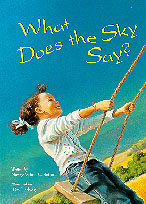 Winner: What Does the Sky Say?   By Nancy White Carlstrom.  Illustrated by Tim Ladwig.  Published by Eerdmans Books for Young Readers, Grand Rapids, Michigan. 
In What Does the Sky Say?, a child watches the sky through the changing of the seasons and in all kinds of weather, all the while learning to listen to the voice of the sky.  The message of Nancy White Carlstrom's imaginative and poetic text is calming and inspiring, and Tim Ladwig's colorful illustrations capture the magic of childhood and our deep connection to all creation.  For all ages.
Amazon.com: More Information or Purchase
---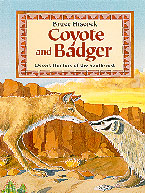 Winner: Coyote and Badger: Desert Hunters of the Southwest. Written and illustrated by Bruce Hiscock.  Published by Boyds Mills Press, Honesdale, Pennsylvania.
This book, for children from 7 to 10 years old, is a natural history story about predators and their struggle to survive.  The tale unfolds when a coyote and badger meet and a mysterious bond forms between the two as they begin hunting together.  Set in New Mexico among Anasazi ruins, the story is perfectly complemented with Bruce Hiscock's warm and luminous watercolors of a spacious desert.
Amazon.com: More Information or Purchase
---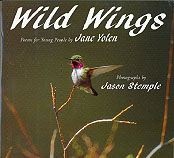 Winner: Wild Wings: Poems for Young People.  By Jane Yolen.  Photographs by Jason Stemple.  Published by Wordsong and Boyds Mills Press, Honesdale, PA.  ISBN 1563979047.
Wild Wings is a beautiful collaborative effort between author Jane Yolen and her son, Jason, the book's photographer.  The images, both visual and verbal, can't help but engage a child's interest and nurture a desire to learn about birds.  For ages:  10-12.

Amazon.com: More Information or Purchase
---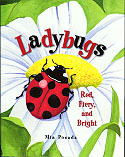 Honorable Mention.  Ladybugs: Red, Fiery and Bright.  By Mia Posada.  Published by Carolrhoda Books, Minneapolis. ISBN 0876143346.
Through verse and bright, colorful illustrations, children will delight in the tiny world of ladybugs.  They'll learn something too as they watch them grow from small larvae with long, skinny legs into a bright and beautiful red beetles with shiny black spots.  For ages:  3-8.
Amazon.com: More Information or Purchase
---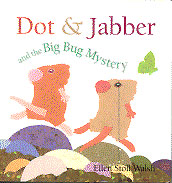 Winner. Dot and Jabber and the Big Bug Mystery.  By Ellen Stoll Walsh.  Published by Hartcourt, Inc., New York.  ISBN 0152165185
Dot and Jabber are mice—mighty dapper looking mice, we might add—and they have an interesting vocation.  They are detectives.  Their job in the Big Bug Mystery is to find out what happened to all the bugs in the meadow that have suddenly disappeared.  There's no mystery, however, about this sweetly written and illustrated book.  It's a winner and will excite the imaginations of pre-school and kindergarten aged children. 
Amazon.com: More Information or Purchase 
---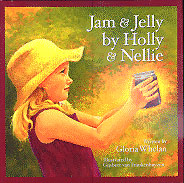 Winner: Jam & Jelly by Holly & Nellie.  By Gloria Whelan.  Illustrated by Gijsbert van Frankenhuyzen.  Published by Sleeping Bear Press, Chelsea, MI. ISBN 1585361097
This story is about a young girl, Holly, whose family lives in the country in the upper Midwest.   It is a particularly difficult time for the family and there's little money available to purchase Holly a coat for the winter.  Then Nellie, Holly's mother comes up with an idea:  they'll pick berries and sell jam and jelly. What makes this book work so well is the harmony between Gloria Whelan's realistic and nuanced prose and Frankenhuysen's bright and animated character studies.  For  ages 4-10. 
Amazon.com: More Information or Purchase
---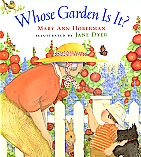 Winner.  Whose Garden Is It?  By Mary Ann Hoberman.  Illustrated by Jane Dyer.  Harcourt, New York.  ISBN 0152026312
Who owns that beautiful garden blooming with every color of the rainbow?  The gardener says it belongs to him.  But the woodchuck insists it's his.  And so does the rabbit, the butterfly, and the little squash bug.  This lovingly done book does what all good children's books should do:  it stimulates thought, and through words and illustrations, it asks youngsters to reach their own conclusion to that pressing question, Who really owns that garden?   (For ages 3-7.) 
Amazon.com: More Information or Purchase
---
Winner. The Little Green Island With a Little Red House:  A Book of Colors and Critters.  By Sharon Lovejoy.  Down East Books, Rockport, ME.  ISBN 0892726733
"On a little green island, stands a little red house, with a little orange cat, a little gray mouse . . . ."  So begins, Sharon Lovejoy's gem of a children's book about colors and critters.  Written for young children, ages three and older, Lovejoy uses tender rhyme, playful fonts, and wondrous illustrations to introduce a bestiary of creatures inhabiting homes, yards, fields and woods.  It's certain to excite and delight all young budding naturalists.
Amazon.com: More Information or Purchase
---
Honorable Mention.  The Leaf Man.  By Lois Ehlert.  Harcourt, New York.  ISBN 0152053042
In this warm and radiant book full of fall colors, we follow the travels of Leaf Man -- who, incidentally, just happens to reside in a nearby pile of leaves.  He goes tumbling away, past pumpkins and winter squash and lakes and rivers.  Children will love to follow along on the journey and point out all the colorful leaves they see on the way.  For ages 4 to 8.
Amazon.com: More Information or Purchase
---
Winner.  Kelly of Hazel Ridge.  Text by Robbyn Smith van Frankenhuysen.  Illustrations by Gijsbert van Frankenhuysen.  Sleeping Bear Press, Chelsea, MI  ISBN #1585362689
Kelly is in trouble.  Her fourth grade teacher has asked her to write about something that's been important in her life.  But she can't think of a thing until her father tells her to take a walk around their small farm.  As she walks, she sees all the wild animals that share the farm, and she remembers helping her parents dig ponds, create wetland areas, and, oh yeah, plant a gazillion little trees!  This book is a pure delight with a suffused gentle innocence, heartfelt text, and warm, luminous illustrations, all of which will surely excite young minds and imaginations.  Ages 4-10.
Amazon.com: More Information or Purchase
---
Winner.  Gaia Girls Enter the Earth.  By Lee Welles.  Daisyworld Press, Corning, NY.  ISBN 1933609001
In this 320-page novel, a young girl takes on a corporation that threatens to pollute the air and water of her upstate New York home.  She is helped by a fantasy creature by the name of Gaia who she learns is the embodiment of the earth and of all living things.  But can she, only a fourth grader (but soon to be a fifth grader!), stop a big corporation?  Find out in Lee Welles' page-turner for young girls.  Ages 9 to 14.
Amazon.com: More Information or Purchase
End of Listing
---