Winners of the Design and Artistic Merit Category
National Outdoor Book Awards (NOBA)
The most important book award program in the outdoor field is the National Outdoor Book Awards. Past winners of the Design Category are listed below: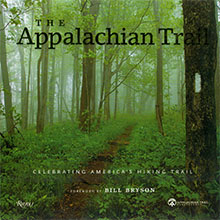 Winner. The Appalachian Trail: Celebrating America's Hiking Trail.  By Brian B. King.  Rizzoli International Publications in combination with Appalachian Trail Conservancy, New York.  ISBN 9780847839032.
The Appalachian Trail is one of the finest achievements in our nation's outdoor history – and this new lavish book is the perfect testament to that achievement.  It also celebrates an important milestone:  a birthday!  The trail is now a healthy 75 years old.  Done in large format, coffee table style, it consists of a series of essays and is packed full of inspiring photography - contemporary and historical.  The finishing touch to this already outstanding volume is tucked inside the back cover:  a fold-out map of the entire Appalachian Trail.
.
Amazon.com:  More Information or Purchase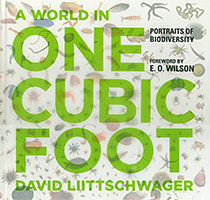 Winner.  A World in One Cubic Foot: Portraits of Biodiversity.  Text and Photography by David Liittschwager.  The University of Chicago Press, Chicago.  ISBN 9780226481234.
Open this book and you'll suddenly find yourself in an art gallery surrounded by spectacular portraits of nature's denizens.  The artist is master nature photographer David Liittschwager and his subjects are plants, animals and insects gathered from different ecosystems throughout the world.  But there is something special about these photographs.  They all come from a limited space, the size of one cubic foot – a space, through Liittschwager's artistry, is revealed in a richness of life never before seen.
.
Amazon.com:  More Information or Purchase
Winner. Design and Artistic Merit.  Winner.  Beneath Cold Seas: The Underwater Wilderness of the Pacific Northwest.  By David Hall.  University of Washington Press and Greystone Books.  ISBN 978022295991160.
This book is a work of art from every possible angle — from the exquisite photographs, to the book's design, to its flawless printing and production process.  There's no other way to describe it:  David Hall has created a masterpiece.  It's not something that came easy.  His underwater photographic technique had been painstakingly developed and refined over years of work.  And what a difficult environment in which to work:  diving in bitter cold waters, working in a neutrally buoyant state without a tripod, not having the ability to use telephoto lenses (because of the turbidity of the water), and dealing with a limited amount of time (due to air and nitrogen concerns).  Hall has everything right in this book.  There is nothing extraneous, and nothing missing.  This is a complete and moving immersion in the breathtaking underwater world of the Pacific Northwest.
.
Amazon.com:  More Information or Purchase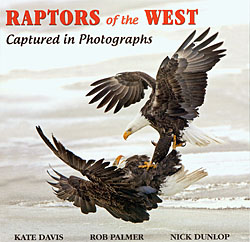 Winner.  Raptors of the West Captured in Photographs.  By Kate Davis, Rob Palmer and Nick Dunlop.  Mountain Press Publishing, Missoula, MT  ISBN 9780878425754
This is a book of action photography and it will rock your socks!  The cover draws you in immediately:  two bald eagles, talons spread and about to lock, one above and one below upside down, yellow eyes glaring:  the tumbling, breathtaking violence of a fight over food captured in a timeless manner.  Raptors is a type of book that you can read in parts when time permits.  By design, there's no overarching text, rather each of the photos have instructive captions which explain the behavior pictured.  Quite simply, it's among some of the best action bird photography ever published.
Amazon.com:  More Information or Purchase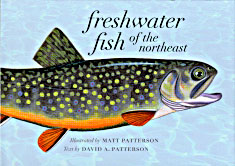 Winner. Freshwater Fish of the Northeast.  Illustrated by Matt Patterson.  Text by David A. Patterson.  University Press of New England, Hanover, NH.  ISBN  9781584658191
This lovely identification guide to 60 freshwater fish in New England is the result of collaborative work between a father (the author) and his son (the illustrator).  What a job Matt Patterson did with the illustrations.  He knows his fish and he knows his art.  The illustrations are absolutely splendid:  accurately rendered and artistically striking.  Moreover, the book's designer created a handsome blend of art and text, and in places, even creates the appearance of fish migrating through the book.  If you're a serious fisher in the Northeast, or if serious anglers come to visit, this is a book you'll want lying on the coffee table.
Amazon.com: More Information or Purchase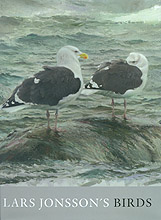 Winner.  Lars Jonsson's Birds.  Illustrations by Lars Jonsson.  Princeton University Press, Princeton.  ISBN 9780691141510
Avian lovers have always known that paintings bring out the true beauty of birds.  One of the masters of this specialized art form is Lars Jonsson who lives on the island of Gotland in the Baltic Sea and is well known for his illustrated field guides to European birds.  In this book Jonsson's prowess as a wildlife artist is in full display in the form of sketches, watercolors, oil paintings and lithographs.  Explanatory text and commentary by Jonsson accompanies his captivating art.
Amazon.com: More Information or Purchase
---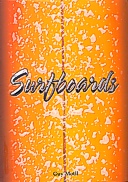 Winner. Surfboards by Guy Motil.  Falcon Guides, Guilford, CT.  ISBN 9780762746217.
This consummately designed and photographed book is about those sleek and simple contrivances that allow surfers to harness the natural power of an ocean wave.  Much of Guy Motil's life has been entwined with the sport, and the text clearly bears out his intimate understanding of boards and their myriad permutations.  Whether you're a surfing dabbler or a serious devotee, it won't disappoint.  One look at this sumptuous book and you'll agree.  It's a must-have.
More Information or Purchase: Amazon.com
---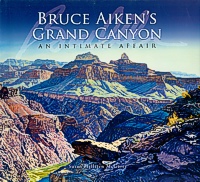 Winner. Bruce Aiken's Grand Canyon:  An Intimate Affair.  Paintings by Bruce Aiken.  Text by Susan Hallsten McGarry.  Grand Canyon Association, Grand Canyon, AZ.  ISBN 9780938216933
For thirty years Bruce Aiken lived in a remote side canyon of the Grand Canyon.  There he tended to the National Park's water supply.  And there he perfected his art.  This long awaited book showcases some of Aiken's most stunning pieces portraying the canyon in his own unique style of vivid colors and intimate details.  The accompanying text written by Susan Hallsten McGarry very nicely complements Aiken's work by providing perspective on his art and biographical information on his life.  
More Information or Purchase: Amazon.com
---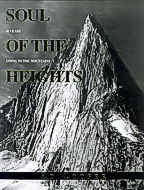 Honorable Mention.  Soul of the Heights: 50 Years Going to the Mountains.  Photographs and text by Ed Cooper.  Falcon Guides, Guilford, CT.  ISBN 9780762745272
Ed Cooper was a pioneer climber in 1950s and 60s, making many important first ascents in Canada, the North Cascades and Yosemite.  In addition to his climbing experience, he is also an outstanding photographer, having published his work in a wide variety of magazines and books.  In this moving and graphically striking book, Ed Cooper uses story and photographs to take the reader on a personal 50-year journey of his love affair with mountains. 
More Information or Purchase: Amazon.com
---
Winner.   Yosemite in the Sixties.  Photographs by Glen Denny.  Essays by Kevin Starr, Steve Roper and Glen Denny.  Patagonia and T. Adler Books, Santa Barbara, CA.  ISBN 0979064909.
This is Yosmite in the golden age: the big walls, the climbing action, the quiet times, the high times, the whole gamut of life and rock.  Glen Denny, no slouch as a climber himself, was the era's premier photographer.  The book's crisp and clear, black and white reproductions are perfectly complemented by insightful essays by Denny, Steve Roper and Kevin Starr.  Yosemite in the 1960s ushered in a period of fast-paced growth, advancing technique, and a lifestyle of total commitment.  Thankfully Glen Denny was there to capture it.
More Information or Purchase: Amazon.com
---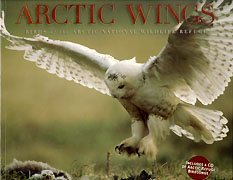 Winner.    Arctic Wings:  Birds of the Artic National Wildlife Refuge.  Edited by Stephen Brown.  The Mountaineers Books, Seattle.  ISBN 0898869765.
Arctic Wings establishes a new benchmark in the art and literature of the Arctic National Wildlife Refuge.  This is not only a book of exceptional photography, but it also includes solid and factual information, along with a series of essays by noted biologists and conservationists.  Topping off this stylish, impressively designed book is an included CD of the birdsongs of the refuge.
More Information or Purchase: Amazon.com
---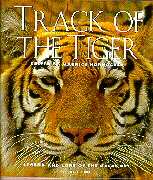 Winner: Track of the Tiger
Edited by Maurice Hornocker. Andy Lewis, Art Director. Tom Lewis, Design Director.  Produced by Tehabi Books and published by Sierra Club Books. 
Track of the Tiger is a compelling and masterfully designed book with rich, stunning photography by some of the world's best nature photographers.  Nine essays, edited by eminent biologist, Maurice Hornocker, bring alive this magnificent and legendary animal, the largest of the world's cats.
Amazon.com: More Information or Purchase
---
Honorable Mention:  100 Classic Hikes in Washington
By Ira Spring and Harvey Manning.  Jennifer Shontz, Graphic Coordinator.  Marge Mueller, Cartography.  Published by The Mountaineers. 
Conservationists and venerable Pacific Northwest guidebook writers, Ira Spring and Harvey Manning describe 100 of the best hikes in Washington.  This is a beautifully arranged book, with exquisite color photography and a new and promising type of map graphic giving readers a visual representation of trail lay-out.
Amazon.com: More Information or Purchase
---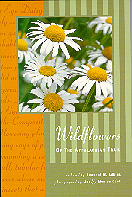 Winner: Wildflowers of the Appalachian Trail.
By Leonard Adkins.  Photographs by Joe and Monica Cook.  Grant M. Tatum, Creative Director. Published by Menasha Ridge Press.
From a practical standpoint, this book is a field identification guide of the flora of the 2,100-mile Appalachian trail--and an excellent one at that.  But it is much more than a guidebook.  It is a work of art and a feast for the eyes.  Wildflowers of the Appalachian Trail is designed with grace and elegance and filled with exquisite, full-page color photographs.  It is rare to find a guidebook where every photograph is perfect, but this is one.  If you're hiking or traveling in the Appalachian country, this is one book that you don't want to be without.
Amazon.com: More Information or Purchase
---
Honorable Mention:  Spotted Bear: A Rocky Mountain Folktale By Hanneke Ippisch. Illustrated by Hedvig Rappe-Flowers.  Designed by Kim Ericsson. Kathleen Ort, Editor-in-Chief.  Published by Mountain Press Publishing. 
This enchanting children's book is the story of how bears, some bears, at least, get their spots.  It is a wonderfully designed book and beautifully illustrated with Hedvig Rappe-Flowers' rich and colorful paintings.  For young children--and adults too--it is certain to provoke wonder and excitement. 
Amazon.com: More Information or Purchase
---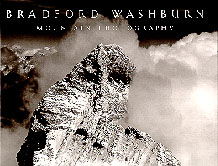 Winner: Bradford Washburn: Mountain Photography
Photography by Bradford Washburn.  Edited and Compiled by Antony Decaneas.  Published by the Mountaineers
Traveling the world for eight decades, mountaineer, explorer, scientist and cartographer Bradford Washburn has documented the world's landscapes like no other. This is his life's work as seen through his own camera: one hundred large format mountain photographs, all exquisitely reproduced.  The book includes a short interview with Washburn, but it is the photos which speak volumes about him and his artistic genius.
Amazon.com: More Information or Purchase
---
Winner: The Living Wild.  Photography by Art Wolfe.  Published by Wildlands Press, Seattle.
This is a book that will take your breath away. The Living Wild is a technical and intellectual marvel, providing a photographic celebration of the diversity of life inhabiting our planet. Celebrated nature photographer Art Wolfe took three years to produce the color photographs of 140 different species from 40 different countries that grace the pages of this large format book.  Wolfe is clearly at the top of his game in The Living Wild, and this book should reinforce his position among the best nature photographers in the field. Using a highly effective combination of lens size and perspective, he almost brings the viewer into the photograph, blurring the boundaries of real and artificial.  It's a sight to behold.
Amazon.com: More Information or Purchase\
---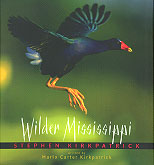 Winner. Wilder Mississippi.  Photographs by Stephen Kirkpatrick.  Text by Marlo Carter Kirkpatrick.  Design by Heidi Flynn Allen.  Published by The Marvelous Works, Madison, MS.  ISBN 0961935359.
No matter where you are—in the city, in an office, or in a bookstore in a busy shopping center—open this book to the first page, you're suddenly someplace else:  to a place of quiet sounds, the flutter of wings, the rustle of a white tail, the drip of morning dew.  This is a book of subtleties, of elegance and of mesmerizing images of Mississippi's natural world.  Stephen Kirkpatrick's brilliant and captivating photography is complemented with an equally captivating design.  So carefully executed are the design elements that even the text of the book's subtitles resembles reeds protruding from the surface of a pond.  It all comes together beautifully and harmoniously, a joyful pictorial hymn, celebrating the wilderness of Mississippi.
Amazon.com: More Information or Purchase
---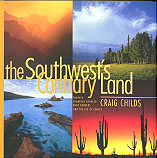 Honorable Mention.  The Southwest's Contrary Land: Forever Changing Between Four Corners and the Sea of Cortes.  By Craig Childs.  Designed by Mary Winkelman Velgos.  Photography Editor: Peter Ensenberger.  Published by Arizona Highways Books.  Phoenix. AZ.  ISBN1893860191.
For many years, Arizona Highways has been publishing colorful, high quality books of the Southwest—and this is one that excels both pictorially and textually.  Craig Childs' sensitive and inspired text is supplemented by intelligent design and magnificent photography.

Amazon.com: More Information or Purchase
---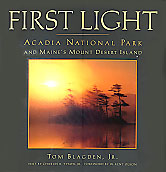 Winner. First Light: Acadia National Park and Maine's Mount Desert Island.  Photography by Tom Blagden, Jr.  Text by Charles R. Tyson, Jr.  Published by Westcliffe Publishers, Englewood, CO. ISBN 1565794729
First Light is one of those rare books that excels in all measures of an artistic achievement.  It's an impressive and fitting tribute to Acadia, the Northeast's only national park.  From Tom Blagden's inspiring and impassioned photography to the book's careful and sensitive design, and to the printer's nearly perfect reproduction, this work sparkles and dazzles. Quite simply, First Light is a tour de force. 
Amazon.com: More Information or Purchase
---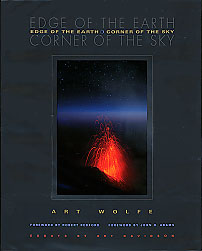 Winner.  Edge of the Earth, Corner of the Sky.  Photography by Art Wolfe.  Essays by Art Davidson.  Wildlands Press, Seattle.  ISBN 0967591821
Nine years in the making and photographed on seven continents, Edge of the Earth showcases an artist at the peak of his powers.  While largely known for his striking wildlife photography, Art Wolfe proves in this volume that he is equally adept at capturing natural landscapes.  Wolfe hopes that his work will motivate others to protect wild lands whose destruction he has witnessed first hand.  Perhaps, that's why the book's images are so haunting:  places of temporal beauty, living on borrowed time in a world ever hungry for land and resources.
 Amazon.com: More Information or Purchase
---
Winner.  The Mountains Know Arizona.  Photographs by Michael Collier.  Text by Rose Houk.  Designed by Mary Winkelman Velgos.  Arizona Highways, Phoenix.  ISBN 1893860876 

This book started with a wish that would have been difficult to achieve under any circumstances:  tell the story of Arizona through the perspective of its mountain ranges.  Arizona, after all, is a desert state.  But photographer Michael Collier and writer Rose Houk did just that.  From seven of Arizona's mountain ranges, we learn something of the state's first inhabitants, its settlers and fortune seekers, its diversity of landforms and ecosystems, and even something of contemporary life.  This is a stylish and satisfying book and a testament to a wish come true.

Amazon.com: More Information or Purchase
---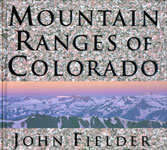 Winner.  Mountain Ranges of Colorado.  Photographed and Written by John Fielder.  Designed by Mark Mulvany.  Westcliffe Publishers, Englewood, CO.  ISBN 1565794966 
This is a magnificent book!  Mountain Ranges of Colorado is a milestone in the art of mountain photography.  It's also a labor of love, the culmination of fifteen years of dedicated photographic exploration throughout the mountains of Colorado.  Everything about this book is impressive from the solid cover which resembles a smooth piece of Rocky Mountain granite, to its cohesive and intelligent design, to John Fielder's masterful photography. 

Amazon.com: More Information or Purchase
---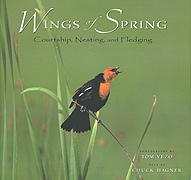 Winner.  Wings of Spring: Courtship, Nesting and Fledging.  Photographs by Tom Vezo.  Text by Chuck Hagner.  Stackpole Books, Mechanicsburg, PA.  ISBN 9780811701419
Wings of Springs represents some of the finest photography of birds ever published:  a Great Egret tossing a stream of brightly lit water droplets, a Wilson's Snipe standing on one leg forlorn in June snowfall, a Western Screech-Owl dangling a lizard from its beak.  One is amazed at the days and countless hours photographer Tom Vezo spent patiently waiting for these moments that he has so elegantly captured.  Complementing Vezo's photography is a comfortable and inviting design, and just the right amount of text to make the book useful as a bird guide as well as work of artistry.
Amazon.com: More Information or Purchase
---
Winner.  100 Caterpillars.  By Jeffrey C. Miller, Daniel H. Janzen and Winifred Hallwachs.  The Belnap Press of Harvard University Press, Cambridge.  ISBN  0674021908
This is an exquisite book portraying the caterpillars of Costa Rica in impressively sharp and brilliant color photographs.  The lay-out and design is flawless.  The accompanying text is complete and satisfying.  The authors clearly want to share their discoveries and wonders of their work with everyone—not just with fellow biologists, but with all who are fascinated with the infinite variety of the natural world—and in that effort, they have succeeded beyond measure.
Amazon.com: More Information or Purchase
End of Listing
---