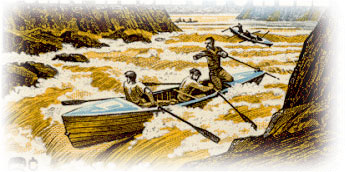 Winners of the History/Biography  Category
National Outdoor Book Awards
The most important book award program in the outdoor field is the National Outdoor Book Awards. Past winners of the History/Biography Category are listed below:
Winner.  The Emerald Mile:  The Epic Story of the Fastest Ride in History Through the Heart of the Grand Canyon.  By Kevin Fedarko.  Scribner, New York.  ISBN 9781439159859.
In late 1983, under the cover of darkness, three river guides slipped a wooden dory into the swollen waters of the Colorado.  The river was in flood, a torrent not seen since the gates had been closed on the Glen Canyon Dam years earlier and located just upstream from their launching point.  What they were doing was illegal.  Yet the risk of arrest was a small matter compared to their goal to run the river faster than any other.  Run-off from an unusual heavy snow year was pouring into the reservoir behind the Glen Canyon dam.  So much water was coming so fast that it threatened the integrity of the dam, and the dam's operators were releasing unheard of amounts of water.  Author Kevin Fedarko focuses on the three guides, but at the same time, he adeptly weaves into his narrative the broader story of the river itself, and the clash of two opposites:  those who love the wild untouched river – and those who desire to use the river for economic benefit.  Like the small wooden boat flung down the river, Emerald Mile is a riveting ride through history, politics and big dreams.
.
Amazon.com:  More Information or Purchase
Winner.  Buried in the Sky: The Extraordinary Story of the Sherpa Climbers on K2's Deadliest Day.  By Peter Zuckerman and Amanda Padoan.  W. W. Norton.  ISBN 9780393079883.
Buried in the Sky is a significant departure for mountaineer literature.  In a reversal of perspective, the book chronicles the story of climbing K2 from the Sherpas' point of view.  What happened on K2 in 2008 shocked the mountaineering world.  Eleven climbers died and three others were seriously injured.  It's through the eyes of Sherpas that Peter Zuckerman and Amanda Padoan tell the story of those fateful hours on the mountain.  Impeccably researched, the two authors travelled to Nepal and Pakistan where they conducted interviews with Sherpa climbers, their families, relatives and friends.  They deal with the worries of Sherpa wives and the yearly tragedies weathered by their close-knit families.  It's a book that finally humanizes the unsung heroes of the mountaineering world and their hopes and dreams for a
better life. 
.
Amazon.com:  More Information or Purchase
Winner.  Anything Worth Doing: A True Story of Adventure, Friendship and Tragedy on the Last of the West's Great Rivers.  By Jo Deurbrouck.  Sundog Book Publishing.  ISBN 9780985257804.
Jo Deurbrouck brings to life the story of two men who launch a small wooden dory in the roiling waters of Idaho's Salmon River.  Their plan was to float all night and all the next day in an attempt to set a 24-hour speed record.  In this highly creative and exceptionally well written account, Deurbrouck traces the lives of these two men: one an aging, bear of a man, a Vietnam era veteran and sometimes recluse river guide whose past includes boxing and ballet dancing;  and the other a fit, young man, a rising star among river runners, full of ideas and ambitions.  They put on the river in peak flood and are flung downstream, maneuvering their small boat through churning rapids, dodging boiling holes, and fending off massive logs caught in the current with them. You'll find yourself glued to the pages as Deurbrouck deftly steers the narrative to a building climax.  This is an impressive piece of work and a welcomed addition to river literature and lore.
.
Amazon.com:  More Information or Purchase
Winner. Take a Seat:  One Man, One Tandem and Twenty Thousand Miles of Possibilities.  By Dominic Gill.  Falcon Guides.  Guilford, CN.  ISBN 9780762770694
Dominic Gill planned to bicycle from Alaska to the southern tip of South America.  Before leaving on the journey, a film producer suggested that he use a tandem bike as a way of spicing things up, making the trip more interesting.  Gill thought the idea ridiculous.  But when Gill wobbled off at the beginning of his journey on a grey, cold day in Prudhoe Bay, Alaska, the shiny new bike he was riding was a tandem.  As the trip progressed, at points here and there, he would invite strangers that he met to join him.  Sure enough, many took him up on it, adding their energy to his.  Some rode with him a few miles, some rode for many days.  In the process strangers became friends.  Take a Seat is Gill's engaging story of his two-year-long journey and the friends that helped him along the way.
Amazon.com:  More Information or Purchase
Honorable Mention.  An Empire of Ice:  Scott, Shackleton, and the Heroic Age of Antarctic Science.  By Edward J. Larson.  Yale University Press.  New Haven.  ISBN 9780300154085
In An Empire of Ice author Edward Larson takes a different tact than most literature of the genre.  He chronicles British expeditions to Antarctica—doing it quite well—but he does it from a scientific perspective.  Scientific discovery was, after all, a main justification for polar exploration and it helped in raising the funding necessary for efforts of the size and magnitude involved.  Consequently, considerable scientific research was undertaken on the expeditions and the body of science benefited.  Larson adeptly describes the research, the obstacles faced by scientists, their failures and achievements, and handily places early twentieth century exploration in a broader, more far-reaching perspective.
Amazon.com:  More Information or Purchase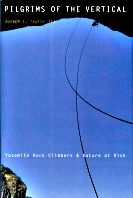 Winner. Pilgrims of the Vertical: Yosemite Rock Climbers & Nature at Risk.  By Joseph E. Taylor III.  Harvard University Press, Cambridge, MA.  ISBN 9780674052871
This is one of those rare works that treats climbing history as a subject of serious study, rather than a narrative or biography.  While clearly academic in nature with 73 pages of endnotes, it is, nevertheless, a fascinating and illuminating read for climbers and non-climbers alike.  Author Joseph Taylor views the history of rock climbing through a social and cultural lens.  In one chapter "The Moralists," Taylor describes the process by which Yosemite climbers—quite surprisingly for a motley and wildly independent lot—create a moral code, a set of environmental ethics by which to climb.  Later in the book we find that key members of the climbing counterculture undergo a metamorphism, and end up embracing mainstream American ideals, going on to successful business and professional careers, and even starting multi-million dollar companies.  There's plenty of fat to chew upon here, plenty of ways of examining the world of climbing in a refreshingly new light.
Amazon.com: More Information or Purchase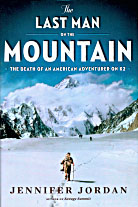 Honorable Mention. The Last Man on the Mountain: The Death of an American Adventurer on K2.  By Jennifer Jordan.  W. W. Norton & Company, New York.  ISBN 9780393077780
In 2002, while exploring the glacier at the base of K2, the world's second highest summit, author Jennifer Jordan and climber Jeff Rhoads came upon a grisly sight: the remains of Dudley Wolfe, an American who disappeared on the mountain in 1939.  Saddened by the sight, but yet curious about Wolfe and his fate, Jordan, a journalist, spends the next several years investigating the story.  For Jordan, it becomes an all-consuming endeavor reconstructing the personalities and events which led to Wolfe's disappearance.  What she uncovers is a story of wealth, ambition, and betrayal.
Amazon.com: More Information or Purchase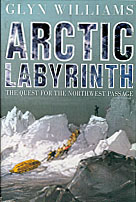 Honorable Mention.  Arctic Labyrinth:  The Quest for the Northwest Passage.  By Glyn Williams.  Viking Canada, Toronto.  ISBN 9780670068692
This is a remarkably well told story, written by a remarkably well versed author.  Glyn Williams has been studying and writing about Arctic exploration his entire life, and his vast experience and scholarship comes together splendidly in this book about the Northwest Passage.  Employing fresh and interesting approaches, he keeps the story moving along, nudging it in a slightly different direction than past works by examining the influences exerted on expeditions by supporters and financiers on the home front.  If you read one book on the Northwest Passage, this is the one.
Amazon.com: More Information or Purchase
Winner.  Wilderness Warrior:  Theodore Roosevelt and the Crusade for America.  By Douglas Brinkley.  Harper, New York.  ISBN 9780060565282
Wilderness Warrior is an impeccably researched and thoroughly engrossing work on the one figure in history who set aside more of America's outdoor heritage than any other.  Much has been written about Theodore Roosevelt, but in this ground-breaking, 940-page biography, Douglas Brinkley concentrates on Roosevelt the outdoorsman and conservationist, and in doing so, paints a vibrant portrait, as vibrant as the man himself.  One word describes it all: bully!
Amazon.com: More Information or Purchase
---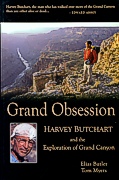 Winner.   Grand Obsession:  Harvey Butchart and the Exploration of the Grand Canyon.  By Elias Butler and Tom Myers.  Puma Press, Flagstaff, AZ.  ISBN 0970097344. 
Harvey Butchart was the legendary hiker and canyoneer who explored more of the Grand Canyon than any other person.  He was largely known through his sparse and somewhat cryptic hiking guidebooks.  But even more cryptic was Butchart himself.  Who was this man, and why did his interest in the canyon become an obsession that consumed his life?  You'll find out in this uncommonly well researched, well-structured and well-written biography.   
More Information or Purchase: Amazon.com
---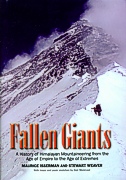 Winner.  Fallen Giants:  A History of Himalayan Mountaineering from the Age of Empire to the Age of Extremes.  By Maurice Isserman and Stewart Weaver.  Yale University Press.  New Haven.  ISBN 9780300115017.

A history tome isn't the type of book that you'd think of reading from cover to cover, but A History of Himalayan Mountaineering is the exception.  Building upon an impressive body of research (notes and biographical entries alone occupy over 100 pages), authors Maurice Isserman and Stewart Weaver effortlessly move the reader from one era to another -- as easily as an accomplished climber might move from one rock pitch to another.  This is an outstanding reference work, and if you enjoy mountaineering literature, it's clearly one for your book shelves.
More Information or Purchase: Amazon.com
---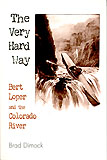 Winner.  The Very Hard Way: Bert Loper and the Colorado River.  By Brad Dimock.  Fretwater Press, Flagstaff, AZ.  ISBN  9781892327697
.
Brad Dimock tackled this book like a tough rapid where success is uncertain.  Not only did he come through intact as an author, but he produced a marvelous work, certainly registering among the most creative of outdoor biographies.  The subject of the book is Bert Loper, a legendary Colorado River boatman who died on the river at 80-years old while oaring his own boat.  Loper, however, wasn't the easiest subject to write about.  He was an ordinary person, not particularly educated, never quite successful at anything, even at building a proper river boat.  Yet Dimock artfully combines his own exhaustive research with interviews, first-person stories, letters, and Loper's own writing to fashion an absorbing portrait of his life.
More Information or Purchase: Amazon.com
---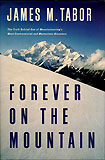 Winner.  Forever on the Mountain: The Truth Behind One of Mountaineering's Most Controversial and Mysterious Disasters.  By James M. Tabor.  W. W. Norton & Company, New York.  ISBN 9780393061741.
In 1967, a storm with winds of unimaginable ferocity caught seven climbers high on the slopes of Alaska's Mt. McKinley.  When a rescue was finally mounted over a week later, all seven were dead.  What actually happened and why so many died in one of North America's worst mountaineering disasters is still debated to this day.  James Tabor's Forever on the Mountain sheds a new light on the tragedy.  In addition to his extensive investigative work, Tabor is an outstanding story teller, and once started, this is a book that is hard to put down.
More Information or Purchase: Amazon.com
---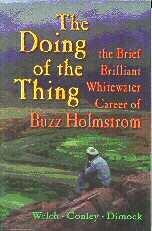 Winner: The Doing of the Thing: The Brief, Brilliant Whitewater Career of Buzz Holmstrom
By Vince Welch, Cort Conley, and Brad Dimock.  Published by Fretwater Press.
In this well-researched and well-written biography, western whitewater pioneer Buzz Holmstrom, famous for his 1937 thousand-mile solo run down the Colorado River, comes to life.  Near its conclusion, the book answers one of the great mysteries of the whitewater world:  how and why did Holmstrom die on the Grand Ronde river in Oregon?  This is a wonderful story about rivers and wooden boats, humility, solitude, and one man's lone struggle in a difficult and changing world.
Amazon.com: More Information or Purchase
---
Winner: One Man's Wilderness:  An Alaskan Odyssey. 
By Sam Keith from the journals of Richard Proenneke.  Published by Alaska Northwest Books.
Lots of books have been published about intrepid souls who head off into the wilderness, build their own cabin, and live a life removed from civilization.  But if you were to pick one which comes closest to truly describing that experience, this is the book.  Richard Proenneke has a refreshingly simple and wonderful outlook on life, and like the warmth from a potbelly wood stove, you can't help but be drawn to him and his engaging story.  You'll be there right alongside him on the shore of Twin Lakes, helping him carve out a masterpiece of a cabin, and then settling in with him for a full and introspective life in the Alaskan bush.
Amazon.com: More Information or Purchase
---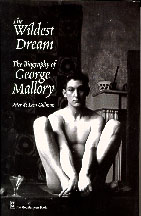 Winner: The Wildest Dream: The Biography of George Mallory  By Peter and Leni Gillman. Published by The Mountaineers
Biographies don't get any better than this.  Supremely well researched and documented, erudite, and masterfully written, this book isn't so much about what happened to Mallory in 1924 when he and his climbing partner Irvine disappeared in the mists of Mt. Everest, but rather it seeks the answer to another, almost more fascinating question:  who was this man Mallory?  This is the book to read to find the answer.
Amazon.com: More Information or Purchase
---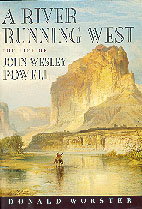 Winner: A River Running West: The Life of John Wesley Powell. By Donald Worster.  Published by Oxford University Press, New York.
For years, people have been waiting for this book: an authoritative study of Powell—the whitewater world's first river runner as well as the West's great voice of reason.  Thanks to Donald Worster, we now have one. A superbly written book supported by exhaustive research, this 673-page book is an expansive view of Powell's life and times—as expansive as the view across the Colorado Plateau.  A River Running West is a memorable portrait of one of the greats of river history.
Amazon.com: More Information or Purchase
---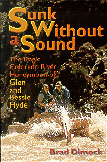 Winner: Sunk Without a Sound: The Tragic Colorado Honeymoon of Glen and Bessie Hyde. By Brad Dimock. Published by Fretwater Press, Flagstaff, Arizona.
The 1920s was the decade of mysteries for the outdoor world.  The mountaineering world had Mallory dissolving into the mists of Everest, while the whitewater world had Bessie and Glen Hyde disappearing in the depths of the Grand Canyon.  This fascinating exploration into what happened to the Hydes is an important contribution to the whitewater genre, and seasoned Colorado River boater, Brad Dimock, was the perfect person to write it.   Few others would have been able to put the right amount of heart and soul into an investigation of the mystery; indeed, Dimock and his wife, Jeri, actually built a replica of the Hydes' wooden scow and ran the river in much the same manner as the young couple would have done in the 1920s.  Enthralling and compelling, this is a book that refuses to be put down. 
Amazon.com: More Information or Purchase
---
Winner. Gifford Pinchot and the Making of Modern Environmentalism.  By Char Miller.  Published by Island Press/Shearwater Books, Washington. ISBN 1559638222.
Gifford Pinchot was the first chief of the Forest Service.  To this day, his influence is still being felt on the policies which guide the management of lands used by hundreds of thousands of Americans for hiking, climbing, biking, fishing and other forms of outdoor adventure.  Yet Pinchot is a controversial figure, the bad guy in a bitter battle with the great conservationist, John Muir.  This eminently readable and erudite biography of Pinchot, the first in over forty years, reveals a much more complicated man, and sheds new light on Pinchot's contributions and place in conservation history.
Amazon.com: More Information or Purchase
---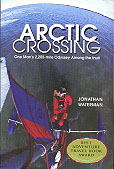 Honorable Mention.  Arctic Crossing: One Man's 2,200 Mile Odyssey Among the Inuit.  By Jonathan Waterman.  Published by the Lyons Press/Globe Pequot, Guilford, CT.  ISBN1585747300.
This is the story of Jonathan Waterman's attempt to cross the Northwest Passage by kayak, ski, dogsled and sailboat.  More than an expedition narrative, Waterman also writes about the history and his encounters with the native people of the north country, the Inuit.  Backed by solid research and written in an introspective style, it's an illuminating portrait of one man and Arctic culture. 
Amazon.com: More Information or Purchase
---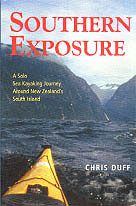 Winner. Southern Exposure:  A Solo Sea Kayaking Journey Around New Zealand's South Island.  By Chris Duff.  Published by Globe Pequot Press, Guilford, CT.  ISBN 0762725958
With this book, Chris Duff solidly establishes himself as a leading voice in outdoor adventure writing.  His previous work, On Celtic Tides chronicled his circumnavigation of  Ireland, but in Southern Exposure, the stakes are higher.  Here, the waves loom larger, the shoreline more forbidding, and weather more unforgiving.  Duff is up to the task and has created an engrossing and mesmerizing account that sweeps the reader along.
Amazon.com: More Information or Purchase
---
Winner.  Ways to the Sky: A Historical Guide to North American Mountaineering.  By Andy Selters.  American Alpine Club Press, Golden, Colorado.  ISBN 0930410831
Author Andy Selters and the American Alpine Club deserve a big round of applause for this new and significant work in the outdoor field.  Tackling a subject as broad and diverse as the history of North American mountaineering is no easy task, easily ranking up there with making a winter attempt on Denali.  But Selters undertook the project and carried it off with aplomb.  Backing up Selters' painstakingly researched—and very readable text—are a wonderful selection of historic photos.  Rounding off an already first-rate effort, Ways to the Sky, is also part guide book, including several mini-chapters which picture and describe climbing routes dating from the era under discussion.
Amazon.com: More Information or Purchase
---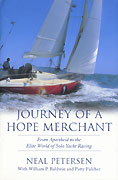 Winner.  Journey of a Hope Merchant:  From Apartheid to the Elite World of Solo Yacht Racing.  By Neal Petersen with William P. Baldwin and Patty Fulcher.  University of South Carolina Press, Columbia, SC.  ISBN 1570035644.
This is the story of Neal Petersen, a black South African who overcomes physical disability and the humiliation of apartheid to compete in one of the most dangerous of all sports: solo sailing around the globe.  While many of his well-heeled fellow competitors sail in the latest technological marvels, Petersen builds his own yacht, scrounging supplies and materials.  Without enough money to install electronic navigation equipment, he sails off on his first race with a sextant that he hasn't yet learned how to use.  From then on it's all adventure.  His account of approaching Cape Horn and surviving a vicious night of 150-foot waves and multiple knockdowns is as thrilling as it gets.  Quite simply, this is a wonderful story of the sea, and one man's hope, determination, and joy for life.
Amazon.com: More Information or Purchase
---
Winner.  The Last Season.  By Eric Blehm.  HarperCollins Publishers, New York.  ISBN 9870060583002
Randy Morgenson is an experienced backcountry ranger in Kings Canyon National Park of the California Sierras.  He leaves on a routine patrol to an area, which after 28 seasons, he knows as well as anyone alive, but Morgenson never returns.  An extensive air and ground search ensues.  No sign of the ranger is found.  Was it an accident?  Was it foul play?  Or was it all just a ruse?  Could Morgenson still be alive?  In this outstanding work of investigative journalism, author Eric Blehm pieces together a fascinating story of an individual comforted by his solitary time in the wilderness but who is increasingly troubled by life in civilization.  Blehm spent eight years researching this book and it clearly shows.  He sets the stage, draws you in, and slowly unravels the truth of this absorbing mystery of the Sierra mountains.
Amazon.com: More Information or Purchase
End of Listing
---