Winners of the Nature and the Environment Category
National Outdoor Book Awards (NOBA)
The most important book award program in the outdoor field is the National Outdoor Book Awards. Past winners of the Nature and the Environment Category are listed below: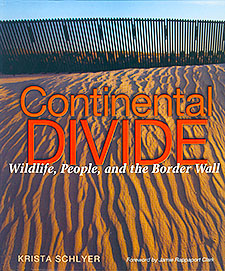 Winner. Continental Divide: Wildlife, People and the Border Wall.  By Krista Schlyer.  Texas A&M University Press, College Station.  ISBN 9781603447430.
This book is one of the most important works on nature to be published this year.  But, first, a clarification:  the title "Continental Divide" is not about the separation of the Atlantic and Pacific watersheds.  Rather it's about the man-made separation between the US and Mexico: the border wall.  The wall, of course, is controversial, but left out of the public debate has been the wall's effect on the natural environment.  In this ground breaking work, Author Krista Schlyer reports on what's been forgotten – and what she has to say is not good.  Congress has allowed environmental laws near the border to be waived, and as a result the wall has devastated wildlife migration paths while at the same time rerouting human traffic through the most pristine and sensitive of wild lands.  The public needs to be fully informed of the true costs of the wall, and Schlyer's book is an important step in that direction. 
.
Amazon.com:  More Information or Purchase
Honorable Mention.  The California Wildlife Habitat Garden:  How to Attract Bees, Butterflies, Birds and Other Animals.  By Nancy Bauer.  University of California Press, Berkeley. 
ISBN 9780520267817.
Can a backyard, even a small one, be a sanctuary for wildlife?  The answer is a resounding yes, and Nancy Bauer in this colorful book guides you, step-by-step, how to do exactly that.  While the book is oriented to California gardens, the practices that she describes apply everywhere.  Moreover, they are sorely needed.  Bee populations are rapidly declining.  Some songbird species are disappearing, and even numbers of the majestic Monarch have dwindled.  A major cause of those declines is the loss of habitat, and by creating wildlife gardens we can give nature a hand, helping to restore some of what's been lost.
.
Amazon.com:  More Information or Purchase
Winner. The Melting Edge:  Alaska at the Frontier of Climate Change.  By Michael Collier.  Alaska Geographic Association.  ISBN 9780982576519.
There is no better place in the United States to observe the effects of climate change than Alaska:  Glaciers are retreating, permafrost is thawing, and coastal areas are eroding.  While much has been written about the subject, author Michael Collier takes things a step further and shows us the consequences of global warming by the use of colorful and instructive photographs.  It's a complex subject, but Collier provides concrete examples and boils it down to the essentials.  In the process, he takes us to the far corners of Alaska to learn from the scientists studying the effects of a changing climate and from the people living it day to day. 
.
Alaska Geographic Website:  More Information or Purchase
Honorable Mention.  Spring Wildflowers of the Northeast:  A Natural History.  By Carol Gracie.  Princeton University Press.  ISBN 9780691144665.
Spring Wildflowers is as elegant as the flowers found within its pages.  That's due to the multi-talented Carol Gracie who is a writer, a botanist and a photographer.  In the book, she describes a host of Northeastern plants, but she doesn't stop at the usual botanical boundaries.  Unique among plant guides, she goes on to include what species pollinate each plant.  She further firmly places each plant into the context of its habitat, what animals consume it, how it has been used as a medicinal plant.  Gracie's book is a noteworthy achievement and quite effectively broadens our thinking about plants to include their many-sided relationship with all aspects of the ecosystem.
.
Amazon.com:  More Information or Purchase
Honorable Mention.  Polar Bears: A Complete Guide to Their Biology and Behavior.  By Andrew E. Derocher.  Photographs by Wayne Lynch.  The John Hopkins University Press.  ISBN  9781421403052.
There's a certain attraction to polar bears, and Andrew Derocher's book adds to that attraction by deepening our understanding of these animals and the impact that human activity is having upon them.  Derocher lays out for us a comprehensive review of work done on these great mammals including their biology, ecology and behavior.  The text is supplemented by stunning photographs by Wayne Lynch who has spent decades following the bears.   It all works excellently together — photos and text — and the reader comes away with a renewed appreciation for one of nature's most charismatic carnivores.
.
Amazon.com:  More Information or Purchase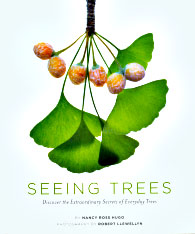 Winner.  Seeing Trees: Discover the Extraordinary Secrets of Everyday Trees.  By Nancy Ross Hugo.  Photography by Robert Llewellyn.  Timber Press, Portland.  ISBN  9781604692198
Author Nancy Ross Hugo is smitten with trees.  In fact she'll unabashedly tell you that tree viewing is as exciting as bird-watching.  And you'll see why.  Just spend a little time paging through this book—sample a bit of Hugo's personable and insightful writing, absorb Robert Llewellyn's splendid photography—and it becomes clear.  What this book does differently than many is to examine trees in a close up and personal manner:  the resplendent emerging leaves of a white oak, the secreted and graceful immature seed pods of the redbud, the thrilling appearance of a red cedar flower.  This striking and delightful book will draw your eyes upward toward the world of leaves and entwining branches, and like Hugo, you may find yourself smitten and thrilled by what you see.
Amazon.com:  More Information or Purchase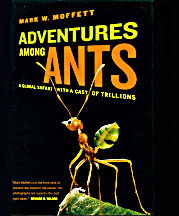 Winner. Adventures Among Ants: A Global Safari With a Cast of Trillions.  By Mark W. Moffett.  University of California Press, Berkeley.  ISBN  9780520261990
Mark Moffett is something of a fanatic when it comes to bugs.  He has been variously described as Doctor Bug, Ant Man, or the Indiana Jones of Entomology.  It comes as no surprise then, that in this colorfully illustrated book, he would take us for an unusual and far-ranging ride in search of the hidden world of ants.  What we discover in their world are behaviors which are strikingly similar to those of humans:  warriors, builders, hunters and farmers.  We find ants engaged in market economies and production lines, and dealing with hygiene, recycling and warfare.  There's a wonderful energy to Moffett's writing.  He's rigidly scientific, that's a given, but he makes science fun.  The Ant Man cometh.  The Ant Man cometh forth with one fine book.
Amazon.com: More Information or Purchase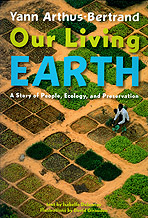 Winner.  Our Living Earth.  By Yann Arthus-Bertrand.  Abrams/Books for Young Readers, New York.  ISBN 9780810971325
Our Living Earth is a striking, large format book for readers of the teenage years.  The book thoughtfully answers two questions:  what does it mean to go green?  And what can young people do to help protect life on earth?  It's a world-wide look at environmental problems and potential solutions.  Filled with Yann Arthus-Betrand's vivid photographs and supplemented with concise and instructive text, the book is sure to capture the attention of budding environmentalists and inspire them to do what they can to help the planet.
Amazon.com: More Information or Purchase
---
Honorable Mention.  Sand: The Never Ending Story. By Michael Welland.  University of California Press.  Berkeley.  ISBN 9780520254374
Sand?  Is it really possible to write a book about sand?  Indeed it is, and geologist Michael Welland is the perfect one to do it.  Welland combines his natural story telling talents with a scientific background to weave together a fascinating account of nature's most ubiquitous substance.  
Amazon.com: More Information or Purchase
---
Winner.  The Last Polar Bear:  Facing the Truth of a Warming World.  Photographs by Steven Kazlowski.  Braided River Books, an imprint of The Mountaineers Books, Seattle.  ISBN 9781594850592.
There is no better indicator of the consequences of global warming than the plight of the polar bear -- and there's no one better to capture the great white bear of the Arctic than photographer Steven Kazlowski.  Kazlowski's stunning photographs, obtained in the most difficult of conditions, place the bear in context with a rapidly changing environment.  But it's not just illustrative material that make this a winning book, Kazlowski's photographs are given meaning and understanding through series of insightful essays by noted authors, conservationists and native Alaskans.
More Information or Purchase: Amazon.com
---
Winner.  The Great Lakes:  The Natural History of a Changing Region.  By Wayne Grady.  Greystone Books, Vancouver.  ISBN 9781553651970.
This is a compelling and timely exploration of a vitally important ecosystem in the heart of the North American continent.  The five lakes (Huron, Ontario, Michigan, Erie and Superior) constitute the largest readily available freshwater in the world, about 20 percent of the planet's total.  Nicely designed with color photographs, diagrams and maps, and written by one of Canada's best-known science writers, The Great Lakes it is the perfect vehicle to understand this remarkable area.
More Information or Purchase: Amazon.com
---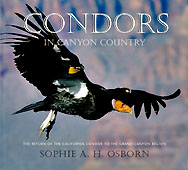 Winner. Condors in Canyon Country: The Return of the California Condor to the Grand Canyon Region.  By Sophie A. H. Osborn.  Grand Canyon Association, Grand Canyon, AZ.  ISBN 9780938216988.
It's impossible to page through this book without catching Sophie Osborn's passion for the condor.  It's a passion that runs deep for her, for she was one of the scientists who played a role in the successful effort to return this magnificent bird to the Grand Canyon area.  The book's intelligent design backed up by Osborn's superb photographs combine to create the perfect vehicle to celebrate this environmental success story.
More Information or Purchase: Amazon.com
---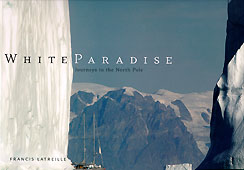 Winner.   White Paradise:  Journeys to the North Pole.  By Francis Latreille.  Abrams, New York.  ISBN 9780810930940.
This lavish, large format volume by French adventurer and photojournalist, Francis Latreille unveils the Arctic hinterlands like no other.  Introductory text covers expeditions, research and the peoples of the North, but mostly Latreille shows us the Arctic—and the effects of global warming—through a stunning collection of photographs.
More Information or Purchase: Amazon.com
---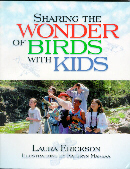 Winner: Sharing the Wonder of Birds with Kids
By Laura Erickson, illustrated by Kathryn Marsaa, published by Pfeifer-Hamilton.
This is a marvelous text on how to interest children in birding.  It's also an equally marvelous text for teaching adults the basics of bird watching.  The book is full of helpful hints and the writing is lively and entertaining.  It even has jokes: 
Question:  Why do birds fly south?
Answer: Because it's too far to walk.
For information on availability  (By the way, this a fun site for birders.  Highly recommended): author's site.
---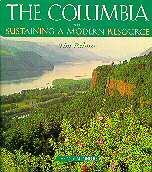 Winner: The Columbia: Sustaining a Modern Resource  By Tim Palmer.  Published by The Mountaineers.
Tim Palmer, in one of his finest works on rivers, celebrates the beauty and natural resources of the Columbia.  Taking readers from one tributary to another across the vast and varied Pacific Northwest landscape, he describes the river's watershed, the intricate pattern of development, and its dwindling forests and salmon runs.  He details what is wrong but also offers hope that responsible politics can redirect society toward a sustainable future.
Amazon.com More Information or Purchase
---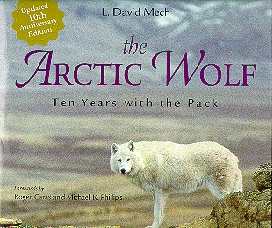 Honorable Mention: The Arctic Wolf: Ten Years with the Pack By David Mech. Published by Voyageur Press.
Written by one of the world's foremost authorities on wolves, this book is about Mech's work with a pack of Arctic wolves which he first began to study in 1986.  It is as much a fascinating personal account as it is a classic field study.  Moreover, it's a stylish and elegant book, lavishly illustrated with color photography.
Amazon.com More Information or Purchase
---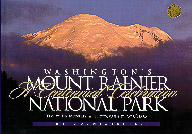 Winner: Washington's Mount Rainier National Park: A Centennial Celebration.  By Tim McNulty.  Photographs by Pat O'Hara.  Published by The Mountaineers.
Mount Rainier, published on the 100th anniversary of the founding of the park, is an absolutely stunning book filled with breathtaking photography.  Large format books are often accompanied by dull, inane text, but not this one.  The mountain and its surrounding environment are described in beautiful, heart-felt prose.  A sensitive and synchronous collaboration between writer, photographer and publisher, this books succeeds wonderfully.  Every sacred mountain should have its story so handsomely told.
Amazon.com More Information or Purchase
---
Winner:Islands of Hope:  Lessons from North America's Great Wildlife Sanctuaries  By Phillip Manning.  Published by John F. Blair.
Naturalist Phillip Manning visits ten wildlife preserves in four North American countries, investigating the animals and ecosystems that the sanctuaries protect.  In a simple and understanding style, Manning helps readers learn how refuges work, their history and the challenges facing them.  There is caution, of course, in the book's message, but mostly the message is of abiding hope for the future. 
Amazon.com More Information or Purchase
---
Winner: Wildlife Wars: The Life and Times of a Fish and Game Warden By Terry Grosz.  Published by Johnson Books
Wildlife Wars is the absorbing story of one man's 30-year struggle to protect wildlife in America.  This is what it's like on the front lines.  Terry Grosz, a natural and gifted story teller, brings us face to face with a captivating cast of characters--on both sides of the law--as he matches wits with poachers, commercial hunters, and others who are bent on destroying America's natural heritage.  If you start this book, you won't want to put it down.  It's that good.
Amazon.com More Information or Purchase
---
Winner: Penguin Planet: Their World, Our World By Kevin Schafer.  Published by NorthWord Press
Some of the most endearing creatures of all of nature are penguins. They've often been photographed, but never have they been captured in such vivid detail and in all their intimate and strutting glory as in Penguin Planet. But Kevin Schafer not only takes sumptuous pictures, he writes well in a engaging style, generously complementing an affectionate portrait of the world's most popular bird.
Amazon.com More Information or Purchase
---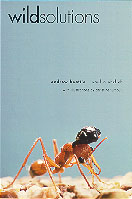 Winner: Wild Solutions: How Biodiversity is Money in the Bank  by Andrew Beattie and Paul Ehrlich.  Illustrated by Christine Turnbull. Published by Yale University Press, New Haven.
Eminent ecologists Beattie and Ehrlich team up in this text for a careful examination of the earth's biological diversity.  Wild Solutions shows how the natural systems that surround us play an important role in protecting our basic life-support systems.  Based on a solid and well-developed premise, it's a convincing book conveying a powerful and urgent message.
Amazon.com More Information or Purchase
---
Honorable Mention:For Love of Wildness:  The Journal of a U.S. Game Management Agent.  By Terry Grosz.  Published by Johnson Books, Boulder. 
For Love of Wildness is the eagerly awaited sequel to Terry Grosz's first book on his life as a wildlife officer--and he certainly doesn't disappoint.  An absorbing book, written in an honest and down-home style, Terry Grosz takes the reader along on a wild ride of chases, stakeouts, and shoot-outs in his efforts to protect America's wildlife.
Amazon.com More Information or Purchase
---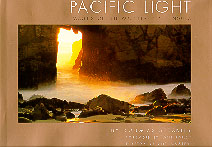 Honorable Mention:Pacific Light: Images of the Monterey Peninsula.  By Douglas Steakley.  Poetry by Ric Masten. Published by Carmel Publishing Company, Carmel, California.
This is a book of geography and of passion, communicating its story through the interplay of images and poetry.  From Douglas Steakley's breathtaking photography emerges the face of the Monterey landscape while Ric Masten's words provide its voice.
Amazon.com More Information or Purchase 
---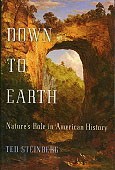 Winner. Down to Earth: Nature's Role in American History. By Ted Steinberg.  Published by Oxford University Press, New York. ISBN 0195140095.
In this fascinating and ground-breaking book, Steinberg investigates American history from a new and unique perspective: from that of the natural environment.  He argues convincingly that events as diverse as colonization, the industrial revolution, the civil war, the western gold rush and many others were shaped and influenced by nature.  It's an important seminal work and one that leads toward a better understanding of the interrelationship of man and the environment.
Amazon.com More Information or Purchase
---
Winner. Ice Island: Expedition to Antarctica's Largest Iceberg.  By Gregory S. Stone.  Published by the New England Aquarium, Boston MA. ISBN 1593730179
In the Year 2000, a mammoth iceberg calved off Antarctica's Ross Ice Shelf.  The iceberg, known as B-15 was the world's largest, 4,500 square miles in size and holding enough fresh water to supply the United States for five years.  This is the story of the team of scientists and divers who set off in a small research ship named Braveheart to study a portion of the iceberg.  Richly illustrated and beautifully designed, it's a marvelous story about adventure, science and the future of humankind. 
Amazon.com More Information or Purchase
---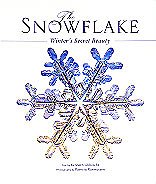 Winner.  The Snowflake: Winter's Secret Beauty.  By Kenneth Libbrecht.  Photography by Patricia Rasmussen.  Voyageur Press, Stillwater, Minnesota.  ISBN 0896586308
John Muir called them snow flowers.  Thoreau described them as sweepings from the floor of heaven.  For ages, snow crystals have captured the attention of poets and writers.  In more recent times—particularly the last couple of decades—scientists have learned much about these seemingly simple but incredibly complex minute wonders.  Yet little of that scientific work has been available to the layman.  Until now, and it's all packaged in an elegant and splendidly designed book.  Author and researcher Kenneth Libbrecht clearly explains the processes by which crystals are formed and how to identify major crystal types.  The highlight of the book is the exquisite and mesmerizing photography of Patricia Rasumussen—which remind us why these sweepings of heaven continue to astonish and amaze.

Amazon.com More Information or Purchase
---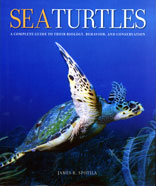 Winner.  Sea Turtles:  A Complete Guide to their Biology, Behavior and Conservation.  By James R. Spotila.  The John Hopkins University Press, Baltimore.  ISBN 0801880076

It won't take long:  open this new, beautifully produced book, you'll find yourself hopelessly caught up in the life of sea turtles.  Why is this book so captivating?  The photography for one.  It's simply divine.  And so is the accompanying text.  Author James Spotila is a marine biologist who has spent his career studying these magnificent creatures of the sea, and he writes with authority, spirit and passion.
Amazon.com More Information or Purchase
---
Winner.  Life in the Underground.  By David Attenborough.  Princeton University Press, Princeton.  ISBN 0691127034
Beautifully illustrated, this book takes the reader on a tour of the cloak-and-dagger underworld of creatures without backbones, the invertebrates.  The tour guide is naturalist David Attenborough, prolific author and producer of popular nature documentaries for television.  In Life in the Underground, Attenborough guides us past scampering scorpions, albino termites, sex-starved slugs, blood sucking ticks, and ravenous, lizard-eating spiders.  Well, you get the picture.  It's a scary world down there at our feet.  But it's also a wondrous world, and the ever-curious Attenborough is clearly in his element telling us about it.
Amazon.com More Information or Purchase
---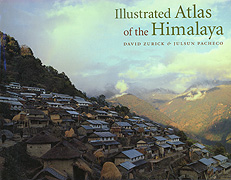 Winner.  Illustrated Atlas of the Himalaya.  By David Zurick and Julsun Pacheco.  University of Kentucky Press, Lexington.  ISBN 9780813123882
The Himalayas: the word itself can send our thoughts soaring to dizzy heights, and now there's a reference work worthy of the range's summits.  The Illustrated Atlas is the first full-color comprehensive atlas to the entire 2,700 kilometer length of the Himalaya.  It's attractively designed and includes 300 specially created maps, including maps of the range's national parks and preserves.  The facts are there too, of course.  Along with a wealth of photographs, the book includes textual information on the natural environment, conservation, resources, exploration, and culture and society.
Amazon.com More Information or Purchase
---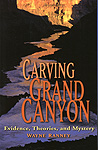 Honorable Mention.  Carving Grand Canyon: Evidence, Theories, and Mystery.  By Wayne Ranney.  Grand Canyon Association, Grand  Canyon, AZ.  ISBN 0938216821
How and when was the Grand Canyon formed?  For nearly a century and a half, scientists have debated that question, but the answer remains elusive.  They do, however, agree on one thing:  the canyon was carved by the Colorado River.  In this stylish, full-color book by the Grand Canyon Association, Wayne Ranney describes and summarizes the various geological theories of the canyon's origins. 
Amazon.com More Information or Purchase
End of Listing
---