Reviews of the Winners of the
Natural History Literature Category
The most important book award program in the outdoor field is the National Outdoor Book Awards. Past winners of the Natural History Literature Category are listed below: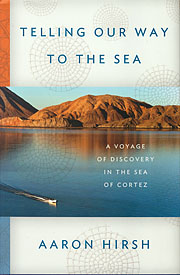 Winner.  Telling Our Way to the Sea:  A Voyage of Discovery in the Sea of Cortez.  By Aaron Hirsh.  Farrar, Straus and Giroux, New York. 
ISBN 9780374272845.
Aaron Hirsh pulls off a small miracle in Telling Our Way to the Sea.  He takes a book on natural history and fashions it into something akin to a novel.  Each year for a decade Hirsh has been taking a small group of students to the Sea of Cortez for a course in ecology and evolutionary biology.  In the book, he focuses on one special class, and you'll quickly find yourself as one of the members of the class snorkeling, wading, and exploring – and listening to Hirsh as he tells our way to the sea.  Using dialog, interactions between himself and his students, he merges marine biology, conservation, research, and cultural and natural history into a compassionate and insightful narrative.
.
Amazon.com:  More Information or Purchase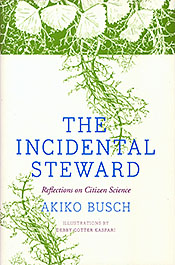 Honorable Mention.  The Incidental Steward: Reflections on Citizen Science.  By Akiko Busch.  Yale University Press, New Haven.  ISBN 9780300178791.
In this elegant and introspective work, Akiko Busch examines the contributions and value of volunteer naturalists and amateur scientists.  She uses the term "citizen science" to better describe the expansive scope and lasting benefits which come from their work.  In The Incidental Steward Busch escorts us throughout the Hudson Valley area where we visit several citizen scientists as they assist in biological research, make and record observations, organize other volunteers, and work to improve the natural environment.  It's an enriching process for those who participate and for science in general.  Busch has done something special here, creating a song about place, a call to engagement, and a thoughtful commentary on our rapidly changing world.
.
Amazon.com:  More Information or Purchase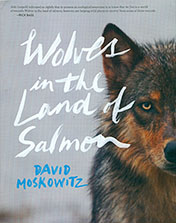 Honorable Mention.  Wolves in the Land of Salmon.  By David Moskowitz.  Timber Press, Inc., Portland.  ISBN 9781604692273.
Photographer and expert tracker, David Moskowitz is on a mission to see wolves.  He crisscrosses the Pacific Northwest looking for their signs, following tracks, and with a bit of luck, manages to observe them close at hand.  From each journey, he comes away with some new understanding.  His treks help carry the book forward, but he also uses them to build a more complete picture of the reintroduction of wolves, adding a wealth of information on their behavior, biology, and the controversy swirling about them.  Colorfully illustrated with Moskowitz's splendid photographs, this is a fine new work on this elusive predator.
.
Amazon.com:  More Information or Purchase
Winner.  The Forest Unseen:  A Year's Watch in Nature.  By David George Haskell.  Viking.  ISBN 9780670023370.
One square meter.  That's what Forest Unseen is about: one square meter of a Tennessee forest.  But in George Haskell's able hands, that's all that is needed to reveal a world of wonder and magic.  An engaging and poetic writer, Haskell takes us on a journey through the seasons, documenting the changes in an old growth forest and describing the many ecological processes occurring there.  Through Haskell's words, the forest comes alive and seeps gently and unobtrusively into our conscience.  Haskell has done it masterfully — writing with a quiet humility and a deceptive simplicity that mirrors the life in his small patch of the natural world.
.
Amazon.com:  More Information or Purchase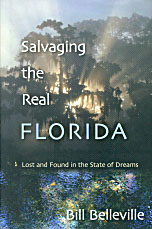 Winner. Salvaging the Real Florida:  Lost and Found in the State of Dreams.  By Bill Belleville.  University Press of Florida, Gainesville, FL.  ISBN 9780813035772
Bill Belleville is the sort of guy that you'd want as a companion on an outdoor trip.  He has a child-like curiosity and wonder that is catchy—and he can tell a pretty good story to boot.  He is also very much a mature and accomplished author, and his writing is an absolute pleasure to read.  This collection of essays, full of hidden gems and wonderful insights, never disappoints.  We saunter along with him throughout Florida on hikes, paddles and dives—and through lagoons, forests, swamps, and under coastal waters.  Pick up a copy, settle back with a glass of backwoods sweet tea, and enjoy a spirited ride through Florida's natural world.
Amazon.com:  More Information or Purchase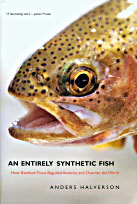 Winner. An Entirely Synthetic Fish: How Rainbow Trout Beguiled America and Overran the World.  By Anders Halverson.  Yale University Press, New Haven.  ISBN 9780300140873
A fascinating story unfolds in the pages of An Entirely Synthetic Fish.  Aquatic ecologist, Anders Halverson adeptly chronicles the rise and fall of rainbow trout.  Once this highly adaptable species was the fish of choice among wildlife managers, stocked in rivers, streams, and lakes worldwide; and, in fact, it is still the most commonly stocked fish in the US.  But more recently, biologists have realized that it competes with native fish, and in some locations it is being eradicated.  Nicely blending a balance of natural history, historical information, and personal accounts, Halverson has created a thoroughly engaging and thought-provoking work.
Amazon.com: More Information or Purchase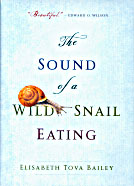 Winner.  The Sound of a Wild Snail Eating.  By Elisabeth Tova Bailey.  Algonquin Books of Chapel Hill, Chapel Hill, NC.  ISBN 9781565126060
Author Elisabeth Tova Bailey is struggling to recover from a severe illness which has kept her bedridden for months at a time.  While barely able to lift her head, she begins to take interest in a common woodland snail residing in a flower pot that a friend has given her.  One evening, she watches transfixed as the snail, ever so slowly, begins to eat the withered blossoms of some long-gone flowers.  In the quiet of her room, she can hear something . . .  She can hear it eating!   In this beautifully written, mesmerizing work, Bailey skillfully merges her own observations with scientific information.  In the end, reader and author alike learn that a simple but wondrous little creature can give solace and hope to a life gone awry.
Amazon.com: More Information or Purchase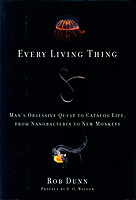 Winner.  Every Living Thing:  Man's Obsessive Quest to Catalog Life, from Nanobacteria to New Monkeys.  By Rob Dunn.  Smithsonian Books.  New York.  ISBN 9780061430305
Fashioning a series of vivid portraits of driven, single-minded scientists, Dun traces the history of human discovery.  Vignettes range from the establishment of a classification system, to a scientist's attempt to discover a rare ant, to another's quest to find every living thing in a jungle in Costa Rica.  It's poetic, often humorous and filled with insight on the breakthroughs of the study of life.
Amazon.com: More Information or Purchase
---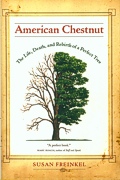 Winner.   The American Chestnut:  The Life, Death, and Rebirth of a Perfect Tree.  By Susan Freinkel.  University of California Press, Berkeley.  ISBN 9780520247307
At one time, the American chestnut tree stretched in great numbers from Georgia to Maine.  In the Appalachian Mountains, it was so prolific that it made up fully 25 percent of all tree species.  Then in the early 1900s, the chestnut blight fungus, accidentally introduced to North America on imported Asiatic chestnuts, quickly spread.  In forty years time, an estimated four billion chestnuts trees were dead.  Only a handful of isolated trees remained in California and the Pacific Northwest.  This is Susan Freinkel's absorbing story of a cultural American icon and the century-long struggle by those who refused to let the tree slip into oblivion.
More Information or Purchase: Amazon.com
---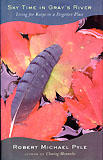 Winner.   Sky Time in Gray's River:  Living for Keeps in a Forgotten Place.  By Robert Michael Pyle.  Houghton Mifflin Company, Boston.  ISBN 978039582812.
In this beautifully designed, hand-sized volume, Robert Michael Pyle describes his life in the little, out-of-the-way village of Gray's River in southwest Washington.  He follows the lives of his neighbors—birds, butterflies, cats and people—season by season, over a thirty year period.  His keen curious eye and generous whimsical spirit combine with his gifts as a writer to make a lovely meditation on one's own backyard.
More Information or Purchase: Amazon.com
---
Honorable Mention.  Last Stand:  George Bird Grinnell, the Battle to Save the Buffalo, and the Birth of the New West.  By Michael Punke.  Smithsonian Books, New York.  ISBN 9780060897826.
Last Stand is an engrossing story about the destruction of the great buffalo herds.  It's an all too familiar story of greed and arrogance, but Michael Punke explores a little known part of that history—that of the contributions of conservationist George Grinnell.  Colorful and imminently readable, the book helps establish Grinnell's place among the leaders of America's conservation movement.
More Information or Purchase: Amazon.com
---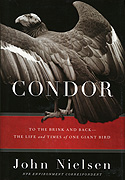 Winner.  Condor:  To the Brink and Back.  By John Nielsen.  HarperCollins Publishers, New York.  ISBN 9780060088620
This book is a fascinating behind-the-scenes look at the efforts to save the condor, North America's largest flying land bird.  Condor is a story waiting to be told, and there could have been no better person for the job than John Nielsen.  Nielsen has penned a natural history book that is fun to read, mixing humor, science and human interest in just the right portions.  In short, it's a brilliant telling of a compelling environmental saga.
Amazon.com: More Information or Purchase
---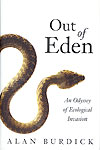 Winner.  Out of Eden: An Odyssey of Ecological Invasion.  By Alan Burdick.  Farrar, Straus and Giroux, New York.  ISBN 0374219737
Combining exhaustive research and an engaging and lyrical writing style, author Alan Burdick explores the ecological minefield of exotic, non-native species.  We zig and zag through that minefield from Hawaii to Guam to San Francisco to Alaska, following the work of scientists in the new field of invasion biology.  What we learn in the end is unsettling: nature herself may pose the greatest threat to the future of our planet.
Amazon.com: More Information or Purchase
End of Listing
---