Reviews of the Winners of the Literature Category
National Outdoor Book Awards (NOBA)
The most important book award program in the outdoor field is the National Outdoor Book Awards. Past winners of the Literature Category are listed below: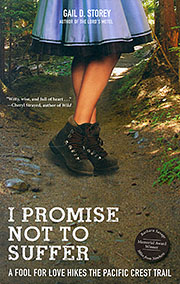 Winner.  I Promise Not to Suffer:  A Fool for Love Hikes the Pacific Crest Trail.  By Gail D. Storey.  The Mountaineers Books, Seattle.  ISBN 9781594857454.
At the age of fifty-six, Gail Storey wasn't all that keen on putting her life on hold, selling her possessions, including a dream house, to hike the Pacific Crest Trail.  But she longed to be there with her husband and immerse herself in nature.  But wait.  Nature?  Is she crazy?  She hates bugs!  I Promise Not to Suffer is a highly creative and brilliantly witty account that describes the Pacific Crest experience like none other.  Using her husband's inventive lightweight equipment – some of which they find is a work-in-progress – they start at the Mexico border and begin the epic trek north.  With wonderful turns of phrase, a keen observant eye, and self deprecating style, Storey is a consummate story teller.  In the end, we come to know her as someone with a ticklish sense of humor and a willing sufferer with a heart of gold.
.
Amazon.com:  More Information or Purchase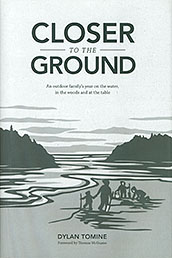 Honorable Mention.  Closer to the Ground: An Outdoor Family's Year on the Water, in the Woods and at the Table.  By Dylan Tomine.  Patagonia Books, Ventura, CA.  ISBN 9781938340000.
When Dylan Tomine was young, he and his friends would scamper throughout the neighborhood picking blackberries.  "If you pick 'em, I'll bake it," his mom would tell him.  It was the remembrance of his mom's steaming, fragrant pies, fresh out of the oven that years later would, in part, make wild food gathering a way in which his family could spend time together in the outdoors.  In this beautifully written and heartfelt account, Tomine describes his family's forays into nature.  They grow vegetables, fish for salmon, dig for oysters, forage for mushrooms, and hunt for deer.  The book is not about survival.  Tomine fully admits that they still get much more of their food from the grocery store, but, rather it's a way to raise a family in modern times while remaining grounded with the natural environment.
.
Amazon.com:  More Information or Purchase
Winner.  Almost Somewhere: Twenty-Eight Days on the John Muir Trail.  By Suzanne Roberts.  University of Nebraska Press.  ISBN 9780803240124.
In the summer of 1993, author Suzanne Roberts and two other women set out on a month-long backpack trip in California's Sierra Mountains.  Almost Somewhere is Robert's introspective and no-holds-barred account of that journey and the interactions between the three women.  What emerges is a revealing and insightful coming-of-age portrait of women of the post baby boom generation.  Roberts obsesses with her weight, competes openly with other women for men, and grapples with conflicted views of sex and relationships.  One of the other women struggles with bulimia.  This is life in an outdoor setting from a feminine perspective:  anxiety over strange men met along the way and the challenges of long days on the trail — can Robert's weakening knees and the health of her bulimic friend hold up to the end?  The dialog, the imagery, and the story are so well done and so absorbing that men and women of all generations will find it a satisfying and fulfilling literary treat.
.
Amazon.com:  More Information or Purchase
Winner.  The Ledge: An Adventure Story of Friendship and Survival on Mount Rainier.  By Jim Davidson and Kevin Vaughan.  Ballantine Books. 
ISBN 9780345523198.
The Ledge is story telling at its finest.  Jim Davidson is descending from a climb of Mount Rainier when he plunges into a crevasse, pulling his partner in with him.  Davidson survives the fall, but unknown to him at the time, his pack has stopped him, wedging between two walls of ice.  Below him is an abyss.  Shortly after he stops, a small avalanche of snow covers him completely.  Then his partner hurtles down and lands on top.  Somehow Davidson must dig himself out of the snow, provide aid to his critically injured partner, and plan a way to climb out — all the while, delicately balanced on his pack.  His is a struggle that involves all of his faculties and which alternates between hope, despair, and terror.  From start to finish, this is a story that will hold you spellbound.
.
Amazon.com:  More Information or Purchase
Honorable Mention.  Before They're Gone:  A Family's Year-Long Quest to Explore America's Most Endangered National Parks.  By Michael Lanza.  Beacon Press.  ISBN 9780807001196.
Michael Lanza is a skilled wordsmith and his finely fashioned handiwork is on full display in Before They're Gone.  Lanza takes his wife and two young children to some of the country's most famous National Parks.  They hike, sea kayak, climb, canoe and cross-country ski.  It's a heartwarming narrative of a family and their explorations of wild places.  It's also a cautionary story of what might happen, and is happening, to those spectacular places that they visit as the earth continues to warm.
.
Amazon.com:  More Information or Purchase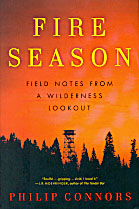 Winner.  Fire Season: Field Notes from a Wilderness Lookout.  By Philip Connors.  HarperCollins, New York.  ISBN 9780061859366
In this sensitive and elegant work, Philip Connors mans a fire lookout overlooking the Gila Wilderness, the first established wilderness area in the US.  It's a perfect place, in more than one respect, to write and reflect on wild places and why such places are important in civilized life—and he does so with an honesty and understanding which is remarkable for its depth of thought and insight.  Connors finds himself among some pretty heavy company:  Edward Abbey, Jack Kerouac, Norman Maclean, and Gary Snyder all wrote about their experiences on fire lookouts.  This is Connors first work, but if these literary forbearers could somehow manage to unite for a little backcountry revelry, it's not hard to imagine them inviting him over and raising a toast to Fire Season.
Amazon.com:  More Information or Purchase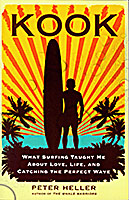 Winner. Kook: What Surfing Taught Me About Love, Life and Catching the Perfect Wave.  By Peter Heller.  Free Press, New York.  ISBN 9780743294201
Peter Heller is on a quest.  His quest is to learn in one year how to surf well, to master one big, beautiful hollow wave that only a very experienced surfer can ride.  But there's a problem.  He is a beginner.  In fact, he is a kook, a derisive term in surfing lingo for a bumbling, rank beginner.  There's another problem: his love life.  In that endeavor, he is also a kook.  Middle-aged, with a string of disappointing love affairs, Heller is hopeful that things might change with the new love of his life—Kim, a beautiful woman of Chinese descent.  In this rich and gracefully written book, Heller's creative and artistic abilities are on full display.  We follow along with him on an insightful, year-long quest as he grapples with the dual, ever capricious, challenges of love and the sea.
Amazon.com: More Information or Purchase
Honorable Mention.  Just Passin' Thru.  By Winton Porter.  Menasha Ridge Press, Birmingham, AL.  ISBN 9780897328494
Winton Porter quits a secure corporate job, empties his saving account, and buys a store and hostel in Georgia beside the Appalachian Trail.  Along with his wife, two young daughters and their dog Sky, he settles into a life dictated by the comings and goings of hikers on the Appalachian Trail.  What he finds tramping by his new home is such an odd cast of characters that at times he appears to be living in some sort of a parallel universe to Alice's Wonderland.  There's Billy Bumblefoot, Preacher Man, Earthworm, Critter, Pirate, Lego, Groovy, and the list goes on.  A warmth imbues Winton Porter's writing—warmth of family and friends and kindness to hikers just passin' thru.  He is a splendid story teller, nicely capturing dialogue, and all the while, doing a pretty good job of tickling your funny bone too. 
Amazon.com: More Information or Purchase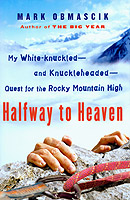 Winner.  Halfway to Heaven.  By Mark Obmascik.  Free
Press/Simon & Schuster, New York.  ISBN  9781416566991
In this fun, humorous, and warm-hearted story, Mark Obmascik sets out to climb all of Colorado's 14,000-foot mountains.  But Obmascik, the father of three sons, has a problem.  He is overweight and utterly out of shape.  To get ready, he joins a spin class of mostly perimenopausal women.  When he begins to slack off, the women prod him into keeping at it.  He reciprocates by adjusting the wall fans for them when hot flashes hit.  Then summer comes, and off he goes, chasing his dream to climb all 54 summits.  It's a rollicking, non-stop adventure with an all-star cast of eccentrics and fanatics.  But…does he make it?  You'll find out in this delightfully and devilishly clever book.
Amazon.com: More Information or Purchase
---
Honorable Mention.  Rowboat in a Hurricane: My Amazing Journey Across a Changing Ocean.  By Julie Angus.  Greystone Books, Vancouver.  ISBN 9781553653370
In this riveting, true story, author Julie Angus, and her fiancée set out from Portugal in a 23-foot boat made from quarter inch plywood.  Their goal:  to row across the dangerous and capricious Atlantic ocean from Europe to Central America, a mere 6,000 miles.  They row 16 hours a day, each rowing for 2-hour shifts.  For 145 days they keep up this grueling routine.  But there's more than interminable rowing.  It's the same year as Hurricane Katrina and the Atlantic is seething with tropical storms.  Their path takes them directly into the storms' midst.
Amazon.com: More Information or Purchase
---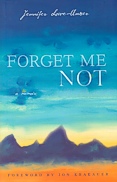 Winner.  Forget Me Not: A Memoir.  By Jennifer Lowe-Anker.  The Mountaineers Books, Seattle.  ISBN 1594850828.
In this warm and touching memoir, Jennifer Lowe-Anker tells of her life with Alex Lowe, one of America's finest mountaineers.  When Alex dies suddenly on an expedition in the Himalayas, she is left to care for herself and three young sons.  With time, she finds solace, companionship, and eventually love with Alex's good friend and fellow mountaineer Conrad Anker.  Candid and remarkably well told, it's a story of adventure, passion, struggle, and hope.
More Information or Purchase: Amazon.com
---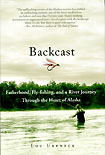 Winner.  Backcast: Fatherhood, Fly-fishing, and a River Journey Through the Heart of Alaska.  By Lou Ureneck.  St. Martins Press, New York.  ISBN 9780312371517.
Backcast plays out like the long and splendid arc of a fly line, unfurling on an Alaskan river trip that Lou Ureneck has arranged to re-connect with his son.  As the trip progresses, Ureneck reflects back on his own life while adroitly capturing the sometimes hilarious and sometimes serious interactions between himself and his son.  The result is a realistic and heartwarming story of a father and his son—and a work of outdoor literature of the highest order.
More Information or Purchase: Amazon.com
---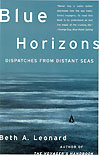 Winner.  Blue Horizons: Dispatches from Distant Seas.  By Beth A. Leonard.  International Marine/McGraw-Hill, Camden, ME.  ISBN 9780071479585.
This is a beautifully written series of vignettes about life and the sea.  You'll follow along, experiencing the ebb and flow, as Beth Leonard and her partner Evans Starzinger travel from port to port, and through calm and storm, on their six-year, 50,000-mile voyage from one end of the world to the other.
More Information or Purchase: Amazon.com
---
Winner: Landscapes of the Interior
By Don Gayton, published by New Society Publishers.
Don Gayton does with the concept of landscape what writers like Edward Abbey have done with the desert.  It is a pioneering, personal journey across a succession of landscapes from the Kokanee Range to the Columbia Plateau to the tall grass prairie of Manitoba.  Gayton is sometimes scientific and other times lyrical and deeply philosophical.  Through it all, he is always original and fresh.
Amazon.com: More Information or Purchase
---
Winner:Postcards from the Ledge: Collected Mountaineering Writings of Greg Child
By Greg Child. Published by The Mountaineers.
Postcards from the Ledge establishes Greg Child as one of most talented and versatile writers of the mountaineering genre.  A competent and experienced climber, he is an astute and objective observer.  He is humorous and serious, and as adept at elegant descriptions of the high moments of life in the mountains as he is describing the sordid and repulsive side of the sport.
Amazon.com: More Information or Purchase
---
Winner: The Lost River:  A Memoir of Life, Death, and Transformation on Wild Water By Richard Bangs.  Published by Sierra Club Books in conjunction with Random House. 
Since the early 1970s, Richard Bangs has been in the vanguard of river exploration.  He is particularly known for his bold ventures deep into the recesses of Africa.  In nearly a dozen books, Bangs has written of his experiences, but in this book we see and learn more of him than ever before.  Primarily this book is about his 1996 pioneering run of Ethiopia's Tekeze River, but the most interesting and telling part of the story is the long, and sometimes tragic, path which led him there.
Amazon.com: More Information or Purchase
---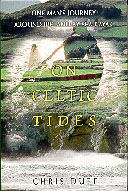 Winner: On Celtic Tides: One Man's Journey Around Ireland by Sea Kayak By Chris Duff.  Published by St. Martin's Press 
A transfixing memoir, Celtic Tides is the vivid account of the first ever circumnavigation of Ireland by kayak.  Told with sensitivity and care, Duff's odyssey is about a lone man and a capricious sea and its moods of tranquillity and contrasting terror.  But the book is more than an adventure story.  It's also about haunting beauty, ancient history, and spiritual renewal found along the storm-lashed coasts of an enchanting land.
Amazon.com: More Information or Purchase
---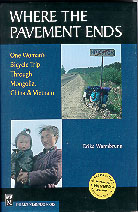 Winner: Where the Pavement Ends:  One Woman's Bicycle Trip Through Mongolia, China and Vietnam.  By Erika Warmbrunn.  Published by The Mountaineers Books, Seattle.
Vivid, often light-hearted, and honestly written, Where the Pavement Ends is the story of Erika Warmbrunn's incredible 8-month, 5,000-mile mountain bike ride across middle Asia.  Skillfully crafted with a sense of excitement and momentum that resembles coasting downhill on a bicycle, Where the Pavement Ends provides fascinating glimpses of East Asian life and landscapes along Warmbrunn's journey.  You'll be drawn in by her openness and curiosity about life and rejoice in her hard-earned accomplishments.
Amazon.com: More Information or Purchase
---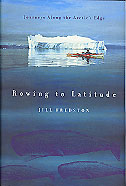 Winner. Rowing to Latitude.  By Jill Fredston.  Published by North Point Press, New York.  ISBN 0374281807.
In her debut book, Rowing to Latitude, Jill Fredston emerges as a fresh new voice in outdoor literature: witty, touching, literate, bold and honest.  She also emerges as a true adventurer.  Pioneering the use of a recreational rowing shell, similar in shape and size to a sea kayak, she and her husband travel more than twenty thousand miles through the Arctic and sub-Arctic.  This book is the story of those journeys, but intricately woven among them are the joys and struggles of her life.  It's a marvelous book, one that will carry you away to the great hinterlands of the north latitudes
Amazon.com: More Information or Purchase
---
Winner. The Beckoning Silence.  By Joe Simpson.  Published by The Mountaineers Books, Seattle.  ISBN 0898869412
This is the story of a mountaineer in the autumn of his career coming to grips with his own mortality and dwindling physical resources.  An extraordinary storyteller, Joe Simpson takes us on a series of adventures which span the globe, culminating in one final, career-ending climb of the North Face of the Eiger.  Simpson is at his best when the chips are down and the line between life and disaster is stretched paper thin.  Hold onto your seat.  In The Beckoning Silence, Simpson is at his best.
Amazon.com: More Information or Purchase
---
Winner.  Out There: In the Wild in a Wired Age.  By Ted Kerasote.  Voyageur Press, Stillwater, Minnesota.  ISBN 0896585565
Ted Kerasote has a friendly style of writing, and in Out There you feel like you've settled in a chat with an old friend.  The chat, in this case, centers on a trip that Kerasote has taken down the Horton River of Canada's Northwest Territories.  This not a trip where death is lurking around every corner; rather it's a fine and thoughtful journey in which Kerasote grapples with the use of GPS, satellite phones, and other technology in the wilderness.  Honestly written and well-crafted, it says much about what has become of the outdoor experience.
 Amazon.com: More Information or Purchase
---
Winner.  Where The Mountain Casts Its Shadow: The Dark Side of Extreme Adventure.  By Maria Coffey.  St. Martin's Press, New York.  ISBN 0312290659
This is a moving and gracefully written story, one that has been waiting to be told for a long time.  This is what it's like for the families and friends of mountaineers who die or who are injured on expeditions.  Maria Coffey, who intimately knows the pain of losing a loved one to the mountains, could have easily turned the book into a tirade against climbing.  Instead she embraces adventure, emphasizing again and again that risk serves an important role in contemporary society.  Nonetheless, she cautions that, when we venture into the unknown, we should never forget the terrible costs of adventure gone awry.
Amazon.com: More Information or Purchase
---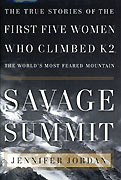 Winner.  Savage Summit:  The True Stories of the First Five Women who climbed K2, the World's Most Feared Mountain.  By Jennifer Jordan.  William Morrow, New York.  ISBN 0060587156
Savage Summit is a brilliantly written account which follows the lives of five women who climbed K2.  Shifting through hours of interviews and written materials, Jennifer Jordan weaves together a riveting tale of adventure, ambition, love and tragedy.  This book is so well written that it reads like a novel.  Mark these words:  Savage Summit is destined to assume an honored place among some of the best climbing books ever written.
Amazon.com: More Information or Purchase
---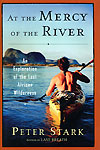 Honorable Mention.  At the Mercy of the River:  An Exploration of the Last African Wilderness.  By Peter Stark.  Ballatine Books, New York. ISBN 0345441818
At the Mercy of the River easily could have been standard outdoor fare, a simple chronicle of descending an African river.  But master story teller Peter Stark serves up something far more satisfying: an inward journey.  The outward journey a is trip down Mozambique's Lugend River, but the river turns out to be more difficult than anyone had imagined, and the party finds themselves pushed to the limits.  Using his descriptive prowess, Stark captures the heart-thumping anxiety, the building tension between party members, and his own dark uncertainties.
Amazon.com: More Information or Purchase
---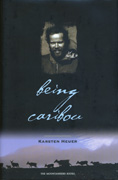 Winner.  Being Caribou.  By Karsten Heuer.  The Mountaineers Books, Seattle.  ISBN 1594850100
Karsten Heuer has just married and he has an idea for the perfect honeymoon: a five-month, thousand mile journey following the caribou migration from their winter range to their calving grounds in the Arctic and back again.  No stranger to wilderness adventure herself, his wife and film maker, Leanne Allison readily agrees.  Being Caribou is Karsten's sensitively done book of the couple's adventurous and inspiring journey.  This a book full of heart and soul, capturing, like no other, the exquisite beauty and stark realities of that timeless and most celebrated of all mammal migrations.
Amazon.com: More Information or Purchase
End of Listing
---