Best Book List:
The Outdoor Experience
Copyright 2009 Ron Watters
The following is a list of books that I use for an Outdoor Literature class that I teach at Idaho State University.  It also became the basis of an anthology that I edited entitled The Outdoor Experience. 
At first I thought that it would be a breeze to come up with a selection of readings for an outdoor literature class.  There are literally hundreds of books on the outdoors, including books on the environment, natural history, outdoor adventure, and outdoor travel. But it was just that, the sheer number of books—past and present—that made things all the more difficult, and the task I found myself faced with was winnowing the list down to a useful and representative sample of literature that could be included in a reasonably sized book and studied in a semester-long course. 
To help reach a final list, I consulted several "best reading" lists that have become available over the last couple of years.  Moreover, I was able to bounce ideas off my fellow members of the National Outdoor Book Award Committee.  The National Outdoor Book Awards is a non-profit program which each year honors the best in outdoor writing and publishing.  One of the projects of the committee was an informal survey on outdoor books that was administered to over 300 professionals and academics working in the field of outdoor education. 
In addition to having access to survey data and a list of books that academics and others recommended, it was also necessary to narrow down the scope of the material.  Outdoor literature encompasses several different genres including writings in outdoor adventure, nature, the environment, and adventure travel writing. 
The emphasis of the course I teach is on outdoor adventure writing:  exploration, survival, sailing, mountaineering, whitewater boating, kayaking, etc.  But outdoor adventure is very much connected to the other genres, a connection which can't be disregarded. As I researched the literature, I found that there were several key works, which although not technically outdoor adventure, had a profound influence in all outdoor writing.  One prime example is Thoreau's Walden.  Knowingly or unknowingly, many of the reasons that people offer these days on why they participate in outdoor adventure activities can be traced to the pages of Walden.
In addition to covering important works which had an influence on outdoor adventure writing, I also wanted to provide some sense of history.  Outdoor adventure activities such as mountaineering and river running have a rich history populated with fascinating men and women, and filled with triumphs and failures, and real-life mysteries.  A great amount of satisfaction is derived from knowing something about the people and events which shaped outdoor activities.  Mountaineering, for instance, is much more alive and you have a greater appreciation for the sport when you understand the struggles that climbers went through in the past. 
I eventually arrived upon a term to describe all this: "The Outdoor Experience."   Thus the Outdoor Experience—and the selection of readings in this list—encompasses outdoor adventure, its history and the writings which influence outdoor adventure.   To provide variety, I tried to select readings from a range of different outdoor activities.  The list includes readings on survival, mountaineering, horseback riding, river running, arctic exploration, sailing, canoeing, kayaking, desert hiking, and backpacking.
(I also might mention that I have used outdoor literature as the primary resource in some work that I have done in examining at the history of outdoor activities through the eyes of the generations.  For more information, see Outdoor Generations Paper.  And one additional related resource to outdoor literature is Wilderness Art.)  
I hope you'll enjoy the list.  If it increases your understanding of outdoor sports, gives you a feeling for history, or it provides the catalyst to read more, then it's served it's purpose.
The following is a summary of the list.  Details on each title follow . . .
---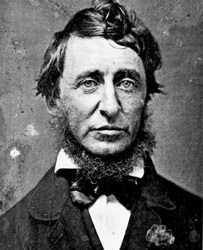 Walden 
By Henry David Thoreau
Time Period: 1845-1847
In 1845, Ralph Waldo Emerson, the great American essayist and transcendentalist, gave Henry David Thoreau the use of a piece of property that he owned along Walden Pond near Concord, Massachusetts.  Thoreau was an admirer of Emerson's work and had lived for a while at the writer's house. Emerson responded inkind, encouraging Thoreau in his own writing and even asking Thoreau to edit one of the issues of Dial, a transcendental journal.
On the Emerson property, Thoreau built a small cabin, planning to use it as a quiet place to finish work on a book that he was writing about a boat trip he and his brother had taken on the Concord and Merrimack Rivers.  But he had something else in mind, an experiment of sorts.  Having lived with Emerson, and thoroughly steeped in transcendentalism, he wanted to see if he could apply transcendental principles to his life along the pond, working one day and spending the remaining six other days reading, contemplating and developing his consciousness.
In 1846, Thoreau began work on a lecture which he would use to explain to the townspeople of Concord just what he was trying to accomplish by living in a small Spartan cabin along Walden Pond.  The lecture soon took on a life of its own and after much writing and re-writing, the lecture gradually evolved into his most famous work Walden. 
For all its impact in the literary and outdoor worlds, Walden is not an easy book to read. Thoreau used many puns and clever turns of words and phrases in his writing.  Since he intended part of it as a lecture, his playfulness with words and shifts of emphasis helped liven things up and get a laugh from his audience, but his irony can be missed by modern readers. Thoreau, after all, was writing for a Nineteenth Century audience not a Twenty-first Century audience.  Moreover, Thoreau also utilized numerous literary illusions that can leave a good many readers scratching their heads. 
I really recommend that when you read Walden that you read it from a version which has been annotated with short explanations of those puzzling Nineteen Century words, phrases, puns and illusions.  I can't believe how much it helped me.  When I first attempted Walden, I was lost a good part of the time, but, later with the help of an annotated version, I finally began to understand some of the richness and complexity of his writing. 
Walden is not an outdoor adventure book, nor is it a book about finding solitude in the wilderness.  Regular trains passed by on the tracks on the other side of the pond from Thoreau's cabin—and he could easily walk, and often did, to the nearby town of Concord. 
But Thoreau's ideas expressed in Walden of living simply are still very much with us today.  It is a basic reason why people go to the outdoors.  In part, we enjoy camping, backpacking, climbing, and other activities because they allow us to get away from the rush of modern society and simplify our lives—even if it is just for just a few days. 
Moreover, Thoreau's ideas of cultivating our independence and marching to the beat of our own drums (to paraphrase a famous Thoreau quote) is basic to why people reach beyond the ordinary and climb mountains, run rivers or explore far away places.  Certainly the women that are included on this reading list were individuals who marched to the beat of their own drums.  In the 1800's women simply didn't travel alone, but the two women described later did just that and much more, completely defying the conventions of their time. 
One misconception that people sometimes have of Walden is that the book is simply a reproduction of Thoreau's journal.  Certainly Thoreau used his journal as a basis for Walden, but most of the book was written after he left the woods.  In fact Thoreau lived in his cabin at Walden for two years from 1845 to 1847; yet in the book, he condenses those two years into one. 
Walden is the result of extensive writing and re-writing.  It is a very carefully crafted work in which Thoreau repeats his ideas and reasonings in slightly different guises while staying true to a central theme.  In the end, Thoreau, created a work that has stood the test of time.  Even though it was written 150 years ago, and even though it uses language that is sometimes lost on modern readers, the basic content still relates to us today. That's a sure sign of a great work of art.
The annotated edition that I recommend is published by Yale University Press edited by Jeffrey S. Cramer:  Amazon.com: More Information or Purchase
---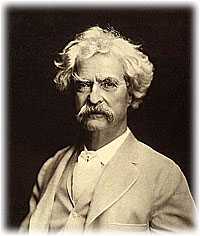 Roughing It
By Mark Twain
Time Period: 1861-67
Mark Twain, one of America's great writers, was born in 1835 and died in 1910.  Living a varied life, he pursued a series of careers—printer, Mississippi river boatman, journalist, travel writer, publisher—all of which provide ample fodder for his literary creations.  He was a man of extraordinary contrasts: refined, sentimental, and highly intelligent, but also hot-tempered, cynical, and tortured by self doubts—all of which added up, some might say, to the perfect combination of a literary genius. 
Roughing It is a loose rendering of the events in Twain's life beginning in July of 1861 when he departed for Carson City, Nevada with his brother Orion, who was recently appointed Secretary of the Territory of Nevada, and ending in early 1867 when he arrived in New York.  While in general, the book recounts Twain's experiences in the west, it shouldn't be taken as fact.  In Roughing It, Twain lets his imagination hold sway over fact, rather showing off his artistry and his talent as a consummate humorist.
Roughing It can't really be described as an outdoor or nature book, at least under the definition that we've reserved for the readings in this list.  It's a rollicking, no-holds barred travel account, but within the book, we can find examples of outdoor writing that do fit our definition.  Certainly Twain's outdoor writing, involving what we now
call outdoor recreation activities, could appear in present day outdoor periodicals. 
Amazon.com: More Information or Purchase
---
Scrambles Amongst the Alps in the Years 1860-69
By Edward Whymper
Time Period: 1860's
Scrambles Amongst the Alps is one of the best representations of writing from the golden age of mountaineering in the mid and late 1800's.  Edward Whymper, the author, became interested in mountaineering when in 1860 he was asked by a London publisher to make sketches of the famous peaks of the Alps.  That led to an early and successful climb of France's Mount Pelvoux in 1861, and from then on, Whymper was hooked and made numerous other climbs in the Alps. 
Scrambles Amongst the Alps is partially a guidebook.  Whymper says in the Preface that he has endeavored "to make the book of some use to those who may wish to go mountain scrambling."  But mostly it's a book of Whymper's memoirs, his high points and successes, and his failures.  Concerning those failures, he is frank:  "Undue prominence, perhaps, has been given to our mistakes and failures; and it will doubtless be pointed out that our practice must have been bad if the principles which are laid down are sound, or that the principles must be unsound if the practice was good.  We were not immaculate.  Our blunders are not held up to be admired, or to be imitated, but to be avoided." 
While climbers came from a variety of nationalities, the British dominated the late 1800's mountaineering scene.  In English male society, mountaineers held an elevated status.  It was truly a gentlemen's sport, one which tested one's nerve and physical stamina and one that became the stuff of good conversation in social clubs and gatherings back in England.   With the pungent scent of cigar and pipe smoke in the air, brandy sloshing in glasses, and a fire roaring in a stone hearth, men sat and re-lived the adventures of the summer's mountaineering season. 
Although deadly serious— it was, after all, a sport in which lives could be lost—men like Whymper downplayed its heroic nature. "These scrambles amongst the Alps were holiday excursions, and as such they should be judged.  They are spoken of sport and nothing more."  Such commentary, of course, was expected of an Englishman.  It was almost a tenet of the British to play hard, fight hard, and make light of danger.  Never let them see you sweat.  That's simply the way it was, the way an Englishman was expected to act. 
The most interesting—and historic from a mountaineering point of view—are the later chapters about climbing the Matterhorn.  The great prize in Whymper's day was to be the first to climb the spectacular and breathtaking mountain on the Swiss and Italian border.  In the late 1850's and early 1860's, the Matterhorn had repelled all attempts to reach its summit. Whymper, himself, made seven unsuccessful tries at the mountain.  In 1865, Whymper was a hair's breath away from the prize he so eagerly sought.  Something happened on the climb, something that to this day, mountaineering historians still talk about.  To find out, there's nothing like going to the source. 
Amazon.com: More Information
---
Beyond the Hundredth Meridian:
John Wesley Powell and the Second Opening of the West
By Wallace Stegner
Time Period: Late 1800's
We move now from the lush Alps of Europe to the dry and inhospitable canyon country of the western US.  This and the next book concern one man, someone who is inextricably linked with the Grand Canyon, the world's most famous canyon: John Wesley Powell.  Powell is famous in the river running world for leading the first journey down the treacherous rapids of the Colorado through the Grand Canyon. The account of his journey is clearly one of the classics of outdoor adventure.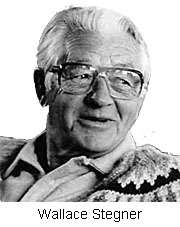 Beyond the Hundredth Meridian, the first of two books on this list about Powell, is a classic biography written by Wallace Stegner.   I had more than one reason for including Stegner as one of the authors on the reading list.  One important reason is Stegner's work as conservationist.  Stegner helped put together the National Parks Bill and served at one time as the Assistant Secretary of the Interior.  While with the Interior Department, he knew and expressed admiration for another author that is included on this list, Sigurd Olson. 
My main reason for including him is that Stegner is considered one of the finest writers and observers of the western experience.  Among his works of historical non-fiction, his biography of Powell is considered by many to be his best.  Indeed, it's a wonderfully written biography—and it's a good lead-in to Powell himself.  I highly recommend that you start by reading Stegner's biography first and then move on to Powell's actual narrative of the Colorado journey (the next book on the list). 
Amazon.com: More Information or Purchase
---
The Exploration of the Colorado River and It's Canyons
By John Wesley Powell
Time Period: 1869
The Exploration of the Colorado River and It's Canyons is John Wesley Powell's report of his "journey into the great unknown."  Prior to Powell's expedition, virtually nothing was known of the huge swatch of land between western Colorado and Nevada.  It was a bleak, waterless and tortured land.  On maps, it was a blank spot covering several degrees of latitude and marked "unexplored." 
It drew Powell like a horse to water.  He wanted to be the first to sketch in the features of the map, and most particularly the blue line showing the course of the unknown Colorado.
Powell started at Green River, Wyoming and ran the Green River until it joined the Colorado and from there, down the through the Grand Canyon. When it was over, Powell would come back with more than simple facts of geography and geology, but a lasting impression of the canyon's incredible beauty.
Amazon.com: More Information or Purchase
---
A Lady's Life in the Rocky Mountains
By Isabella Bird
Time Period: 1870's
A Lady's Life is a rare, gem of a book which uses a series of letters to describe an Englishwomen's 1873 journey in the Colorado Rockies.  The woman is Isabella Bird, a remarkably independent woman, someone who these days we might call a free spirit.  But in the 1800s, free spirited women were rare.   Few women traveled alone abroad, and if they did, it would be unthinkable for a woman to ride off alone on a horse into a wild and largely unexplored mountain range, just to see the sights, and maybe find an adventure or two.  That's exactly what Isabella Bird did.
In her early twenties, Bird had been in ill-health, and to get some fresh air, she took a boat trip across the Atlantic to America in 1854.  She spent a year, traveling in Canada and eastern and Midwestern US, and from those experiences wrote a book (The Englishwoman in America).  In the process, the illness was forgotten and she had become hopelessly addicted to travel. 
In the 1873 journey which forms the basis of A Lady's Life, she starts in San Francisco, takes the train on the newly completed transcontinental railway, and ends up on a spur line in Greeley, Colorado.  She could see the Colorado Rocky Mountains in the distance and she was irresistibly drawn to them.  "As I write I am only twenty-five miles from them," she told her sister in a letter, "and they are gradually gaining possession of me.  I can look at and feel nothing else." 
From Greeley, she hitched a ride in a wagon and after suffering through a hot day reached Fort Collins.  Her goal was to make it to Estes Park at the base of Long's Peak, Colorado's highest.  Gradually after a series of memorable events, she makes it.  As you'll see, once there, her adventure was only beginning.
Amazon.com: More Information or Purchase
---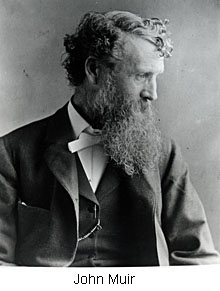 Steep Trails
By John Muir
Time Period: 1870s
John Muir (1838-1914) is considered America's most eloquent spokesman for wilderness. He is often included among the list of great nature writers (such as W. H. Auden, Gilbert White and Henry David Thoreau), but of all the nature writers, he was the wildest.  Muir physically immersed himself in great unspoiled outdoors and was ever on the move, exploring the hidden away treasures of the wild countryside.  He hiked literally thousands of miles and climbed dozen of summits.  He spent the bulk of his time in the Sierra Mountains, but he also traveled to Alaska and made the first explorations of Glacier Bay. 
Muir is best known for his role in the fight to preserve wild lands in the western United States.  His influence, writing and lobbying was crucial in protecting two of America's great parks: Yosemite and the Grand Canyon.
Muir was influenced by the writings and philosophy of Emerson and Thoreau.  As far as Emerson was concerned, the feeling was mutual. Emerson thought so highly of Muir that he included Muir on a list of men who were among his life's greatest influences.
Muir's writing is vivacious, passionate and fervent.  "Climb the mountains," he wrote, "and get their good tiding.  Nature peace will flow into you as sunshine flows into trees.   The winds will blow their own freshness into you, and the storms their energy, while cares will drop off like autumn leaves."  It's almost that Muir has a hard time holding in his joy for nature and wild things, and it all comes rushing out.  To many of his readers, it's an enthusiasm that is catchy. 
Muir wrote a number of wonderful books—and it's hard to choose between them.  I selected Steep Trails for his account of surviving a storm on Mt. Shasta, but there's certainly much, much more to read by Muir.
Amazon.com:More Information or Purchase OR Download from the Gutenberg Project
Also, this a nice collection of Muir's writings: John Muir Nature Writings
---
Travels in West Africa
By Mary Kingsley
Time Period: 1890's
A previous book included on this reading list was written by the intrepid Isabella Bird who wrote the marvelous A Lady's Travels in the Rocky Mountains.   This book is by another remarkable woman, Mary Kingsley, whose writings cover the decade of the 1890's about 20 years after Bird's journey to Colorado.   Isabella Bird and Mary Kingsley are alike in many ways.  Both were British.  Both were daring.  And both defied the conventions of the day and took off alone on adventurous journeys to exotic places.
Mary Kingsley's journeys as described in her book Travels in West Africa are as fascinating as Bird's.  Although she writes in the typical British style of her times not letting on to inner doubts and anxiety, the danger she faces is palpable as she travels the rivers and dark forests of Africa.  Those dangers included disease, wild animals, poisonous snakes, and the ever present fear of becoming lost.
Moreover, the places she travels are inhabited by primitive, warring, tribes.  As a white woman, she stands out, and certainly is looked upon by some of those natives as a delicious prize.  Rape is a distinct possibility, as are torture and death, but Kingsley never dwells on such thoughts and treats her journeys almost if she is taking a stroll in Hyde Park.
She had less money than Bird, and had to earn her way about Africa by engaging in trading.  While it wasn't lucrative, it was enough to get her by.  It wasn't money, however, that took her to Africa.  She went to continue the work of her father, studying and recording customs of African native tribes.  While she made no new discoveries for science, she did, in a few short years, pack in a lifetime of novel experiences.
Amazon.com: More Information or Purchase
---
Journals of Robert Falcon Scott
By Robert Falcon Scott
Time Period: 1912
One of the great dramas of exploration took place in 1911 and 1912, when a British team under the leadership of Robert Falcon Scott and a Norwegian team under the leadership of  Roald Amundsen were engaged in a race to reach the South Pole.  Scott's journey to the pole is the best known, but it was Amundsen who made it to the pole first, a full month before Scott. 
Why the loser would become better known than the winner is at the heart of this absorbing story.  It certainly wasn't because Scott was the better leader.  While competent, Scott possessed  key deficiencies in his leadership.  He was haphazard in his methods.  He scoffed at some of the ideas of experienced explorers and his planning was incomplete.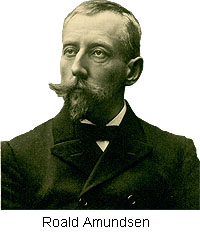 Amundsen, on the other hand, was a well-rounded and effective leader.  From previous experiences and work with natives in cold regions, he knew that the use of dogs would be key in a successful bid for the south—and he was right.  By using dogs, he was able to save his men's strength and get them to the pole and back safely and efficiently.  In contrast, Scott man-hauled his sleds the 700 miles from his base along the sea to the pole.  Compounding the complexity of his journey, just before he left for the pole, he made a last minute decision to take one extra person.
It was a fateful decision.  Their inefficient method of pulling the sledges and the extra mouth to feed stressed their food supplies, and after a long and difficult journey back from the pole, exhaustion and exposure finally did Scott's party in.  Despite Scott's less than perfect leadership, despite his lack of experience in Arctic travel—both of which had contributed to his party's death—the British media heralded Scott's journey as an example of British courage.  It was hard not to see it this way.  The image was a powerful and romantic one:  a small group of men pulling their own sleds across the bleakness of the Antarctic, fighting against terrible cold, plodding on against the ever present wind —and finally when they could no longer move forward— Scott and his companions bravely faced death. 
This was the stuff of heroes, and his legend grew so much that it has overshadowed Amundsen's achievements.  More recently, biographers and historians such as Roland Huntford (see next book), have re-evaluated Scott's journey with a more objective eye.  Fortunately because of Huntford's work, Amundsen's triumph is receiving greater attention, and his skills as a leader are more fully appreciated.
Yet for all his failings, Scott stills remains a fascinating study, and in this book, you'll have a chance to read from Scott's own words.
Amazon.com: More Information or Purchase OR Download from the Gutenberg Project
---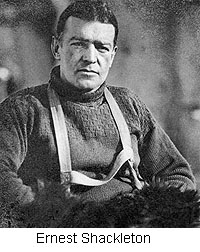 Shackleton
By Roland Huntford
Time Period: Early 1900's
Ernest Shackleton and Robert Scott (see previous book) were opposites. Where Scott held himself aloof from his men, Shackleton was their friend.   Where Scott's overriding concern was the cause, Shackleton's was his fellow companions.  Scott drove himself and his men into the ground and died on the return journey from the pole.  Shackleton who also attempted to reach the South Pole, turned back 97 miles shy of the goal, and in doing so, gave up a long-held and cherished goal, but saved the lives of his men.  In 1916, he got his men—all of them —through one of the most desperate survival situations in the annals of exploration.  Of the many things he is known for, he is known best for never losing a man
.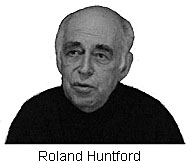 The book, a biography about Shackleton, is by Roland Huntford.  Huntford is a contemporary chronicler of arctic adventures.  He wrote Scott and Amundsen, an erudite work on the personalities and events of the race to the South Pole and helped dispel the myth surrounding Scott's ill-fated journey to the pole. 
Roland's well-researched biography is a classic study of one of the greats of Antarctic exploration, and, in particular, his narrative of Shackleton's epic 1916 journey is as gripping and unforgettable as found anywhere.
Amazon.com: More Information or Purchase
---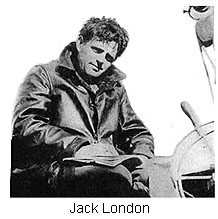 To Build a Fire
By Jack London
Time Period: Early 1900's
What's my number one choice for a short read on a cold winter's night?  Jack London's "To Build a Fire," that's what!  If you haven't read it, you must go to the nearest library and get a copy right away.  If you've already read it, read it again.  It's the kind of story that you can read and re-read and it never gets old.  It's an American classic, one of the finest examples of a short story ever written — and it's about snow and cold.
This is a story that can be read in less time than it takes to watch an episode of Survival — and it's far more gripping and edifying.  Let me whet your whistle with a few of the opening lines: 
Sky had broken cold and gray, exceedingly cold and gray, when the man turned aside from the main Yukon trail and climbed the high earthbank, where a dim and little-traveled trail lead eastward through the fat spruce timberline.  At the man's heels trotted a dog, a big native husky, the proper wolf dog.  The animal was depressed by the tremendous cold.  Its instinct told a truer tale than was told to the man.  In reality, it was not merely colder than fifty below zero; it was colder than sixty below, than seventy below.  It was seventy-five below zero."

The man in London's story is a miner, one of the many that rushed to the Yukon when gold was discovered there in 1896.  He is traveling to meet the "boys" at a cabin on the left fork of Henderson Creek.  A new arrival, a chechaquo, he has not learned the ways and hazards of the north country.  He is chewing tobacco and as he spits he watches it crackle and freeze before it reaches the snow.  He has been warned by an older, experienced "sourdough" that one shouldn't travel in temperatures where a man's spittle freezes before it reaches the snow, but the miner shakes off the advice and goes anyway.  The old sourdough is timid and unmanly, he thinks to himself, and he trudges on confidently, sure of himself — all the while the dog follows at his heels, reluctantly. 
The dog is a key element in the story.  London effectively counterpoises the instincts of the dog against the decisions and hubris of the man.  Not only is this a story of survival but it is a story of how a series of small decisions, wrongly made, can lead to disaster.
It's a spell-binding narrative written by a master story teller— and, I promise, it will stay with you.  Whenever I attempt to build a fire under trying conditions, the image of Jack London's miner comes to me, and I'm reminded that humility in the outdoors is as important as good sense and skill. 
Amazon.com:  More Information or Purchase OR Download from the Gutenberg Project
---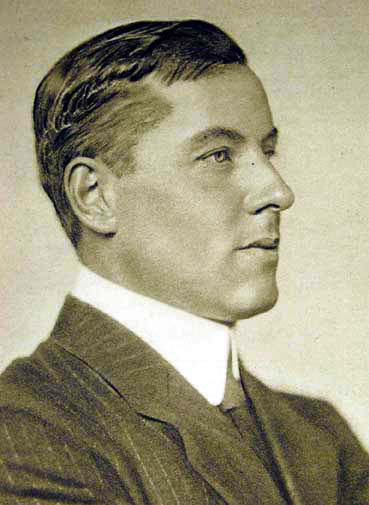 The Spell of the Yukon and Other Verses
By Robert Service
Time Period: Early 1900's
Jack London's stories of the Yukon gold rush helped make him the world's best selling and highest paid author of the early 1900's, but London isn't the only literary icon that mined the Yukon for material.  The Yukon also figures prominently in the poetry of Robert Service.
Poetry you say?  Oh yes.  And there's no better poet to quote around campfires and cabin hearths than Robert Service.  Here's a few lines from his famous "The Cremation of Sam Magee."
There are strange things done in the midnight sun
By the men who moil for gold;
The Arctic trails have their secret tales
That would make your blood run cold;
The northern lights have seen queer sights,
But the queerest they ever did see
Was the night on the marge of lake Lebarge
I cremated Sam McGee
No one has ever caught the feeling of cold with more poetic force than Robert Service:   Talk of your cold! Through the parka's fold it stabbed like a driven nail.  His themes are bold and romantic:  the great white silence, the call of the wild, the loneliness of the north, the long winter's night, and the stars that dance to and fro.  It's chillingly wonderful!
Amazon.com: More Information or Purchase OR Download from the Gutenberg Project
---
The Wildest Dream: The Biography of George Mallory
By Peter and Leni Gillman.
Time Period: Early 1900's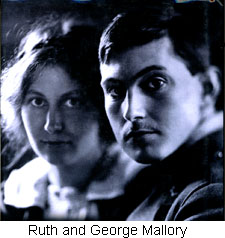 Biographies don't get any better than this.  Supremely well researched and documented, erudite, and masterfully written, this book isn't so much about what happened to Mallory in 1924 when he and his climbing partner Irvine disappeared in the mists of Mt. Everest, but rather it seeks the answer to another, almost more fascinating question:  who was this man Mallory?  This is the book to read to find the answer.
Amazon.com: More Information or Purchase
---
A Sand County Almanac 
By Aldo Leopold
Time Period:  Early to mid 1900's
There was no question about including Aldo Leopold's The Sand County Almanac on this list.  The Sand County Almanac is one of the most important nature works ever published, and is often ranked as the top environmental book of all time.  It is included because works on the environment and conservation have a very strong relationship with outdoor adventure writing.  Part of the reason that people enjoy outdoor activities is that they take place in natural areas, wild lands or rivers, free of development and chaos of civilization. Sand County Almanac is an eloquent plea to preserve our natural environment.
The reason Sand Country Almanac has reached this stature is because of Leopold's informal and inviting style. The reader feels like he or she can sit down with Leopold at a rest stop along a trail.   The book is composed of a series of thoughtful and often poetic essays. 
If they were just essays, it would be another nature book, but Leopold was the first nature writer to use his essays to relate fundamental principles of ecology and evolutionary thought.  Instead of a simple description of a beautiful scene in nature, Leopold goes a step further and helps the reader understand something about ecology and the interconnectedness of all life. 
This combination of engaging and informative style about natural principles, helps readers develop a love and respect for the natural environment, something that Leopold called the Land Ethic. 
Leopold warns that man must change, that we can no longer destroy nature willy-nilly. "A thing is right when it tends to preserve the integrity, stability and beauty of the biotic community." Leopold said.  "It is wrong when it tends otherwise."  Wallace Stegner (see previous book), labeled Leopold's writing as "the utterance of an American Isaiah."
Amazon.com: More Information or Purchase
If you'd like to read more, here's a link to a biography about Leopold: More Information
---
The Singing Wilderness 
By Sigurd Olson
Time Period: 1950's
No selection of books on the outdoor experience would be complete without a piece on the north country: that maze of lakes, marshes and rivers which makes up the Canadian and American canoe country.  Of the writers of the north country, Sigurd Olson stands out. 
Sigurd Olson taught natural science at a junior college in the small, northern Minnesota town of Ely, often referred to as the gateway to the Boundary Waters Canoe Area.  In the summers Olson worked as a canoe guide and ran a small canoe outfitting business.
Olson's eloquent writings of the north country combine his understanding of wilderness travel with his knowledge of ecology and the natural environment.  In many ways, Sigurd Olson and Aldo Leopold used similar techniques in their essays.  There are differences, however.  Leopold was more precise while Olson was more abstract, using his words to excite the imagination.  They both wrote of the loss of wilderness, and while Olson was sometimes ambiguous in his essays, he has a more hopeful outlook than Leopold.
That's not to say Olson did not believe in wilderness protection.  Quite the opposite.  Of all our authors covered in this volume with the exception of Muir, Olson fought the hardest for the wilderness cause.  He was president of the Wilderness Society, served on the National Park Advisory Committee, and worked tirelessly with regional groups for the wilderness preservation of the Boundary Waters in the U.S. and the Quetico in Canada.
It's been mentioned (see previous book) that great western writer Wallace Stegner had labeled Aldo Leopold an "American Isaiah."  Olson's biographer, David Backes, extends Stegner's biblical comparison to Olson, but he terms Olson a new testament disciple.  "Where Leopold invokes the God of power and wrath," says Backes, "preaching the proper ethical behavior toward the land and prophesying doom if society disobeys, Olson invites his  readers to experience the God of love, as made manifest in nature." 
Olson, through his writing, bears the good news of wilderness preservation, and he used, just as Leopold did, ecological principles and knowledge of science to make the outdoor experience more complete and satisfying. 
Amazon.com: More Information or Purchase
If you'd like to read more, here's a link to a biography about Olson: More Information
---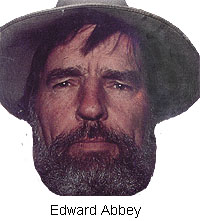 Desert Solitaire
By Edward Abbey
Time Period: 1960's
Edward Abbey signals a change in temperament of outdoor writers.  While previous writers were careful not to be overly offensive, Edward Abbey can be down right rude—particularly if you happen to be a developer or work for the Bureau of Reclamation:  "The beavers had to go and build another g—d——d dam on the Colorado.  Not satisfied with the enormous silt trip and evaporation tank called Lake Mead (back of Boulder Dam) they have created another even bigger, even more destructive, in Glen Canyon.  The reservoir of stagnant water will not irrigate a single square foot of land or supply water for a single village; its only justification is the generation of cash through electricity for the indirect subsidy of various real estate speculators, cottongrowers and sugar beet magnates in Arizona, Utah and Colorado; also, of course, to keep the engineers and managers of the Reclamation Bureau off the streets and out of trouble." 
Welcome to the writings of Edward Abbey, the sharp-tongued spokesman of the desert and canyonlands of the American West. 
Abbey began as a novelist.  An early novel, The Brave Cowboy, is about an iconoclast and loner, Jack Burns, who lives by the values of the old west.  Burns doesn't have much regard for legal niceties and refuses to carry any kind of identification including a draft card (which was against the law in those days), and casually rides his horse through a busy downtown area.  Of course, he runs afoul of the laws of the new west, and tries to escape to Mexico. 
Brave Cowboy which was made into a movie re-titled Lonely are the Brave is, in essence, about an individual who simply refuses to accept the tyrannies of life in modern society.  It is only in the mountains and deserts that he is able to escape to find freedom and true fulfillment, but that place of refuge is threatened by the long arm of the government and its technology. 
It was a theme that repeats itself in Abbey's work: a lone person, holding on against the forces of modern society.  Other early novels included Jonathan Troy and Black Sun, and then in 1968, he came out with the book that changed everything: Desert Solitaire.
A collection of essays on the western desert, Desert Solitaire thrust Abbey into the national limelight.  The book centers on Abbey's experience as a ranger in Arches National Park, but it also follows him on various jaunts in the surrounding canyons and mountains.  He warns of the same things as Olson and Leopold did (see previous books), of the loss of wilderness, of the need to protect wildlife and wild lands, but he turns up the volume and comes across with a blend of anger, impertinence and sassiness.  "We need more predators," Abbey proclaims in Desert Solitaire, "The sheepman complain, it is true, that the coyotes eat some of their lambs.  This is true but do they eat enough? I mean, enough lambs to keep the coyotes sleek, healthy and well fed."
Abbey wanted to be known as a novelist, but Desert Solitaire has remained Abbey's most loved work.  He was perplexed over its success.  Yet, it struck a chord with readers, transporting them into a new world and different kind of natural place—dry and desolate but with secreted places of beauty— delighting readers with stories, bringing romance, beauty, humor and voice to a forgotten land.
Amazon.com: More Information or Purchase
If you'd like to read more, here's a link to a biography about Abbey: More Information
---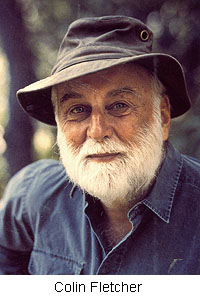 The Man Who Walked Through Time
By Colin Fletcher
Time Period: 1960's
One outdoor activity which grew by leaps and bounds in the 1970's and 1980's is backpacking.  A number of books on backpacking were written.  Most were how-to instructional books, but a few narratives appeared like Eric Ryback's books of hiking the Appalachian, Continental, and Pacific Crest trails.
The one author who is best associated with the increase in backpacking is Colin Fletcher.  Fletcher wrote two narratives on backpacking.  Like any outdoor narrative, he explained where he went and what he saw, but Fletcher went a step further, giving us a glimpse into his inner thoughts, his philosophy, and how the activity of backpacking fits into the scheme of the natural world.
Probably Fletcher's most well-known book is the Man Who Walked Through Time, the story of his journey from one end of the Grand Canyon to the other.  There's no death defying climbing or canyoneering found in this book.  He tells no edge-of-the-seat tales of becoming lost or struggling without water.  Yet, Fletcher makes the trek interesting by taking us along, inviting us to be a participant and sharing with us what he is experiencing.
Amazon.com: More Information or Purchase
---
Never Turn Back: The Life of Whitewater Pioneer Walt Blackadar
By Ron Watters
Time Period:  Mid to late 1900's
An earlier book on this list is about the first run of Grand Canyon of the Colorado by John Wesley Powell in 1869.  This biography covers, in part, another famous run, the first whitewater kayak descent of the Alsek River through Turnback Canyon. 
Turnback, located on the border of Alaska and British Columbia, is an awesome stretch of whitewater squeezed in a canyon that is sometimes only 30 feet wide.  On one side of the silt-laden river are the walls of a mountain rising thousands of feet above, and on the other is a massive glacier which at times surges over the canyon's wall and spills ice into the foaming river below.
Walt Blackadar, the subject of this book, made the first descent of this remote river, piloting his fragile fiberglass kayak down its icy waters in 1971.  Blackadar's feat—which he accomplished alone—shocked the whitewater world.  It was an adventure so bold and so far ahead of its time that he has assumed a place along side that of Powell and other great adventurers.
His extraordinary journey on the Alsek is only one part of the story.  He was a doctor.  Trained at Dartmouth and Columbia, he moved west to a small town in Idaho to be near good fishing and hunting.  But in time, the wilderness around him shrank in size and the once great salmon runs dwindled.  Alarmed, he began to speak out for the protection of rivers and wild lands and took increasingly unpopular stands in a community whose economy was tied closely to resource extraction.
He was also a man with faults and failings.  Never Turn Back is not a one-sided story.  It is a carefully researched and objective look at the complexities of Blackadar's life.  It is this honest portrayal that makes the book such a captivating one.  From the first page through the unforgettable last chapter, it is a fascinating and candid account of a remarkable individual.
---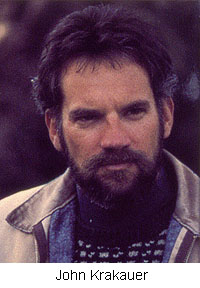 Into Thin Air
By John Krakauer
Time Period: Late 1900's
It was John Kraukauer's book in 1997 which suddenly made New York publishers sit up and take notice.  Indeed, a book on outdoor adventure could make money and lots of it.  Into Thin Air describes the diaster that unfolded on Mt. Everest in 1996 when several parties were caught in a vicious storm.  The storm and other events on the mountain that year,  made it the deadliest season ever.   The publisher's summary:
Kraukauer, an accomplished climber, went to the Himalaya as a client of Rob Hall, the most respected high-altitude guide in the world.  A rangy, thirty-five-year-old New Zealander, Hall had summited Everest four times between 1990 and 1995 and lead thirty-nine climbers to the top.  Ascending the mountain in close proximity to Hall's team was a guided expedition lead by Scott Fischer, a forty-year-old American with legendary strength and drive who had climbed the peak without supplemental oxygen in 1994.  But neither Hall nor Fischer survived the rogue  storm that struck in May of 1996.
One of the primary reasons why I included Krakauer's book on this list is that it dramatically illustrates the contrast between the mores of early mountaineers such as Mallory with the mores of today's commercialized mountain culture.  Some things are the same, of course—the ambition and the egos of the men and women involved—but some things are clearly different, and it's those differences that makes fascinating foder for speculation on what has become of the outdoor experience.
Amazon.com: More Information or Purchase
End of Listing
---