Merciless Eden. By Doug Tims. Ferry Media, Boise, ID ISBN 9780989191005.
Reviewed by Ron Watters.
_________________________________

Best of the Year Award
_________________________________
Merciless Eden is about Campbell's Ferry Ranch located along the Salmon River in the Frank Church River of No Return Wilderness (shown on the map below).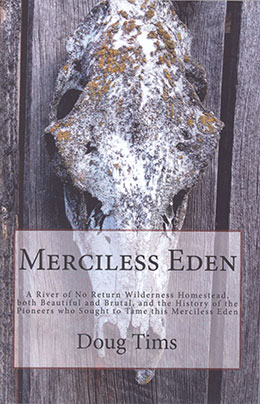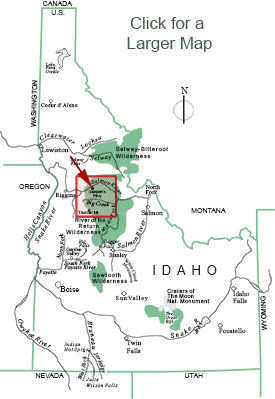 The ferry's namesake, William Campbell, homesteaded there in 1897. He grew fruits and vegetables to sell to the mines in the high country north of the river canyon.
Using horses or mules, he transported his produce up 2,000 vertical feet of a dizzy, switchbacking trail that he had built. It was a hardscrabble life, but he got by.
A year after Campbell arrived, gold was discovered at Thunder Mountain to the south. Interest quickly turned to Campbell's trail as a possible northern route to the new diggings. One additional trail segment, however, was needed: from Campbell's Ferry to the south, across the high Chamberlain Basin, and onto established trails leading to the Thunder Mountain gold fields. Money was raised and Campbell and two others built what became known as the three-blaze trail.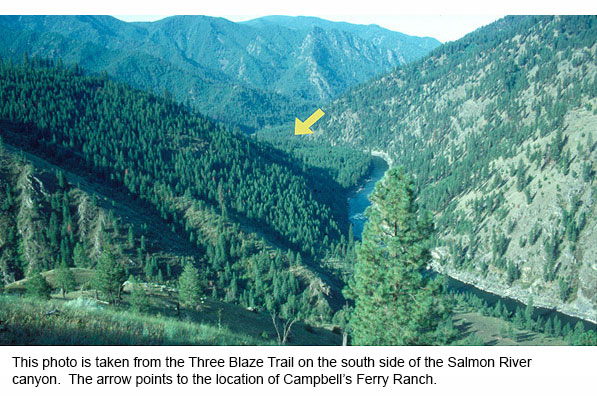 To make the trail viable, though, something needed to be done about crossing the Salmon River. The cost of building a pack bridge over the river was prohibitive, so get miners and their pack animals across, Campbell and a friend constructed a ferry boat. A fee was charged for each person and each head of stock crossing on the ferry. Suddenly Campbell's financial fortunes took a turn for the better as increasing numbers of people from the north were using the trail to get to Thunder Mountain.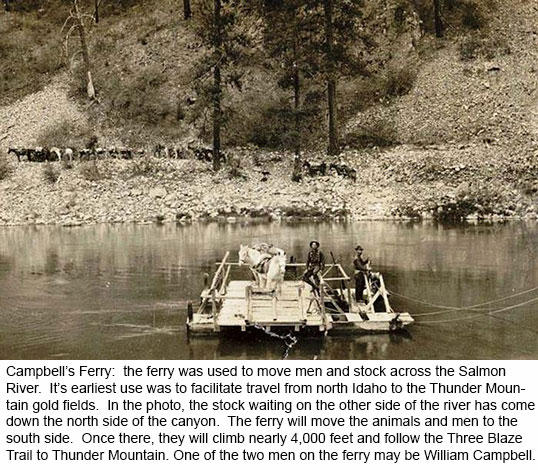 Author Doug Tims not only discusses the use of the ferry, he also explains its construction and the principal behind its operation: how it takes advantage of river current to move from one bank to other, and how it can reverse and move back to its starting point. These little nuggets of explanatory information illustrate the care that Tims put into researching and writing the book. They add depth to the story and are found throughout the book.
Considering that Campbell was charging $1.00 per person and $1.00 per head of stock, he was making some real money. His good fortune, however, would be short lived.
In the winter of 1902-03, right at the peak of the Thunder Mountain gold rush, Campbell disappeared somewhere in the central Idaho wilderness. His body was never found. A check that he had on his person was never cashed. He simply vanished. I won't give anything away, but Tims lays out the fascinating theories of what may have befallen Campbell.
Life at Campbell's Ferry went on, and in the fall of 1940, an attractive young woman by the name Frances rode into the ranch. "With her glittering blue eyes and a mischievous smile," writes Tims, "her arrival in the canyon registered at least 9.5 on the Richter Scale with the resident male population."
Frances was quickly given work at the ranch, cooking, caring for the ranch house and helping with ranch chores. As can be expected, it didn't take long before a rivalry developed between the men at the ranch. A year later, however, the competition for her attentions ended when Frances accepted an engagement ring from one of the lovestruck suitors.
From then and onto the later chapters, the book centers on Frances. We find that she has been married once before to a counterfeiter and swindler. One day, while her nefarious husband was locked in an Idaho jail, Frances saw her chance to break free from him and fled to the Idaho backcountry. She eventually made it to Campbell's Ferry, and there deep in the canyon of the Salmon River, she met honest, hard working men, and her life changed to the better.
There was something more to it for Frances. It was more than getting away from her first husband. There was something about the land that attracted her.
Much later in her life, speaking to an interviewer, she described her first sighting of Campbell's Ferry: "I stopped my horse and looked." Then without much of a pause, she continued, but this time she switched to the present tense, as if she was experiencing that day once again. "To me it is the most beautiful place in the world. I said, I don't know how you are going to do it Frances, but you are going to drive a nail in the wall of that house and hang your toothbrush on it. You are through travelling."
She was through travelling.
She ended up outlasting two more husbands and then lived alone at the ranch for a number of years. She became the most famous of Idaho's backcountry women, continuing to live in the wilderness away from roads and modern conveniences.
The book is more than a simple history of a place. Throughout his work, Tims effectively interweaves his own story: about his outfitting business on the Salmon River, about how he becomes to know Frances, and, yes, about his own love affair with Campbell Ferry Ranch.
As his blends his own story with Frances's, he brings in the efforts to protect the roadless portion of central Idaho as the River of No Return Wilderness. Frances has strong opinions and was opposed to wilderness classification, but Tims uses her opposition to wilderness to explore the paradox of her later years. Frances's love for Campbell's Ferry is because of its wild character, located in the midst of a vast tract of unroaded land. Without the congressional protection as wilderness, however, development of Frances's wild Eden was clearly in the cards.
Multi-national mining corporations with deep pockets and friends in Congress wanted free rein to develope mineral deposits. Timber companies, eyeing the forested lands above Campbell's Ferry, were already pondering a network of roads and might even get the Forest Service to help pay for them.
Then there was Campbell's Ferry Ranch itself. When Frances passed on, it would make a nice get-away for a billionaire. The old buildings would likely be torn down and replaced something more fitting for the wealthy owner. Already inholdings of private land had been developed: a motel on Cabin Creek, a lodge complete with a tennis court on Camas Creek, and a Las Vegas casino magnate's lavish development along the Middle Fork of the Salmon, all within the central Idaho wilderness.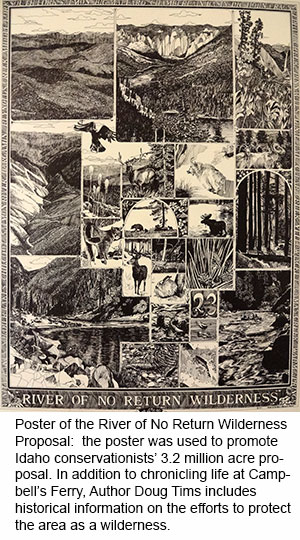 I know a little about this part of the story since I was involved in the wilderness issue, serving on the board of directors of the River of Return Wilderness Council, the citizen group in Idaho working for the area's preservation. My role was small compared to some of the great Idaho conservationists who were my fellow board members such as Fish and Stream editor Ted Trueblood or Idaho guide and outfitter Norm Guth. At a meeting in Salmon, which Tims describes in his book, our group put together a proposal to protect 2.3 million acres of land. Previously the roadless part of central Idaho had been designated by the Forest Service as the Idaho Primitive Area. To distinguish our proposal from the old Forest Service name, we called it the River of No Return Wilderness.
The name stuck.
While some wilderness supporters outside of the state were pushing for a pure wilderness, including the buying up of private inholding, and the removal of all structures - and a primary reason for Frances' opposition - we were proposing a different approach. We worked with Senator Frank Church of Idaho on a bill that protected the central Idaho wilderness but also honored its historical values. That meant preserving historic buildings such as Frances' ranch and permitting traditional and pre-existing uses such as the area's backcountry airfields.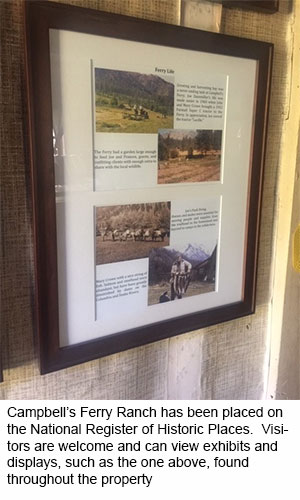 Another author might have affirmed Frances's opinion on the subject of wilderness and left it there, but Tims, as a former outfitter on the Salmon River, was intimately aware of the issues involved and realized how important it is to the Campbell's Ferry story. I found Tims treatment of the wilderness issue reasoned, factual and well done.
After Frances death, Tims became involved in an effort to preserve the ranch - an effort which was met by starts and fits, and dealing with a recalcitrant Forest Service. Eventually, however, the endeavors undertaken by Tims and others were successful and the ranch was placed in a conservation easement. He and his wife Phyllis became the caretakers, and along with volunteers, they replace roofs, rebuilt sagging foundations, and made other improvements, always to an eye to preserving its historical value.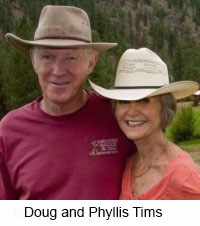 This is a fine book, well research, well organized, well written. If you enjoy historical works: stories of people making a place for themselves in the wilderness - or if you fished or floated the Salmon, or hiked or hunted the River of No Return country - or even if you haven't but dream of visiting wild places, this is the book for you.
Amazon.com: More Information or Purchase
Photographic Credits: The following photographs were provided by Doug Tims and used by permission: Aerial of Campbell's Ferry Ranch, Campbell's Ferry Historic, Frances Wisner Historic, Campbell's Ferry Interpretive Sign, and Doug and Phyllis Tims. All other photos used in the review are by Ron Watters.
[End of Listing]
---