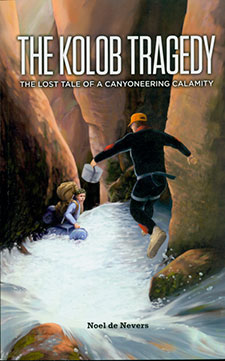 The Kolob Tragedy:  The Lost Tale of a Canyoneering Calamity.  By Noel de Nevers.  Canyoneering USA, Mt Carmel, UT.  ISBN 9780978961442
.
Amazon.com: More Information or Purchase
.
Photos accompanying this review are courtesy of
Noel de Nevers.
One word describes this book:  compelling!  And to that add "supremely illuminating."  The Kolob Tragedy is a case study of a canyoneering accident that occurred in July of 1993.   A youth group led by three adults rappelled into the narrow canyon formed by Kolob Creek in Zion National Park.  The creek was running high.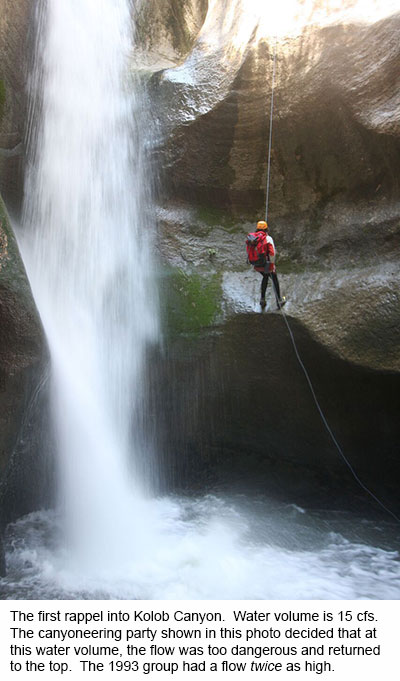 The group was facing a total of 11 rappels that day to get through what is the most dramatic part of the canyon.  The first rappel landed the party into an area described by de Nevers as wide and pleasantly sunny. 
Beyond there, however, canyon walls close in.  Shadows replace sunlight.  From here on out, the group would be wading – or swimming - in the rushing water of the swollen creek. 
Ahead of them, the water surged against narrowing canyon walls.  One of the adults, sensing that things weren't right, asked trip leader Dave Fleischer whether it was safe to continue.  Fleischer, the most experienced of the group, said it was and they continued.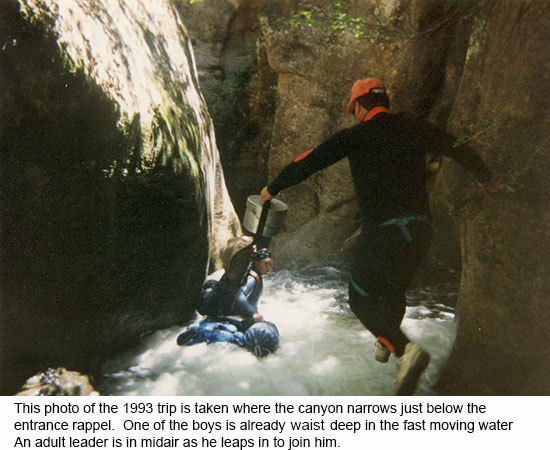 They reached the next drop of eight feet where a waterfall spilled from the edge.  This drop is normally rappelled by canyoneers, but Fleischer, perhaps to save time, decided to jump into the surging pool below.
As soon as Fleischer plunged into the water, he was in trouble.  A piece of webbing tied to his pack had become wrapped around his neck.  As his pack swirled away from him, the webbing tightened around him like a noose and he struggled to get free. 
Seeing his predicament another adult leader jumped in to help, but upon hitting the water, he was quickly pulled under by the violent current at the base of the falls.  The third adult leader then jumped, trying to land as far away from the base of the falls as possible, but the current pulled him back and he disappeared under the chaotic water under the falls.
Accidents in the outdoors often spring from the interplay of human and environmental factors.  Human factors include judgement, skills and experience.  Environmental factors include weather, temperature and objective dangers such as rock fall or high water on a river. 
They are like dominos, standing on edge, ready to tip.  Individuals or groups, often can get by with an error or two on their part, toppling a domino and everything works out.  But combine human error with environmental dangers — the decision to continue and high water rushing through a narrow canyon — and one domino topples another and then another.  And soon a cascade of collapsing dominos lead to tragedy.
There's much more that happened that July day in 1993, and you'll want to read de Nevers account.  Two deaths resulted and the survivors found themselves trapped in the dark and cold canyon for five days before finally being rescued. 
In my work at the university, I've often used case studies for instructional purposes.  I'm well acquainted with this type of literature, but I've never come across any book as complete and well-done as this one.  Author Noel de Nevers has done the sport of canyoneering, and the outdoor field in general, a great service by researching and writing this book.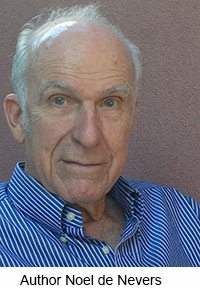 When I say "research," I mean impeccable research.  His engineering background — where preciseness is everything — certainly comes into play here.  One of his primary sources is the collection of documents from a 2.2 million dollar lawsuit that was filed after the accident.  That source material is supplemented with other related court cases, news reports, interviews, and his own investigations in canyon.
I started this book thinking I might read a few pages and then pick it up another day, but I quickly found myself entranced with the story and with Noel de Nevers' penetrating analysis of it.  There's a lot to learn from an incident like this, and de Never ferrets out the salient details, going about it in a detective-like manner, discovering facts and guiding the reader through from start to finish. 
For our benefit, de Nevers doesn't stop with a description of the accident, but he follows through its aftermath:  how the lawsuit comes about, the main players in the lawsuit, and strategies of the competing sides. 
This is an outstanding book.  Anyone that spends time in the outdoors will find it a fascinating read.  Moreover, it has particular value from an educational standpoint: scout and youth leaders, guides, academics and others in the outdoor field will want to have a copy on their shelves.  It's that good.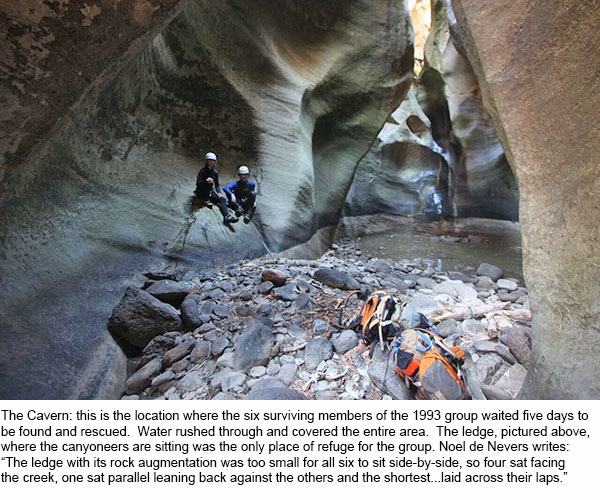 ________
Amazon.com: More Information or Purchase
[End of Review]
---