General Information on Support
We are able to offer AnyPO at a very low price because we don't have to maintain a phone or email support program. Just to repeat. We do not offer support. That being said, however, we do provide you with an outstanding array of tools to help yourself.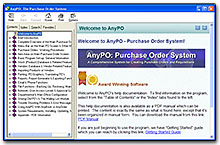 Those tools include one of the best help systems in the industry. Take a look and we think you'll agree. Built into the software itself, we have a sound, understandable and comprehensive help system with lots of illustrations. We also have a PDF manual which can be printed, and we have learning guides which cover major features of the program. We even have loaded the help system on the Internet so it's available if you like to use Google or other search engines for topic searching.

AnyOrder, itself, has a simple, natural feel to it.  It's easy enough to use that some users rarely ever refer to the help documention.  Each of the screen displays throughout the program help guide you from one process to another. 
But if you do need help, nearly every dialog box in the program has a help button which takes you directly to relevant information about that topic. You'll find lots and lots of information to help you do your job as efficiently as possible.
Installation or Re-installation
Need assistance in getting the program installed? Here are more details on installing the program: Program Installation.
Are you upgrading or re-installing the program? Here is information on how to install upgrades: Installing Upgrades.

Complete help documentation is built-in the program. Additionally, however, we have prepared a PDF manual which can be printed. The content of the manual is exactly the same as the help system built into the AnyPO program except that it's been organized in manual form: More Information.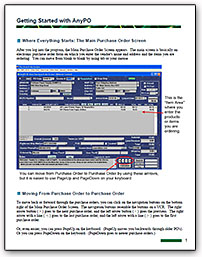 Getting Started Manual & Instructional Guides
If you're just getting underway with AnyPO, the following "Getting Started" Manual may be helpful.  It includes lots of screen displays and very simple and to-the-point explanations. 
Additionally, we also have other instructional guides available: Guides
Existing Users: News & Information on Updates & Versions
We have a webpage for existing users with news, items of interest, and information on updates and versions: News and User Information

AnyPO has an extensive help system built into the program.  We take great pride in the help system, and are constantly updating it, trying to make it even better.  Each year we look carefully at users' questions, and if we find that we are missing useful information, we add it or refine the existing material. 


Many computer software programs have only rudimentary help information which requires you to search the web or to seek out other sources of documentation in order to run the program.

AnyPO isn't like that.  We think that full and complete help documentation should come right along with the program.  You shouldn't have to look elsewhere to figure out how to do something. 
You won't find any other software help system like this one. We promise. To give you a feel for what it's like, here's a sample of the help information on reports.  In this case, we provide snapshots of each report. It's a quick and highly visual way to review reports available in the program. Once you see a report that might be useful, then you can click a link for more information. Notice how many different options and features are available with reports - and how well they are described and illustrated. 

All in all, you'll find that AnyPO's built in help system a refreshing change from most software out there.
In fact, we provide you with over 500 pages of help information.  You'll find the basics to help get you started, tips to improve your purchasing procedures, and plenty of details when details are needed.
Just a reminder that we also have the help documentation in a PDF manual.
Reports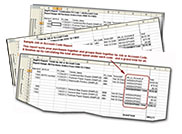 For the AnyPO Level III program, we have built a series of Excel macros that create nicely formatted reports, ready for printing. Current reports available include Vendor, PO Code, Job or Account Code, and Terms reports. Three additional macros allow you to place purchase orders into categories and sub-categories. The resulting report calculates totals for each group of PO's and finishes up with an overall total. The macros are open source and can be edited if you would like to tweak them for special purposes. More information: AnyPO Macros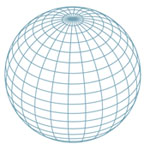 Internet-based Help
As we mentioned, all of the latest help documentation is built right into the program.  We think that's where it ought to be.  It ought to be in one central location so you don't have to go searching here and there for answers to your questions.  But, in event it might be helpful to you, we have also the placed the help documentation on the Internet.
This allows you to use a Google search to find information about AnyPO. Here's a link to the index, but you can also use Google to find information: Internet-based Help
---
AnyPO is another carefully crafted software program from:


Great Rift Software


Innovation, Excellence and Service
---