. .
Methods of Teaching Outdoor Activities (PE 445)
The following is a portion of a content development chart which was created for teaching cross-country skiing techniques on the flat. Note that the words in the red font are cues which may help your students form a mental image of the technique. It's just one more way (in addition to verbal descriptions, visual demonstrations of the technique - and sometimes kinesthetic instruction) which may help the student move quicker through that first stage of learning a physical activity - the cognitive stage.
---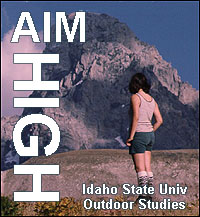 This page was created for the Outdoor Methods website. Outdoor Methods is a course for Outdoor Education Majors and Minors at Idaho State University.
__________
Information on Idaho State University Outdoor Education is found here: ISU Outdoor Education
Subsidiary sites with information are found here:
[END]
---