Mary Kingsley Reading - the Anthology of the Outdoor Experience
Jack London In-class Reading
Robert Service In-class Reading


Your Assignment:   Read Mary Kingsley in the Anthology (pp. 89 - 107)
Missionary Generation. Mary Kingsley is from the Missionary Generation. Kingsley is British, but we'll look at this generation from an American perspective: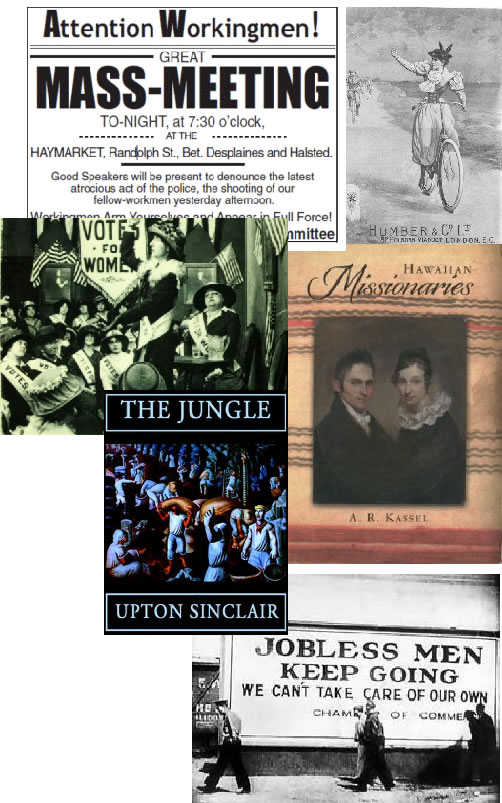 Basics
Born between 1860 – 1882
Idealist Type
Youth
1865 Civil War Ends
1870's Number of High Schools Double
Rising Adults
1880's & 90's Boom Era of Sports
1890's Strikes, Reformers, Evangelism
Adults & Midlife
1898 Spanish American War
1914-18 World War I
1920 Women's Suffrage - Prohibition
1929 Stock Market Crash & Depression
1933 Roosevelt's New Deal
Summary
The Missionary generation included student activists, rebellious career women, and moralizing organizers. Members of the generation were involved labor protests and sparked the growth of religious fundamentalism. They believed in social good over social evil. They were the force behind prohibition and women's suffrage. Many were missionaries and they spread Christianity throughout Asia.  When older, they were visionary leaders that shepherded the country through the Great Depression and World War II. Examples include Franklin Roosevelt, Mahatma Gandhi, Winston Churchill, Albert Einstein, Frank Lloyd Wright, Douglas MacArthur, Henry Ford
Mary Kingsley
1862 - 1900
Missionary Generation
Born in London
Her father (George Kingsley) was a doctor. He traveled frequently & wrote of his experiences
At the age of 30, both parents died
With no family responsibilities, she began traveling
She went on three expeditions to Africa, including:

1893-94 to Nigeria (Niger and Congo Rivers)

1894 to Cameroon & Gabon (Ogowe River) – Our Reading
1899 Cape Town, South Africa

In 1900, at 38 years old, she died of typhoid fever in South Africa during the Boer War



The following map be helpful as you are reading.  Both of her routes are marked in red dotted line: the canoe route on the Ogowe River to Alemba Falls and the route through the "Great Forest."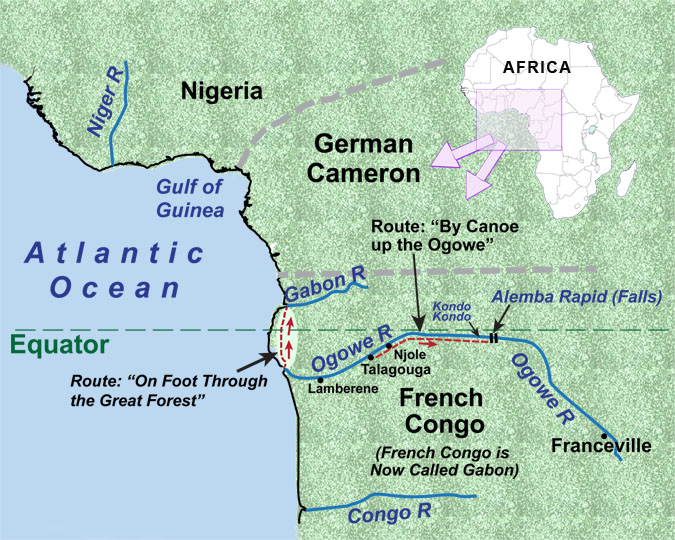 Jack London
1876 – 1912
Missionary Generation
Raised in Oakland, CA
Never met his father
Became seaman & tramp
Saw much of the US as a hobo
In 1893, he was involved in unemployment protests
Jailed. Became a socialist
Ina Coolbrith (a librarian) introduced him to literature
Went to Univ of California for one year, but ran out of money
Devoted himself to writing (dealing with elemental struggles for survival)
Went to Klondike Gold Rush (1897)
In 1899 the Atlantic Monthly published "An Odyssey of the North"
His first book was published in 1900: The Son of Wolf
In 1908 he published what has since become one of the great American short stories: "To Build a Fire"
By 1913 he was the highest paid, best known, most popular writer in world

He died in 1916 at age of 40 from liver disease
Our in-class reading was To Build a Fire
The map, below, shows the most common route taken to the Klondike gold fields.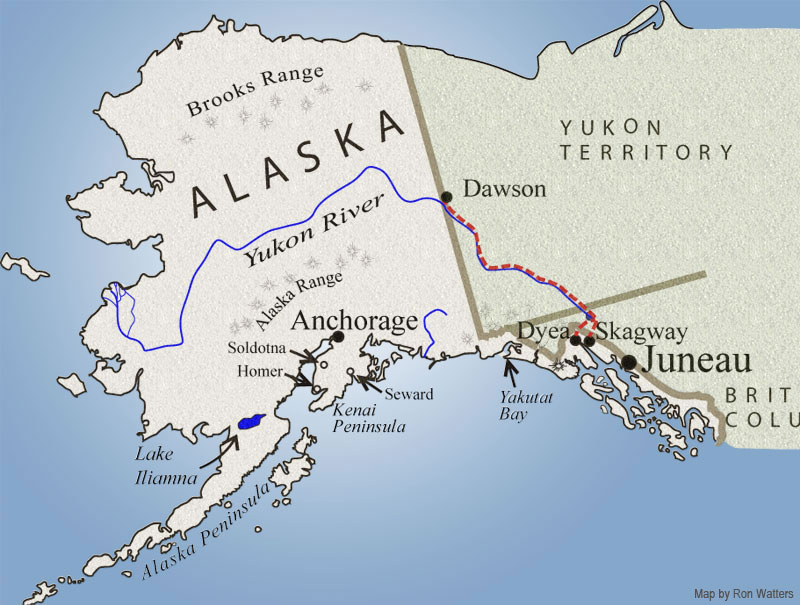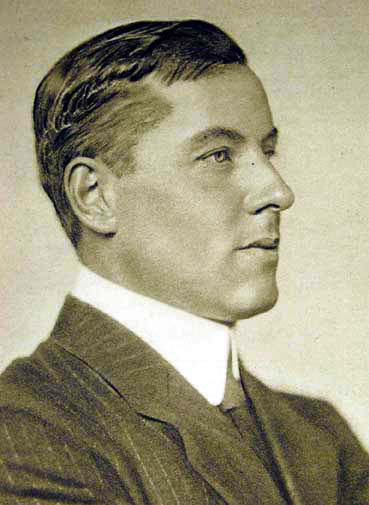 Robert Service
1874 – 1958
Missionary Generation
Born in Scotland. His father was a bank clerk
In 1896, he emigrated to BC, Canada
During this period, he drifted up and down the Pacific Coast
In 1903 he found work in a bank in Whitehorse
While in Whitehose, he was invited to recite poetry at a church function and wrote the "Shooting of Dan McGrew" for the occasion.
He wrote more poems and in 1907, a collection of his poems entitled Songs of Sourdough was published. It was later retitled: Spell of the Yukon.
In 1908, he worked for a bank in Dawson, collecting more material for his poetry.
Another collection of poems, Ballads of a Cheechako, was published in 1909.
In 1909 he published the novel: The Trail of Ninety-eight.
Served as an ambulance driver & correspondent in France during World War I
Married and settled in France
He was in Poland when Germany invaded at the beginning of World War II. He fled across eastern Europe, eventually returning to France. As the war spread, he was later forced to escape to the US.
When the war was over, he returned to France
Died in 1958

Our in-class reading was The Cremation of Sam McGee
[End]
---