Both Gateway processing and Touch Tone Processing begin by entering card information on AnyCard's Main Screen (shown below). You can manually enter information or it can be imported from other programs. The only information that is necessary on the Main Screen is the card number, expiration date and amount, but you can include additional information, such as the customer's address if you plan to do an Address Verification. There's also a place to write notes to yourself about the transaction.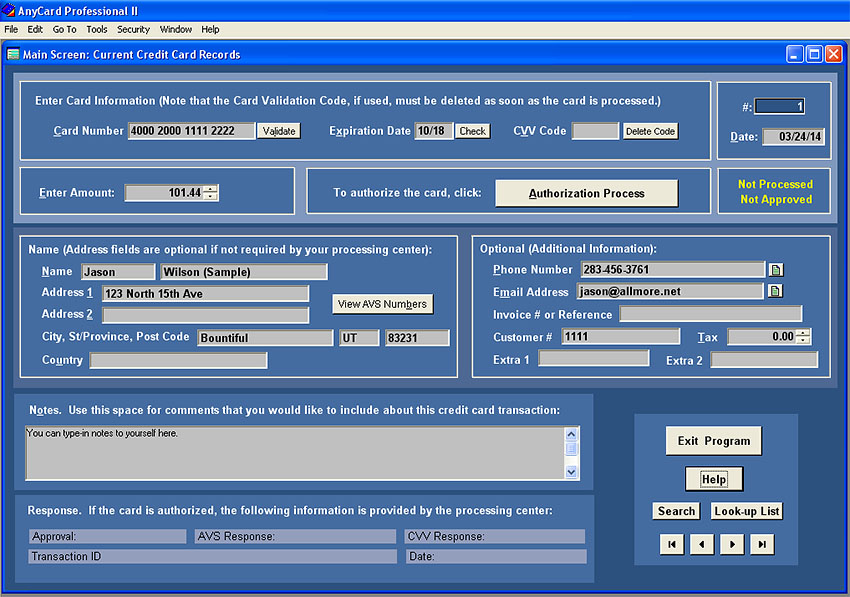 You'll notice on the screen above that you can "validate" the card before calling the processing center. AnyCard's internal validation process checks to see whether the card number is valid and accurate before calling the processing center. This is a handy feature since you'll know right away if you've accidentally typed in the number incorrectly - or someone has given you an improper or fraudulent number.
You'll find other time saving features on the Main Screen. If you need to contact the customer about something, you can click on the "Dial" button (blue button to right of the Phone blank) and the customer's phone number will be dial for you. Or you can click on the email button which will automatically start your email program.
Once the card information is entered, you're ready to authorize it. That's done by clicking the "Start Authorization" button, and the following dialog box pops up: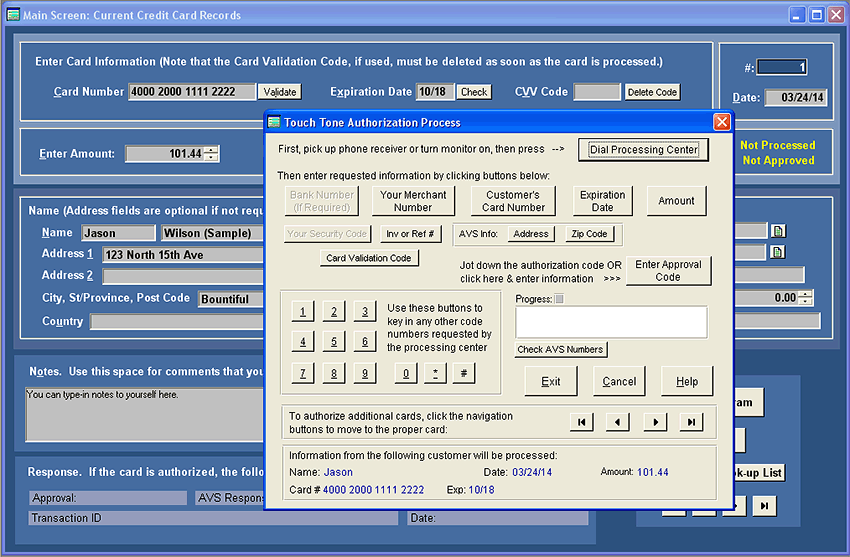 When the "Authorization Process" dialog box appears (shown above), it's just a matter of making a few clicks with your mouse. Click on "Dial Processing Center" to call the authorization center. Then listen and when the authorization center requests information, you click the appropriate buttons.
You don't have to worry about keying in long strings of numbers, it's all done for you. When the center gives you the authorization number, just click on the "Enter Approval Code" button, type in the number provided, and when you exit, the code is recorded in your credit card data base.
You can do credits, voids, AVS checks or process additional cards. Other features include multi-phone number support. If you have two or more processing centers that you call for authorizations, you can can choose which center you wish to call before beginning the authorization transaction. If desired, you can also tell AnyCard to round off the amount to the nearest whole dollar before transmitting.
AnyCard Gateway Processing Screen Images
AnyCard Storage Files - Screen Images
___________________________________________________________________________________________________________
AnyCard is another carefully crafted software program from:
Great Rift Software


Innovation, Excellence and Service
---