Best of the Year Books of 2017 include the
Winners of the National Outdoor Book Awards . . .
.
A Fly Rod of Your Own.  By John Gierach.  Simon and Schuster, New York. 
ISBN 9781451618341
There's no better way to bring back memories of your own fishing trips than to read of some by John Gierach.  He has a warm, inviting quality to his writing that makes him such a pleasure to read.  In honoring this book, the judges also wanted to recognize Gierach's body of work which now totals more than 20 previous books.  His themes are simple: a favorite stream near home, a missed cast just when everything is perfect, a culinary misadventure on a trip.  With a wave of his writer's wand, simple stories become utterly absorbing, and you find yourself captured by his magic, reading well into the night.
Amazon.com: More Information or Purchase
On Trails: An Exploration.  By Robert Moor.  Simon and Schuster, New York. 
ISBN 9781476739236
Author Robert Moor has a thing with trails.  It's a fascination of sorts that began on a five-month, 2,200-mile hike of the Appalachian Trail.  Those miles and miles of trail passing beneath his feet gave him plenty of time to think, and upon finishing the hike Moor set off on another journey, this one of the intellectual kind, researching the concept of trails.  His investigations quickly move him beyond the realm of hiking to the use of trails by insects, mammals and ancient humans.  Through it all, Moor's observations on trails are fresh, thought provoking, erudite, and full of delightful surprises.
Amazon.com: More Information or Purchase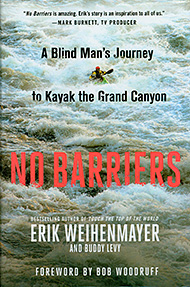 No Barriers: A Blind Man's Journey to Kayak the Grand Canyon.  By Erik Weihenmayer and Buddy Levy.  Thomas Dunne Books/St. Martin's Press.  New York.  ISBN 9781250088789
Imagine paddling a kayak into the biggest rapid in the Grand Canyon of the Colorado.  The sound is deafening.  Mammoth waves toss your kayak about like it's a toy.  Then imagine paddling into those waves completely blind, not knowing when the next wave is coming or from where.  Born with a rare eye disease which left him blind at the age of 13, Erik Weihenmayer takes on the rapids of the Colorado—and other adventures—in this stirring and inspiring book.  It may be a cliché, but not for Weihenmayer.  He turns the notion of impossible upside down and reveals that all is possible.
Amazon.com: More Information or Purchase
History/Biography Books . . .
 Art of Freedom: The Life and Climbs of Voytek Kurtyka.  By Bernadette McDonald.  Rocky Mountain Books, Vancouver, BC. 
ISBN  9781771602129
In this masterpiece of a biography, Bernadette McDonald chronicles the life of Voytek Kurtyka who pushed the boundaries of mountaineering to its very limits.  He grew up in Poland and lived during a time of upheaval:  of communist domination and its eventual downfall.  Kurtyka is a reflection of those turbulent times, buying and selling on the black market to make a living, and scheming ways to outwit party bureaucrats to undertake climbing expeditions.  Known for his bold and lightning-fast ascents of big, unclimbed walls in the Himalaya, Kurtyka is a thoughtful and private individual and has largely shunned the limelight.  Fortunately, McDonald was able to conduct interviews with Kurtyka as well as undertake exhaustive research.  The result of her efforts is a work of outstanding artistry and a powerful and moving portrait of Kurtyka's life. 
Amazon.com: More Information or Purchase
Natural History Literature Books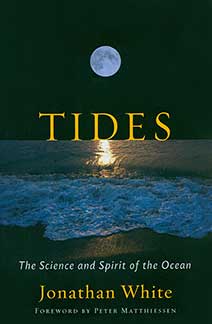 Tides:  The Science and Spirit of the Ocean.  By Jonathan White.  Trinity University Press, San Antonio.  ISBN  9781595348050
The regular ebb and flow of the ocean's tide is not easily explained—unless it is Jonathan White who's doing the explaining.  In fact, White makes the science of tides an adventure. He takes you along as he travels the globe, seeking out the unusual and dangerous.  In Alaska's Kalinin Bay, he struggles to save his 65-foot wooden schooner which the tides have left lying on its side in the mud.  With an Inuit hunter in northern Canada, he squeezes through a small hole into a cavity under the sea ice to gather mussels, nervously counting the minutes as the cavity begins filling with the incoming tide.  And in China, he sprints to high ground to avoid a 25-foot tidal bore barreling up a river.  White does what an excellent writer can do, lure you into an unfamiliar world, take you on adventures, change you with intriguing images and ideas.
Amazon.com: More Information or Purchase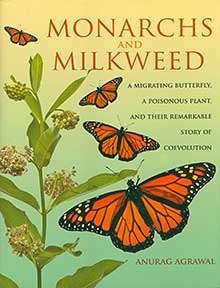 Monarchs and Milkweed.  By Anurag Agrawal.  Princeton University Press, Princeton.  ISBN 9780691166353
Who can't admit being captivated by the monarch?  We are attracted by its beauty, of course, and by its amazing migration that can exceed 3,000 miles.  But there is something else that makes the monarch fascinating, and that is its perilous relationship with its main food source, the milkweed.  As it turns out, milkweed is toxic, and while monarchs have adapted to its toxicity, the plant is still able to marshall its defenses, killing off monarch larvae by various means.  In this colorfully illustrated work, Agrawal covers the scientific work behind this combative relationship, among which includes some of his own pioneering studies.  Monarchs and Milkweed is not only about a butterfly, but it also gives us a peek into the mind of an inventive scientist, one who clearly admires his subject and who guides us to a better understanding of this most remarkable creature.
Amazon.com: More Information or Purchase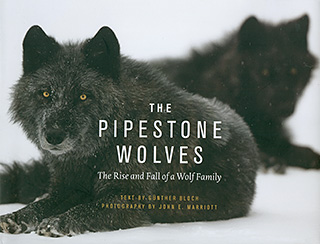 The Pipestone Wolves:  The Rise and Fall of a Wolf Family.  By Günther Bloch.  Photography by John E. Marriott.  Rocky Mountain Books, Vancouver, BC.  ISBN  9781771601603
Some 20 years ago, a new wolf family moved into the Bow Valley of Banff National Park and ended up dominating the area for the next five years.  This book is about the investigations of two dedicated field researchers into that wolf family, and thanks to their efforts we know a great deal more about the dynamics of wolf packs and wolf families.  Later chapters deal with the eventual collapse of the Pipestone wolves and how human activity contributed to it.  Researcher and writer, Günther Bloch pulls no punches when he discusses the management of wolves and other wildlife in Banff.  It is the old dilemma of how to maintain a healthy environment for animals in the face of a growing human population.  It is hoped that, at the least, key aspects of his research will lead to management improvements.
Amazon.com: More Information or Purchase
Classic Books
Kingbird Highway:  The Biggest Year in the Life of an Extreme Birder.  By Kenn Kaufman. Houghton Mifflin, Boston.  ISBN 9780618709403
In January of 1972, a month shy of his 18th birthday, Kenn Kaufman left his home in Kansas and hitched a ride to Texas.  He was a high school dropout with little money and few prospects for the future.  Nevertheless, driven and single-minded, Kaufman was embarking on a quest, a quest far removed from that of a typical 18-year old.  He was out to establish the record for the most birds identified in the US in one year.  This is the story of that year-long quest:  of living on pennies a day, of hitch hiking from one end of the country to the other, and of sleeping under bridges—and yet slowly, he filled his lists with birds.  And what of his uncertain future?  He didn't do too badly.  Have you heard of the Kaufman guides, that popular series of bird, mammal and insect guides which have sold in the thousands?  Oh yes, that's the same Kaufman.
Amazon.com: More Information or Purchase
Design Books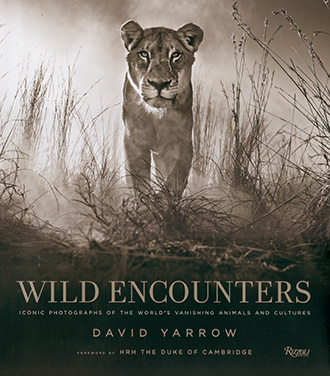 Wild Encounters: Iconic Photographs of the World's Vanishing Animals and Cultures.   Photography and Commentary by David Yarrow.  Rizzoli, New York.  ISBN 9780847858323
David Yarrow is one of the virtuosos of black and white wildlife photography.  His art has graced galleries from Europe to North America.  In this large format, portfolio-sized book, you'll be treated to some of his finest work.  Arranged by the latitude of locale, his dramatic monochromatic photographs of wild and endangered animals appear to leap from the page.  Some of the most powerful images are tightly framed close-ups in which almost every hair of the animal can be seen.  The emphasis of the book is on wildlife, but he also features people who live in close proximity with the creatures he photographs, and included among those are stunning portrayals of the Inuit in northern Canada and the stately Dinka people of the South Sudan.  You won't be disappointed.  This is truly the work of an artist at the height of his powers.
Amazon.com: More Information or Purchase
Children's Books
Pup the Sea Otter.  By Jonathan London.  Illustrated by Sean London.  WestWinds Press/Graphic Arts Books, Portland. 
ISBN 978194332887
This delightful book, the work of a father and son team, is about a ball of fur called Pup.  Jonathan London tells the story of a newly born sea otter, while his son Sean, a gifted illustrator, provides color and form to the story with his tender and eye-catching paintings.   Pup grows and learns how to forage for food, all under the watchful eye of his mom.  Children will love the dialog:  slurp, slurp, slurp; munch, crunch, munch.  There's even some danger and excitement when a shark appears, but it all turns out fine when—you guessed it—mom comes to the rescue.  For ages 4-8.
Amazon.com: More Information or Purchase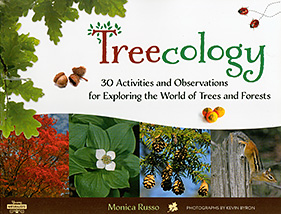 Treecology: 30 Activities and Observations for Exploring the World of Trees and Forests.  By Monica Russo.  Photographs by Kevin Byron.  Chicago Review Press, Chicago.  ISBN 9871613733967 
This wonderful learning book about trees is for budding naturalists age seven and older.  Chapters typically start with a discussion of some aspect of tree biology which, in turn, is followed by one or more hands-on activities related to the discussion.  The activities are fun and designed to help children develop their own writing, drawing and literacy skills.  It is colorful, nicely designed, and perfect for a learning adventure in a nearby woods.
Amazon.com: More Information or Purchase
Instructional Books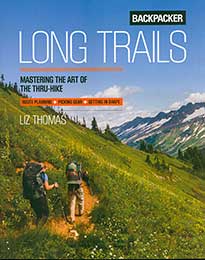 Backpacker Long Trails:  Mastering the Art of the Thru-hike.  By Liz Thomas.  Falcon Guides, Lanham, MD.  ISBN 9871493028726
Every so often a book comes along, finds broad acceptance, and becomes the bible of a sport.  This book is destined to rise to that position among long-trail hiking guides.  Authored by Liz Thomas who has hiked the big three—Appalachian, Continental Divide and Pacific Crest—this comprehensive work is literally brimming full of practical advice for backpackers planning to spend weeks on the trail.  In addition to Thomas's fine writing, sidebars written by other experienced hikers offer alternative ideas and strategies.  If you have a hankering to go on a long hike, there's no question about it.  This is the one book that you'll want to read before you go.
Amazon.com: More Information or Purchase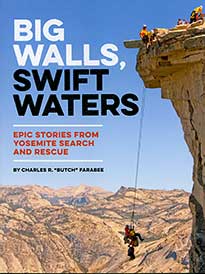 Big Walls, Swift Waters:  Epic Stories from Yosemite Search and Rescue.  By Charles R. "Butch" Farabee.  Yosemite Conservancy, Yosemite National Park, CA.  ISBN 9781930238749
Big Walls, Swift Waters is a little bit of everything.  It's a history, a compilation of case studies, and an instructional guide about rescue equipment and techniques.  Well illustrated with photographs from past rescues, author Charles "Butch" Farabee documents many of the classic search and rescues that have occurred in Yosemite National Park.  It's a fascinating, insider's view of rescue, and you'll find yourself rappelling out of helicopters, hanging on granite walls, and plunging into icy waters.
Amazon.com: More Information or Purchase
Nature Guides
The Scout's Guide to Wild Edibles.  By Mike Krebill.  St. Lynn's Press, Pittsburgh. 
ISBN  9781943366064
Sometimes good guidebooks come in small packages.  The Scout's Guide to Wild Edibles almost fits in a back pocket, and yet, for its relatively small size, it packs in a lot of information.  Author Mike Krebill knows his wild edibles, and he knows how to make a guidebook fun for young people.  A wild food expert and a Scout leader, he divides the book into two parts:  the first is the identification guide profiling 40 widely found edible wild plants and mushrooms.  The second half consists of recipes and ways of cooking wild foods.  In this last half boys and girls are pictured preparing and cooking plants that they have gathered on their outdoor forays.  It's oriented to the younger set, of course, but adults just might want to sneak one along on the next outing.  They'll find it pretty handy too.
Amazon.com: More Information or Purchase
Winner.  Butterflies of Pennsylvania:  A Field Guide.  By James L. Monroe and David M. Wright.  University of Pittsburgh Press, Pittsburgh. 
ISBN 9780822964551
Butterflies of Pennsylvania is one of those guidebooks that sets out with a purpose and ends up doing it well.  What appealed to the judges is that all of the information on a butterfly species is covered on a single page or a two-page spread.  There's no need to look elsewhere for maps and other information.  The photos are crisp.  The text is clear, and the maps and charts easy to use.  If you live in Pennsylvania or in surrounding states, this fine guidebook is a must-have.
Amazon.com: More Information or Purchase
Outdoor Adventure Guides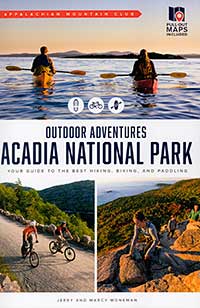 Outdoor Adventures, Acadia National Park: Your Guide to the Best Hiking, Biking and Paddling.  By Jerry and Marcy Monkman.  Appalachian Mountain Club, Boston. 
ISBN 9781628420579
Situated along the rugged coastline of Maine, Acadia National Park is truly a Northeast treasure.  It's the oldest designated national park area east of the Mississippi River and has a little of everything:  125 miles of hiking trails, 45 miles of historic carriage roads, rocky mountains, ponds, islands and dense evergreen forests.  One of the best ways to enjoy it is with this guidebook by Jerry and Marcy Monkman.  The Monkman's are accomplished Eastern writers and photographers, and in this guide, they have detailed 50 choice hiking, biking and paddling trips.  There's even a two-sided 20" x 25" full color map which can be removed from the back cover and which shows all of the routes covered in the book.
Amazon.com: More Information or Purchase
Best of 2016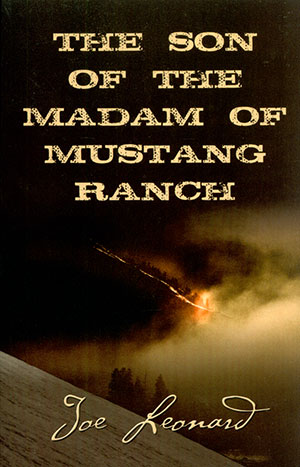 The Son of the Madam of Mustang Ranch. By Joe Leonard. 

Best of 2016 Award
The title of this book certainly piques your interest.  But why would I be reviewing it here?  This is, after all, a review site for outdoor books. 

That's because it is an outdoor book.  Admittedly, it seems like an unlikely combination: the shadowy world of prostitution and the sunlit realm of the outdoors.  It almost seems to be more suited to the stuff of fiction.  But it is indeed true - and it is one of the most fascinating true stories that I've read in a long time. 

The Son of the Madam is the autobiography of Joe Leonard, a pioneering climber, kayaker and backcountry skier. 
This is a featured review with accompanying photographs. You'll find the continuation of this review here: The Son of the Madam of Mustang Ranch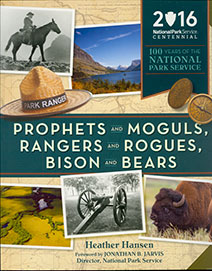 Prophets and Moguls, Rangers and Rogues, Bison and Bears: 100 Years of the National Park Service.  By Heather Hansen.  Mountaineers Book, Seattle. ISBN 9781594858888

Best of 2016 Award
Released in early 2016, Prophets and Moguls coincides with the National Park Service's 100th birthday – and you couldn't ask for a better way to celebrate that milestone.  Lively and spirited, the book tells the story of America's "best idea" from its earliest glimmer to contemporary times. 
("Best idea" may sound familiar.  It was used by Ken Burns' in the title of his brilliant PBS multi-episode special on the National Park system.  It's not Burns' invention, however.  It comes from a quote by the famous Western writer and life-long supporter of the Park Service, Wallace Stegner.) 
Author Heather Hansen is clearly an engaging writer, and one of the strong points of the book is the way she has dexterously merged history, politics and personalities which have helped shaped the parks.  Graphically, the book draws you in as much Hansen's compelling writing.  It is colorful and intelligently designed with frequent sidebars and a wonderful collection of historic photos.  In short, Hansen and the creative staff at Mountaineers Books has created a marvelous homage to the nation's park system. 
Amazon.com:  More Information or Purchase
The Kolob Tragedy:  The Lost Tale of a Canyoneering Calamity.  By Noel de Nevers.  Canyoneering USA, Mt Carmel, UT.  ISBN 9780978961442

Best of 2016 Award
One word describes this book:  compelling!  And to that add "supremely illuminating."  The Kolob Tragedy is a case study of a canyoneering accident that occurred in July of 1993.   A youth group led by three adults rappelled into the narrow canyon formed by Kolob Creek in Zion National Park. A short time later, things went terribly bad. More about the book and the tragedy are found in a featured review that we've prepared: Kolob Tragedy
Amazon.com:  More Information or Purchase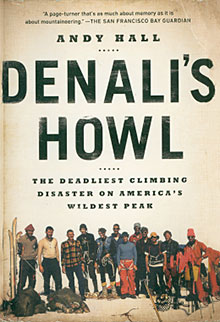 Denali's Howl: The Deadliest Climbing Disaster on America's Wildest Peak By Andy, Hall. Penguin Group, New York, NY. ISBN 978-0-14-218195-9

Best of 2016 Award
As the title suggests, "Denali's Howl" chronicles the "Deadliest Climbing Disaster on America's Wildest Peak". In the summer of 1967, twelve men went up Mount McKinley, but only five came down. This true story is a vivid and gripping book, moving the reader along, showing exactly how this tragedy unfolded.
This is a featured review. You'll find the continuation of this review here: Denali
Amazon.com:  More Information or Purchase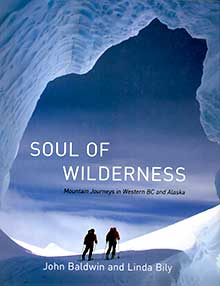 Soul of Wilderness: Mountain Journeys in Western BC and Alaska. By John Baldwin and Linda Bily. Harbour Publishing Co. Ltd., Madeira Park, BC. ISBN 978-1-55017-735-0            
.
Reviewed by G. David Parris
(To reach Dave, email him at: Email)

Best of 2016 Award.
In this book, the photographs hold the leading roles. That is not to disparage the essays contained within, but the reader will likely find themselves lingering over the images as if they were chionomania pornography. Snowfields, glaciers, cols, cornices, glacial pools, and even some moraines abound in this book. Tiny skiers dot a small corner of vast frozen vistas, footprints blown into the most interesting of ant-trails, and true wilderness that is few and far between in this modern world; that's what awaits the reader in this tome of sprawling majesty.
Staged in western British Columbia, this collection outlines travels through a wilderness that remains almost purely due to its severity, and enjoys the status of being one of the last true wildernesses in the world, let alone North America. The authors were lucky enough to be afforded the opportunity to spend extended trip time in this backcountry, and came back reporting the majesties and beauties we can only hope to share ourselves one day. As I read the accounts and looked at the pictures of their camps, I could only hope that someday I will be so fortunate as to visit this beautiful (mostly) frozen piece of the world.
Amazon.com:  More Information or Purchase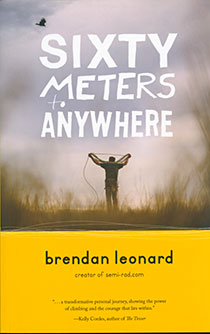 Sixty Meters to Anywhere.  By Brendan Leonard.  The Mountaineers Books, Seattle  ISBN 9781680510409

Best of 2016 Award
Sixty Meters, as you might imagine, is about climbing.  Yet climbing is a secondary theme.  It's mostly about one man's struggle with alcoholism.  Brendan Leonard's bout with dependency came early in life, in his late teens.  After college he stayed sober but his life seemed muddled and precariously balanced on the edge of a precipice, one misstep away from oblivion.  That all changed when he started climbing.  Leonard was no longer standing on an edge of a precipice, but instead he was climbing them.  The intensely physical and demanding mental act of climbing became his deliverance. 
This was another book that caught me by surprise, and in particular the way Leonard expresses himself.  His writing style is engaging and his choice of words have a pleasing cadence to them.  Through it all, even during the low points in his life, he comes across as a warm, caring person that just took a wrong turn early on.  It's not easy to expose your failings to the world but in Sixty Meters Brendan Leonard does so with bountiful grace. 
Amazon.com:  More Information or Purchase
Walking the Nile.  By LevisonWood.  Atlantic Monthly Press, New York.  ISBN 9780802124494

Best of 2016 Award
Levison Wood undertakes a journey of epic breath: to walk the Nile from its source to its mouth at the Mediterranean Sea.  The journey takes nine month and covers over 4,000 miles passing through an environmental sea change:  dripping forests, snake infested swamps, and stretches of parched desert where sand temperatures reach over 140 degrees.  Levison tells the story of the journey with great finesse: balancing his narrative with history, culture, current affairs – and, of course, adventure.  This a great read which will keep you captivated way into the night.
Amazon.com:  More Information or Purchase
Best of 2016: Fishing & Hunting Books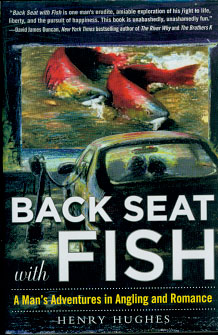 Back Seat with Fish:  A Man's Adventures in Angling and Romance by Henry Hughes.  Skyhorse Publishing, New York.  ISBN 9781510703636

Best of 2016 Award
First off, a warning which, undoubtedly will make the book more appealing—or less—depending upon your perspective.  In movie lingo, Back Seat with Fish would be rated "R" (can contain scenes including strong language, violence, nudity, sex and drugs).  Indeed, there is some drug use, plenty of drinking, occasional nudity, and a fair amount of sex.  Did I say drinking?  Yes, lots of that. 
And did I say sex?  Oh yes.  Plentiful sex, but before you get the wrong idea, the book's steamy scenes are portrayed in a tactful and ginger manner.  Well, mostly ginger.
The writing?  Holy cow.  Can Henry Hughes write!  Among our "Best of the Year" choices, Back Seat with Fish is among the most literate.  It really is about fishing and there's plenty there for fishers to keep the pages turning. More about the book is found in a featured review that we've prepared: Back Seat Fish
Amazon.com:  More Information or Purchase
The Complete Guide to Hunting, Butchering, and Cooking Wild Game (Volume 1: Big Game) By Steven Rinella. Spiegel & Grau, New York, NY.
ISBN 978-0-8129-9406-3            
.
Reviewed by G. David Parris
(To reach Dave, email him at: Email)

Best of 2016 Award.
Steven Rinella is probably best known for his television show, "Meateater", and perhaps another television series, "The Wild Within".  His television work is certainly remarkable in the huge swath of hunting, fishing, and general outdoor programming available today.  Many who have seen his work say, over and over, "He's the real deal." 
We have much more about this book in a featured review: Hunting, Butchering
Amazon.com:  More Information or Purchase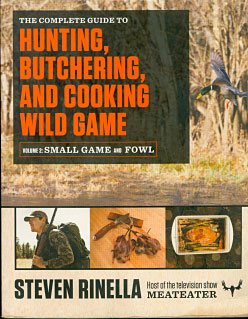 The Complete Guide to Hunting, Butchering, and Cooking Wild Game (Volume 2: Small Game and Fowl). By Steven Rinella. Spiegel & Grau, New York, NY. ISBN 978-0-8129-8705-8            
.
Reviewed by G. David Parris
(To reach Dave, email him at: Email)

Best of 2016 Award.
This second volume from Steven Rinella is equally as valuable as the first. Besides being a must-have companion piece for the first volume, it examines too many aspects of small game hunting than I can describe here. From weapons and gear to methods and techniques, it's every bit as informative as the first volume is. Using the same template as the first, this second volume is well-organized and full of clear illustrations and photographs.
The first section is "Gear" which is pretty self-explanatory, but full of great tidbits. Then "The Basics", which covers the general aspects of small game hunting like location, techniques, and tips for success. Third is "Species", which is basically divided between small mammals and birds. The penultimate section is the shortest, "Butchering", because this is a very simple process with small game, but Rinella's provided the sorts of tips that even a long-time hunter can benefit from. Lastly, as in the first volume, is the section detailing why most of us hunt in the first place, "Recipes". This fifth book from Steven Rinella is consistent with his well-written and passionate style, and I'd recommend it to anyone looking to up their game or just be more informed while getting some entertainment in.
Amazon.com:  More Information or Purchase
---
Best of 2015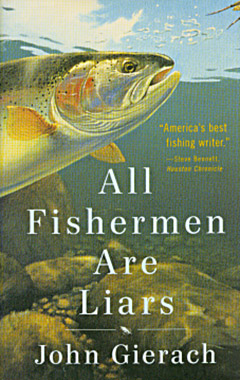 All Fishermen Are Liars By John Gierach. Simon & Schuster, NY. ISBN 9781451618310

Best of 2015 Award
John Gierach is surely in the top echelon of outdoor writers, but there is nothing rarefied about his writing. He emerges from his books and articles as an easy going, down-to-earth guy, not much into fancy clothes, who simply loves to fish.
It comes, then, as no surprise that his writing style isn't fancy either. He doesn't write at his readers. He writes with his readers.
But there's something else, a quality evident just below the surface, that makes Gierach such a pleasure to read, and that's his warmth. Reading his books is like sitting down with a favorite uncle and listening to his stories while a fire crackles and pops in a nearby wood stove. What could be better?
All Fisherman are Liars consists 22 stories, ranging far and wide from way up north in Canada to Michigan's Upper Peninsula to his home fishing streams in Colorado. In all of these, his simple but highly effective story telling skills are on full display.
Thoreau who once wrote that "many men go fishing all of their lives without knowing that it is not fish they are after." There's no better proof of that truism in the writings of John Gierach.
Amazon.com:  More Information or Purchase
Defending Idaho's Natural Heritage By Ken Robison. Boise, ID. ISBN 9870578140933

Best of 2015 Award
Defending Idaho's Natural Heritage is an impressive and penetrating history of Idaho's conservation movement, and there was no better person to write that history than Ken Robison.
Ken Robison is a journalist and for many years served as the editorial editor at Idaho's flagship newspaper, the Idaho Statesman. He was later elected to the Idaho legislature, but he continued reporting and writing on environmental issues, founding a magazine called the Idaho Citizen.
He was present on the scene, a keen-eyed observer and reporter, during the most tumultuous — and productive — times in the Idaho conservation movement. 
It was during the three decades of the 1960's, 70's and 80's that monumental battles were waged over Idaho's wild lands and rivers. These were David and Goliath battles: small Idaho-based conservation groups and individuals with little or no funds up against business lobbyists and corporate lawyers with unlimited expense accounts. What came from those struggles are such national treasures as the River of No Return Wilderness, the Sawtooth Recreation Area, the Selway-Bitterrroot Wilderness, and Hell's Canyon National Recreation Area. 
Robison's book is one of the most important works on the Idaho conservation movement ever to be published, and it will long be a reliable source of historical information.
For a more lengthy review, see Defending Idaho's Natural Heritage
Defending Idaho can be purchased directly with the author's site: Defending Idaho 
---
Best of 2014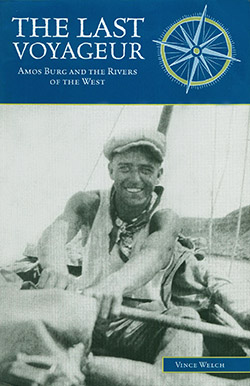 The Last Voyageur: Amos Burg and the Rivers of the West by Vince Welch The Mountaineers Books, Seattle.  ISBN 9781594857010

Best of 2014 Award
This labor-of-love book is a vivid portrait of a pioneering river explorer and a welcomed addition to outdoor literature.  
Vince Welch co-authored the Doing of the Thing, an outstanding biography about another pioneering river runner Buzz Holmstrom which won the National Outdoor Book Award in 1998.
After a long period of research, he is back with a new book, this time about Amos Burg.  Entitled The Last Voyager, the book fills in the blanks and has greatly expanded our knowledge of this adventurer extraordinaire. 
In a burst of activity over a 20-year period from 1920 to 1940, Burg ran the Columbia, Snake, Green, Colorado, Yukon, Mackenzie, Yellowstone, Missouri, and Mississippi Rivers.  Gone for months at a time, he was both consumed and seduced by rivers and never married until very late in life.
Burg was determined and ambitious, but he was also refreshingly modest.  "Burg would have been embarrassed to find himself hoisted on a pedestal," Welch writes. "Nevertheless, he serves as a marker on the river of time, a witness to change who wore his heart on his sleeve when it came to rivers.  He traveled the western waterways in pursuit of beauty, adventure and excitement . . . . His explorations were as much of the landscape as the human heart."
Bravo to Welch for putting an equal amount of heart into this fine biography and giving us front row seat into Amos Burg's fascinating life. 
For a more lengthy review, see The Last Voyageur
Amazon.com:  More Information or Purchase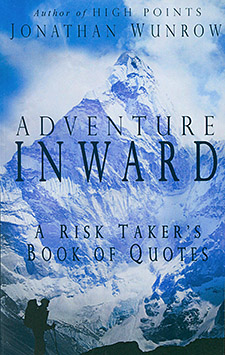 Adventure Inward:  A Risk Taker's Book of Quotes by Jonathan Wunrow, Life is Twisted Press.  ISBN 9780985188146.

Best of 2014 Award
I have several books of quotes on my bookshelf, but with the publication of Jonathan Wunrow's Adventure Inward, I've moved all of the others aside.  This 200-page volume is packed full of quotes by famous writers, poets, climbers, and philosophers.  It also includes quite a few names that you probably won't recognize and which gives the book a down-to-earth feel, adding to its appeal. 
It's an eclectic collection of quotes, from the ancient words of Li Po and his love of a
mountain . . .
We never grow tired of each other,
the mountain and I
To Edward Abbey's benediction of the outdoor life . . .
May your trails be crooked, winding, lonesome, dangerous, leading to the most amazing view.  May your mountains rise into and above the clouds.
You'll find plenty of gems.  There are words of inspiration . . .
Twenty years from now you'll be more disappointed by the things you didn't do than by the ones you did.  So throw off the bowlines, sail away from the safe harbor, catch the trade winds in your sails.  Explore.  Dream. Discover.  (Mark Twain)
And the humorous . . .
You have to stay in shape.  My grandmother started walking five miles a day when she was sixty.  Now she's ninety-seven and we don't know where the hell she is.  (Ellen DeGeneres)
Wunrow divides the book into sixteen sections.  Here are a few:  "Why Play a Risky Game," "The Beauty of Nature," "The Moment," "Find Your Path in Life," and "Being Open to the Possible."  Each section is introduced by Wunrow with brief commentary which nicely sums up the collection of quotes that follow.
As I read through them, every so often I'd wonder about the author of the quote – particularly those by little known authors.   Did Wunrow overhear it?  Is it re-quoted by someone else?  Did he come across it in a book or an article?  Albeit, it is understandable that Wurow wasn't able to include source notes.  Books are expensive to print and there's only so much space, but perhaps we can prevail upon Wunrow to include source information some day on his website.
But I'm splitting hairs here. What's important is that Wunrow has done a commendable job with Adventure Inward — and done us all a favor by putting together this fine assemblage of quotes.
Amazon.com:  More Information or Purchase
Cabin Creek Chronicle: The History of the Most Remote Ranch in America By G. Wayne Minshall, Streamside Scribe Press. ISBN 9780984949014

Best of 2014 Award
The central Idaho wilderness has left an indelible mark on author Wayne Minshall.  It was plainly evident in his first historical work, a fascinating account of the Caswell brothers who through plain hard work and inventiveness eked out a living along Big Creek, a major stream in what is now known as the Frank Church River of No Return Wilderness. 
Minshall returns to the Big Creek country in his second book Cabin Creek Chronicles, and once again, recounts the drama of human life far away from civilization.
Even in this remote country where only a handful of people live, there are murders, adultery, and greed intermixed with a modicum neighborly goodness.  His book is all focused on one piece of ground — and the succession of changes that occurred there — at the mouth of Cabin Creek, first homesteaded by the Caswells. 
Cabin Creek Chronicle is another exceptional work by a fine historical writer.  Put this one on your "must read" list.  You won't be disappointed.
For a more lengthy review, see Cabin Creek Chronicle
Amazon.com:  More Information or Purchase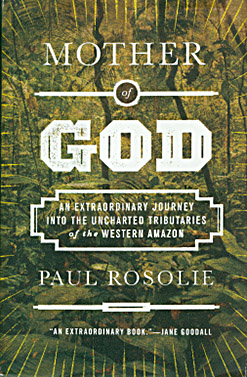 Mother of God: An Extraordinary Journey Inoto the Uncharted Tributaries of the Western Amazon. By Paul Rosolie. HarperCollins, NY. ISBN 9780062259516

Best of 2014 Award
At the age of 18, Paul Rosolie travelled to and spent time in the Amazonian rain forest. Upon returning to his home in New Jersey, he was a changed person.
The Amazon drew him back again and again, and each time, he travelled farther and farther away from civilized outposts, lured by a biology gone wild, spellbound by an explosion of life forms unequalled anywhere in the world: trees covered in mosses, lichens and vines, merging into a continuous green canopy above, strange smells and sounds, colorful soaring birds, crawling insects, floating forests, shambling giant anacondas, and prowling jaguars.
Rosolie is an adventurer in the full sense of the word, but his book is more than a gripping adventure story; it's also an appeal to halt the deforestation of the Amazon which, left unchecked, may have world-wide climate and ecological repercussions. It's a fine book, written with passion and insightfulness, and offering a true picture of the South American rain forest.
Amazon.com:  More Information or Purchase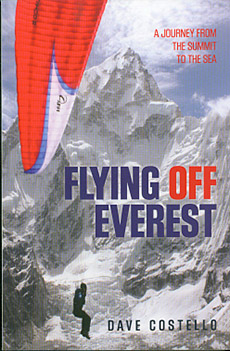 Flying Off Everest: A Journey from Summit to Sea. By Dave Costello. Lyons Press, Guilford, CT. ISBN 9780762789665

Best of 2014 Award
In the spring of 2011, two young Nepalise men embarked on an adventure of a lifetime. It was an improbable adventure: to climb Everest, paraglide from the top and then kayak 400 miles to the ocean. One of the men had no real climbing experience. The other had never been kayaking. But those were minor obstacles to the two strong hearted, starry eyed Nepalis. What was important was the dream.
Author Dave Costello brings this remarkable story to life in this well-researched and well-written account. You'll laugh and you'll be amazed what they did with practically no money and using begged and borrowed gear. This is what true adventure is all about.
Did they actually accomplish what they set out to do? I won't give it away, but I will give you a hint: flying off of Everest was the easy part.
Amazon.com:  More Information or Purchase
---
Best of 2013
The Sparks Fly Upward: A Novel. By Jon Correll, Inkwater Press, Portland, OR. ISBN 9781592998883

Best of 2013 Award
Sparks Fly Upward takes place in the Blue Ridge Mountains of North Carolina in the early 1970's.  It's about Nate Miller as he finishes high school, leaves his rural home, and goes on to college in the big city.  It's about young romance and homespun decency - and one inevitable, fatal flaw, the consequences of which are foreshadowed on a hunting trip taken by Miller in which he drives himself to near collapse tracking a deer that he has wounded. 
What impressed me most about this book is the author's ability to capture dialog.  There's nothing contrived about the characters.  They are well developed, and real enough that you feel like you're in the midst of the hill country, standing with Nate Miller as he interacts with family and friends.  I found it a fine first effort by a new author and quite worthy of having a look.
Amazon.com:  More Information or Purchase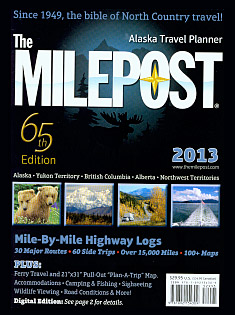 The Milepost: Alaska Travel Planner. Edited by Kris Valencia, Morris Communications Company, Anchorage, AK. ISBN 9781892154309.

Best of 2013 Honorable Mention
Since 1949, the Milepost has been the bible of North Country travel.  This is the 2013 version.  Like the versions before, it provides mile-by-mile descriptions of all major highways and roads in Alaska and northwestern Canada.  It's indispensible if you drive from the lower 48 to Alaska as well as a useful resource if you travel by plane, ferry or even bicycle.
Amazon.com:  More Information or Purchase
---
Best of Year: 2012

Best of 2012
Into the Silence: The Great War, Mallory and the Conquest of Everest.  By Wade Davis. Alfred A. Knoff, New York.  ISBN 9780375408892
Every so often a book comes along that is so good that you have to slow down, turn the pages languidly, and savor the time you spend with it.  Into the Silence is one of those books.
It is the story of George Mallory and his attempts to reach the summit of Everest.  There has been much written about Mallory, but Wade Davis creates a picture of the man like none other. 
Mallory was a part of Great Britain's World War I generation, a generation that was almost entirely wiped out in the trenches of the Western Front. Yet, from the mud and filth of those trenches arose a cadre of climbers who set their sights on a far more laudable goal:  the airy summits of the Himalayas. 
Their quest became the quest of a nation, a way for Britain to cleanse itself and to seek a more hopeful future by putting the horrors of the war behind.  Wade traces Mallory, and the primary players of the Everest quest, through those terrible years until they finally arrive at the foot of the great mountain.
But climbing Everest was only half the battle.  Both Nepal and Tibet, wary of foreigners, had closed their borders to outsiders.  Nepal was clearly unreachable.  Thus, early expeditions focused on Tibet, and through sensitive diplomatic maneuvering, obtained permission for expeditions in 1921, 1922 and 1924. 
On the first expedition in1921, very little time was spent climbing.  Almost all of their energies went into finding a way to the base of the mountain, and once reached, locating a possible route to the top.
By 1924, however, climbers had done all that and had pioneered a route which they believe could lead them to success.  It was late in the 1924 expedition, with the summit still unattained, that Mallory and his climbing partner Andrew Irvine positioned themselves for one final attempt.  An observer lower on the mountain watched them ascend and then disappear into the mists of the upper mountain . . . disappearing forever into the silence.
Don't miss out on this one.  Into the Silence is outstanding on all counts:  a richly told, sweeping historical narrative.  But take your time.  Read it slowly and savor every minute.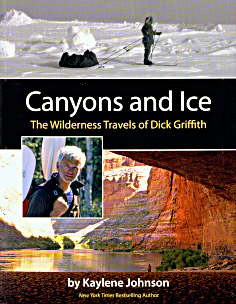 Best of 2012
Canyons and Ice: the Wilderness Travels of Dick Griffith. By Kaylene Johnson, Ember Press, Eagle River, AK. ISBN 9781467509343
There is no doubt in my mind.  Alaskan Dick Griffith is the most hardened and experienced wilderness traveler of our age.  Canyons and Ice is his story.
Griffith has walked and skied more than 6,000 miles across Alaska and the Canadian Arctic.  Think about that.  It's just under 3,000 miles across the entire U.S. from Albany, New York to San  Francisco.  Dick Griffith did that distance twice over - twice over!  He had no roads to follow, no trails to guide his way -  persevering, alone, through wild, remote country and bitter cold temperatures. 
That's not all. Griffith was among the early river runners of the Colorado River through the Grand Canyon. He was the first to run the formidable Lava Falls in an inflatable raft. Along with his wife, he traversed the length of Copper Canyon in Mexico.
Canyons and Ice is Dick Griffith's story - and it's one story well worth reading.
For a more lengthy review, see Canyons and Ice
Amazon.com:  More Information or Purchase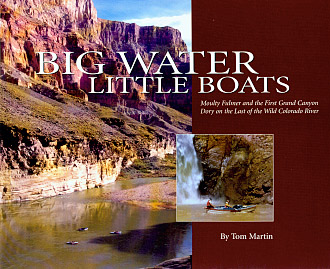 Best of 2012
Big Water, Little Boats. By Tom Martin, Vishnu Temple Press, Flagstaff, AZ. ISBN 9780979505560
In this elegantly designed book, Tom Martin chroncles the adventures of the pioneers of wooden dories on the Colorado River through the Grand Canyon. Martin focuses on Moulty Fulmer and Fulmer's innovative and ground breaking dory that he constructed named the "Gem."
The river was truly wild then before the advent of the Glen Canyon Dam, and in one chapter, Martin tells the story of a 1957 trip when the Colorado was running at an amazing 126,000 cubic feet per second. (The average flow on the Colorado River these days is 15,000 cubic feet per second.)
His descriptions of 1950's river trips are a joy to read and revealing, in many ways, of the dynamics of egos and personalities when a group of people live closely together and face the challenges of a wilderness river. 
At the conclusion of the book, Martin re-constructs a replica of Fulmer's "Gem" and with it attempts a run down the canyon. It turns out to be the perfect finishing touch to this fine, new historical text, certain a find a place among exceptional works about the river runners of the Grand Canyon.
For a more complete review, see Big Water, Little Boats
Amazon.com:  More Information or Purchase

Honorable Mention: Best of 2012
Walking the Amazon: 860 Days. One Step at a Time. By Ed Stafford, Penguin Group, New York. ISBN 9780452298262
Tangled jungles, sweltering humidity, fetid swamps, bitting ants, lethal snakes, and a beaucratic maze of governmental and native permits, author Ed Stafford lived and survived a nightmare. He set out with a friend at the Pacific Ocean in Peru and together they crossed the Andes, reaching the real starting point of the journey: the source of the Amazon.
Somewhere afterwards, his friend bows out and others join him from time to time, but finally, he ends up with forestry worker "Cho" Rivera who, committed as he is, walks all but four months of the twenty-eight month epic.
There's nothing fancy about Stafford's writing. It's a plainly told narrative, but I guarentee that once you start the book, you won't be able to put it down - even if you're like me and don't have a particular affinity for jungles. He re-creates the journey: the day-to-day grind, the dark and wet, steamy forest, and the internal debate going on his mind which leads him chillingly close to madness.
The Amazon is not all tangled jungle. We learn that towns and roads have increasingly encroached on this last outpost of rain forest wilderness, and where they lie close to the river, he follows roads and forest trails. At night, when near outposts of civilization, he stays with families, or recovers in hotels in small and large cities. Frequently, he is re-stocked with food and supplies. He keeps admirers informed of his progress with regular blog reports.
But, he is never lured away from his goal, and along with his trusty and grounded companion Cho, he heads back again and again for days and weeks at a time in the dark Amazon forest.
Amazon.com:  More Information or Purchase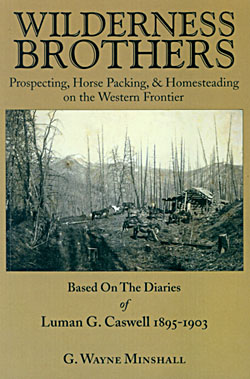 Best of the Year - Honorable Mention
Wilderness Brothers: Prospecting, Horse Packing & Homesteading on the Western Frontier. By G. Wayne Minshall. Steamside Scribe Press, Inkom, ID. ISBN 9780984949007

Honorable Mention: Best of 2012
The book centers on the diaries of Luman Caswell who along with his brother in the 1800's, take a 2,500-mile journey by buckboard wagon and horseback, eventually settling along Big Creek deep in the mountainous wilderness of central Idaho. It is, in fact, still wilderness to this day.
There's much here more than homesteading. In the wilderness, a day or two journey from their small ranch, Caswell and his brothers eventually discover enough gold that they set off what would become one the last great gold rushes: the Thunder Mountain rush.
For a more complete review, see: Wilderness Brothers
Amazon.com:  More Information or Purchase
Links to the Best Books of Other Years:  See List
---