Newly Published: Recent Books that Have Come Across Our Desk

Note that we now have a separate category for hunting and fishing books. You'll find reviews here.
The following are newly published books that have come across our desk.   Note that we are not doing complete reviews here.  Rather, we're letting you know that they have been published and are available.  At the end of each year, we look over these books and the entries in the National Outdoor Book Awards and put together our "Best Books of the Year" list.
Recent books that have come across our desk . . .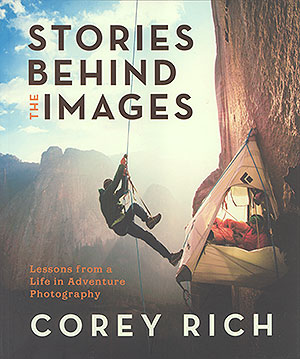 Stories Behind the Images. By Corey Rich. Mountaineers Books, Seattle. ISBN 9781680512649
Corey Rich is the photographer behind many of the iconic images of outdoor adventure sports. His images pop out of the page - dazzling, exciting and inspiring. But there's something else that we find out about him from this book. Yes, Corey Rich is a great photographer, but he is an outstanding writer as well.
As you can imagine the book is filled with his stunning action photography, but also included are revealing character studies, quiet moments behind the scenes, and the locales and angles in which Rich maneuvered himself to take the photos. There are 56 chapters in the book, each covering a different photo shoot.
What makes the book more than a portfolio of photos is Rich's story telling. He chronicles how the assignments came along, and the people and places involved. The stories quickly draw you in, and in short order, you'll find yourself dangling with him on the rock walls, balancing on slippery boulders along side of whitewater rivers, or hopping from one island paradise to another in the South Pacific. He has a comfortable and inviting style, and keeps the book moving along, the text and imagery working perfectly together.
If you're someone who enjoys fine photography and good story telling, then you'll love this book. If you're a photographer and are looking for ways to improve your images, then you'll love it even more. His stories are loaded with helpful information, hints and secrets of the art of action photography. It's the best of two creative worlds: great image making and great story telling.
Amazon.com: More Information or Purchase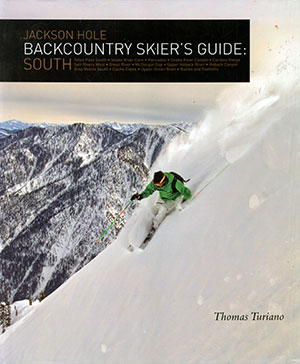 Jackson Hole Backcountry Skier's Guide. By Thomas Turiano. Select Peaks Publishing, Jackson, WY. ISBN 97809974561912
I have used and reviewed a good many backcountry guides - and including writing one or two myself - but Thomas Turiano's Jackson Hole ski guide is clearly the crème de la crème. The book covers the inviting ranges to the east, south and west of Jackson. Many of the tours and descents covered in the book are rarely skied and provide a sumptuous alternative to the ever crowded Teton Pass. In the Snake, Salt, Gros Ventre, northern Wind River, Caribou, and Wyoming ranges one will find a lifetime of skiing. I have prepared a featured review of the book, along with photographs and you'll find it here: Jackson Hole Backcountry.
Available from the author here: SelectPeaks.com
Teton Pass Backcountry Guide. By Thomas Turiano. Select Peaks Publishing, Wilson, WY. ISBN 9780974561929.
Teton Pass. No backcountry area can hold a candle to the beauty and variety of skiing found there. Thomas Turiano's book covers the touring and descent opportunities on either side of the pass - and there are a multitude of them. Each of the regional segments of the pass are dealt with in a broad arch with the pass in the center, stretching from the southeast around to the northeast. Trail descriptions are accompanied with crisp color photos, finely done illustrations, and excellent maps. I have prepared a featured review of the book, along with photographs and you'll find it here: Teton Pass Guide.
Available from the author here: SelectPeaks.com
The Adventurer's Son. by Roman Dial. Harper Collins, New York. ISBN 9780062876607
This is the story of a father attempting to find out what happened to his son after he disappeared in the rain forest of Central America. It is a soulful, heartbreaking story, but it also one of love - an abiding father's love for a son and a passionate love of adventure shared between them.
Roman Dial is no slouch when it comes to adventure. In his younger days, he was an outstanding mountaineer. Later, he took up multi-day wilderness endurance races and most recently he helped pioneered the sport of packrafting, writing the definitive work on the activity.
His son, Cody, was equally devoted to adventure, and when he dropped his father an email telling him that he was planning a 5-day hike through a Costa Rican jungle, Roman didn't worry. His son had often done similar trips. But when Roman didn't hear from his son two weeks later, it hit him. Something was terribly wrong.
He immediately travelled to Costa Rica. Trying to retrace his son's steps, he encountered only misinformation and blind alleys. He kept at it, pursuing every possible lead and heading into the jungle to look for clues. The Adventurer's Son is the powerful and unforgettable story of Dial's search for answers: about his son - and himself.
Amazon.com: More Information or Purchase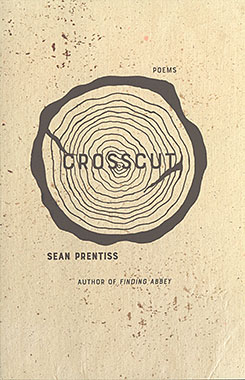 Crosscut Poems. By Sean Prentiss. University of New Mexico Press, Albuquerque. ISBN 9780826361318
Every so often a book of poems comes my way that rises above the others. This is clearly one. I speak here of poems with an outdoor lean - and Cross is very much outdoor poetry: muscular, sweaty, dusty and miles from civilization. The selection of writing comes from an extended summer in the life of Sean Prentiss when he was a trail crew leader guiding at-risk teens while they built trails in the Cascades of the Pacific Northwest.
It's about boots, Stihl chainsaws, camping, moving on from place to place, $3.50 showers, kids with rap sheets, and Prentiss "wondering how to lead this gang of teens, how to guide them through these wildernesses of our lives." From start to finish, using of a variety forms and styles in mostly free verse, Prentiss constructs a narrative of the summer. Start with the first few poems, and you'll find yourself ambling along, and suddenly you're at the end, feeling a bit knackered, yes, but healthy and refreshed after a summer in the woods.
Amazon.com: More Information or Purchase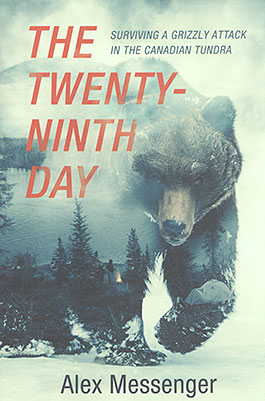 The Twenty-Ninth Day: Surviving a Grizzly Attack in the Canadian Tundra. By Alex Messenger. Blackstone Publishing, Ashland, OR. ISBN 9781982583330
This is a well-written, true adventure story about Alex Messenger's experience when he was 17 years old. On the 29th day of a summer canoe trip in Canada, while on a short outing away from his party's camp, Messenger encounters and is mauled by a grizzly bear. His group is in the midst of the wilderness, far from help, and Messenger is in a fight for survival.
Amazon.com: More Information or Purchase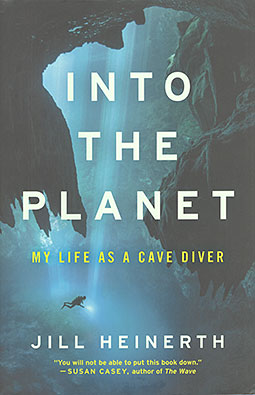 Into the Planet: My Life as a Cave Diver. By Jill Heinerth. Harper Collins, New York. ISBN 9780062691545
Into the Planet is an outstanding book by one of the foremost cave divers of our time. For Jill Heinerth caving diving is a profession and a way of life, but it's a deadly way of life, one which has sent many other professional divers to an early grave. Heinerth wrote the book as an autobiography. That's not an easy task but Heinerth handles it with aplomb, crafting a great story that will keep you engrossed and turning the pages.
Amazon.com: More Information or Purchase
Beyond Trees: A Journey Alone Across Canada's Arctic. By Adam Shoalts. Penguin Canada, Toronto. ISBN 9780735236851
In Beyond Trees, Adam Shoalts recounts his remarkable solo wilderness journey from the Dempster Highway east of the Alaskan border to Hudson Bay. He covers nearly 2,500 miles, poling up rivers, crossing ice-chocked lakes, and wading through swamps, all the while feasted upon by clouds black flies. The writing in many books about grand adventures such Shoalts' often isn't nearly as grand as the adventure, but not in this book. Not in Shoalts' hands. Shoalts is an able writer and fine story teller, skillfully holding your interest from the first step of the journey through to the last.
Amazon.com: More Information or Purchase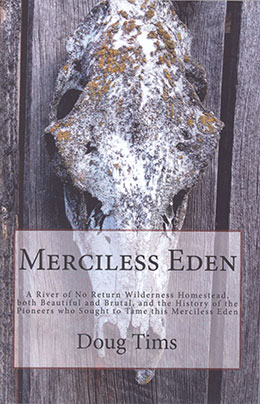 Merciless Eden. By Doug Tims. Ferry Media, Boise, ID ISBN 9780989191005.
This is a fascinating historical work about Campbell's Ferry Ranch located along the Salmon River in the midst of the vast central Idaho wilderness. The ferry's namesake, William Campbell homesteaded there in 1897, but in the winter of 1902-03, Campbell vanished, disappearing in the Idaho wilderness. I won't give anything away, but author Doug Tims lays out the intriguing theories of what may have befallen Campbell. Tims continues the narrative with the historical comings and goings of life at the ferry, including an in-depth look at Frances Wisner, Idaho's most famous backcountry woman, along with the efforts to protect the area as the River of No Return Wilderness. I have prepared a featured review of the book, along with photographs and you'll find it here: Merciless Eden.
Amazon.com: More Information or Purchase
Thirst: 2600 Miles from Home. By Heath Anderson. Mountaineer Books, Seattle. ISBN 9761680512366
There's no doubt about it. Long distance hiking is an athletic endeavor. It involves sustained days of physical exertion, personal toughness and perseverance. But there is a subset of hikers that ratchet things up several notches, pushing hiking to the very limits of human endurance. Heather Anderson occupies the top echelon of that select group.
Thirst is the story of her amazing record setting hike from Mexico to Canada on the Pacific Crest Trail. She completed 2,653-mile trail in 60 days and 17 hours, breaking the old record by four days which had been set by a male hiker. Her record, which she achieved in an unsupported manner by carrying her own food and equipment, still stands. Whatsmore, Anderson is a splendid story teller, and once you get started with the book, you won't be able to put it down. This is an outstanding book and it is one that you want to have on your to-read list
Amazon.com: More Information or Purchase
Healing Earth: An Ecologist's Journey of Innovation and Environmental Stewardship. By John Todd. North Atlantic Books, Berkeley, CA. ISBN 9781623172985.
John Todd is one of the pioneers of ecological design. Ecological design is the study of how structures can be designed to protect and/or heal the natural environment. In this book, Todd highlights the ecological enhancing projects that he has championed during his professional career. He doesn't deal in theory and doesn't drone on about environmental problems. Rather, he suggests solutions, a book full of them.
Amazon.com: More Information or Purchase
Waymaking: An Anthology of Women's Adventure Writing, Poetry and Art. Edited by Helen Mort, et. al. , Vertebrate Publishing, Shelffield, UK. ISBN 9781910240755.
This is a splendid book, full of wonderful surprises by women writers. Exquisitely designed and perfectly organized, it takes you on a journey of waymaking: from short poetic pieces to inspired narratives and art. Hands down, this is the finest collection of women's outdoor writing that I've come across and a significant contribution to literature in general. Women and, yes, men (full disclosure: I am of the male species) will find much to like about this book. Don't delay. Get a copy and dive in.
Amazon.com: More Information or Purchase
New Wave Nordic Skiing: XC Breakthrogh and the Liberation of Winter. By Jeff Potter. Out Your Backdoor Press, Williamston, MI. ISBN 1892590638.
One of the promotional taglines for this book is "not just another ski book," and I'd have to say that that's a pretty accurate assessment. For one thing, this book is different from many instructional books in that Jeff Potter emphasizes the "why" of cross country skiing.
Included in the book are such chapters as Ski Parties, Culture, Social Work, Food, Drink, and Picnics. Those are not the usual chapter headings in a typical ski book. But a question arises: is cross country skiing even viable in this age of global warming and dwindling snow? To which Potter says: don't sweat it. A few inches is all you need!
There's another aspect about this book that caught me by the coat tails. It's a book that exudes enthusiasm - and it's catching. You can't help to be drawn in by Potter's infectious laugh. Wait . . . laugh? Can you hear an author laughing by reading a book? You can with this one. If you're thinking about taking up cross-country skiing, and want to dispense with all the rigmarole and fancy talk, this is the book to get.
Amazon.com: More Information or Purchase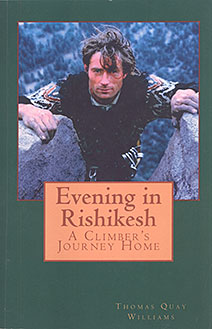 Evening in Rishikesh: A Climber's Journey Home. By Thomas Quay Williams. Longs Peak Trading Company Press. ISBN 9760996247337
This is Thomas Quay Williams' memoir of his climbing experiences and his search for personal enlightenment. Williams, a Colorado climber, is a natural on rock, but in a quest to improve his skills, he abandons the US scene for Southern France where he settles in as an expatriate climber. Inspired by climbers that he admires, his quest turns inward, and he's on the move again, this time to Rishikesh, India to devote himself to study of yoga. Does he find enlightenment in India's cradle of spirituality or is Rishikesh really all that it's cracked up to be? You can find out in this intimate account of the twin pursuits of climbing and yoga.
Amazon.com: More Information or Purchase
50 Years of Flight:  Ski Jumping in California 1900-1950.  By Ingrid P. Wicken.  Vasa Press, Norco, CA.  ISBN 9780971601413
There are very few people in the ski world who have done more to document and archive information on the history of skiing than author Ingrid Wicken.  For starters Ingrid has written several papers and books on skiing history.  Of her books, 50 Years of Flight is her most recent. 
But that's not all.  Ingrid established the California Ski Library which includes a collection of 4,000 books, hundreds of magazines, almanacs, annuals, and other ski memorabilia.  Where to put all those books?  Ingrid to the rescue again.  She purchased a sizeable portable building to house the collection and had the building erected on her property in Norco, California.  The library is not, however, intended for the use of selected few.  She has made it fully accessible to the public. 
Why a book on California ski jumping?  Because ski jumping was big stuff in its day.  In fact, in the 1930's, it was the preeminent winter sport in the golden state.  Ski jumpers flew off ever higher natural and artificial jumps, wowing the crowds from Mount Shasta in the north to Lake Arrowhead in the south.
The back cover does a nice job of summing up the book and let me repeat it here: "50 Years of Flight chronicles the story of California ski jumping, from its rudimentary beginning in the 1920s to its world class jumps and star jumpers who steered the way to California's second gold run . . . white gold!"
Well researched and documented, and full of historic photos, it is the perfect addition to the ski enthusiast's library.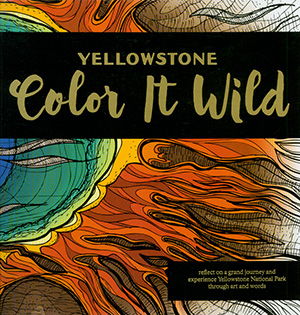 Yellowstone: Color it Wild.  Edited by Emily Yost and Dawn Webster with a host of illustrators and writers. Yellowstone Association, Yellowstone National Park.  ISBN 9780934948371
Yellowstone a coloring book for adults.  Err?  A coloring book for adults, you say?  Oh yes.  It's for adults.  In fact, over the last few years adult coloring books have become something of a thing to do – or at least try. 
The book is an illustrative tour of the Grand Loop of Yellowstone and you color in drawings of locations along the way.  The Grand Loop, by the way, is the figure-8 shaped system of roads in the interior of the park which passes by most of the main Yellowstone attractions. 
Coloring in the book brings out the hidden kid inside.  And shouldn't adults have a chance to be kids again – especially on their vacation?  But there's more here than a recaptured childhood.  The coloring book has some very adult-like benefits:  it's a nice way of focusing the mind, reducing the stress of travelling, and remembering the sights of Yellowstone in a more intimate, creative way. 
Within the covers of the book are drawings by 17 regional artists.  There are even a couple of topographic maps to color.  Along with the illustrative material are short stories, essays, poems, and quotes.  It's a nice combination of words and imagery which will stimulate the imagination and get you reaching for just the right color of crayon.
There's one last benefit.  When you return from your Yellowstone trip, you'll have your own colorings to proudly display on the refrigerator door.
Available from the non-profit Yellowstone Forever organization:  More Information or Purchase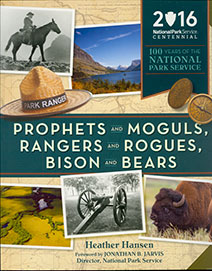 Prophets and Moguls, Rangers and Rogues, Bison and Bears: 100 Years of the National Park Service.  By Heather Hansen.  Mountaineers Book, Seattle. ISBN 9781594858888
Released in early 2016, Prophets and Moguls coincides with the National Park Service's 100th birthday – and you couldn't ask for a better way to celebrate that milestone.  Lively and spirited, the book tells the story of America's "best idea" from its earliest glimmer to contemporary times. 
("Best idea" may sound familiar.  It was used by Ken Burns' in the title of his brilliant PBS multi-episode special on the National Park system.  It's not Burns' invention, however.  It comes from a quote by the famous Western writer and life-long supporter of the Park Service, Wallace Stegner.) 
Author Heather Hansen is clearly an engaging writer, and one of the strong points of the book is the way she has dexterously merged history, politics and personalities which have helped shaped the parks.  Graphically, the book draws you in as much Hansen's compelling writing.  It is colorful and intelligently designed with frequent sidebars and a wonderful collection of historic photos.  In short, Hansen and the creative staff at Mountaineers Books has created a marvelous homage to the nation's park system. 
Amazon.com:  More Information or Purchase
The Kolob Tragedy:  The Lost Tale of a Canyoneering Calamity.  By Noel de Nevers.  Canyoneering USA, Mt Carmel, UT.  ISBN 9780978961442
One word describes this book:  compelling!  And to that add "supremely illuminating."  The Kolob Tragedy is a case study of a canyoneering accident that occurred in July of 1993.   A youth group led by three adults rappelled into the narrow canyon formed by Kolob Creek in Zion National Park. A short time later, things went terribly bad. More about the book and the tragedy are found in a featured review that we've prepared: Kolob Tragedy
Amazon.com:  More Information or Purchase
Sherpa: The Memoir of Ang Tharkay.  By Ang Tharkay with Basil P. Horton.  The Mountaineers Books, Seattle  ISBN 9781594859977
The golden age of mountaineering occurred in the Alps in the 1800.  But the Himalaya also had its golden age — and Sherpa Ang Tharkay, one of the greats of mountaineering lived through it.  Tharkay's first expedition was the 1931 German expedition to Kangchenjunga  He was on Everest in 1933, 1935 and 1938.  He accompanied the legendary British explorer and climber Eric Shipton on a five-month, 1,800-mile survey of the Karakorams.  In 1950, he was the head guide on the first ascent of an 8,000 meter peak, Annapurna.  Cho Oyu, Dhaulagiri, Makalu and others quickly followed in Annapurna's wake.  In 1978 at the age of 70 he was still going strong, acting as the sidar for the French attempt on Dhaulagiri.  This is his story from humble beginnings to the great summits of the world. 
Amazon.com:  More Information or Purchase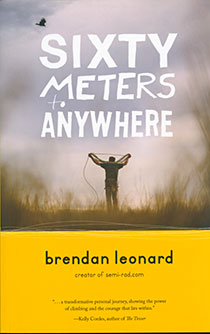 Sixty Meters to Anywhere.  By Brendan Leonard.  The Mountaineers Books, Seattle  ISBN 9781680510409
Sixty Meters, as you might imagine, is about climbing.  Yet climbing is a secondary theme.  It's mostly about one man's struggle with alcoholism.  Brendan Leonard's bout with dependency came early in life, in his late teens.  After college he stayed sober but his life seemed muddled and precariously balanced on the edge of a precipice, one misstep away from oblivion.  That all changed when he started climbing.  Leonard was no longer standing on an edge of a precipice, but instead he was climbing them.  The intensely physical and demanding mental act of climbing became his deliverance. 
This was another book that caught me by surprise, and in particular the way Leonard expresses himself.  His writing style is engaging and his choice of words have a pleasing cadence to them.  Through it all, even during the low points in his life, he comes across as a warm, caring person that just took a wrong turn early on.  It's not easy to expose your failings to the world but in Sixty Meters Brendan Leonard does so with bountiful grace. 
Amazon.com:  More Information or Purchase
Walking the Nile.  By LevisonWood.  Atlantic Monthly Press, New York.  ISBN 9780802124494
Levison Wood undertakes a journey of epic breath: to walk the Nile from its source to its mouth at the Mediterranean Sea.  The journey takes nine month and covers over 4,000 miles passing through an environmental sea change:  dripping forests, snake infested swamps, and stretches of parched desert where sand temperatures reach over 140 degrees.  Levison tells the story of the journey with great finesse: balancing his narrative with history, culture, current affairs – and, of course, adventure.  This a great read which will keep you captivated way into the night.
Amazon.com:  More Information or Purchase
The Hour of Land.  By Terry Tempest Williams.  Sarah Crichton Books/Farrar, Straus and Giroux, New York.  ISBN 9780374280093
What can you say about the nature writer Terry Tempest Williams?  She is an artist.  Her latest objet d'art is a literary reconnaissance of the national parks.  Like much of Williams writing, the book is personal.  Largely essay and sometimes journalistic, it's about her experiences in parks and their importance as the nation's inheritance.  It's also plea, overstated at times, but always sincere, to save the parks from commercial development. 
Amazon.com:  More Information or Purchase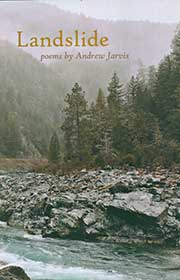 Landslide By Andrew Jarvis. Homebound Publications, Pawcatuck, CT. ISBN 978-1-938846-96-0         
.
Reviewed by G. David Parris
(To reach Dave, email him at: Email)
.
This collection of poetry is centered on natural foundations.  The wording is often haunting, grim, but celebratory of both the experience and loss of life.  There is an omnipresent feeling of awe and impending doom, which entices one as much as it unsettles.  Animals are given character that are grounded in reality, somehow referencing fable without escaping into flights of fancy.  When Jarvis does introduce humans into any of his poetry, they seem more compelled by their own (albeit destructive) nature than the animals they pursue and most often wind up killing through direct action or passive inaction.  It is the vocabulary that Jarvis uses that makes this collection so powerful, and will likely leave the reader musing.  Absolutely worth reading at least twice, and the best parts thrice.
Amazon.com:  More Information or Purchase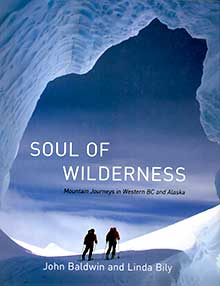 Soul of Wilderness: Mountain Journeys in Western BC and Alaska. By John Baldwin and Linda Bily. Harbour Publishing Co. Ltd., Madeira Park, BC. ISBN 978-1-55017-735-0            
.
Reviewed by G. David Parris
(To reach Dave, email him at: Email)
.
In this book, the photographs hold the leading roles. That is not to disparage the essays contained within, but the reader will likely find themselves lingering over the images as if they were chionomania pornography. Snowfields, glaciers, cols, cornices, glacial pools, and even some moraines abound in this book. Tiny skiers dot a small corner of vast frozen vistas, footprints blown into the most interesting of ant-trails, and true wilderness that is few and far between in this modern world; that's what awaits the reader in this tome of sprawling majesty.
Staged in western British Columbia, this collection outlines travels through a wilderness that remains almost purely due to its severity, and enjoys the status of being one of the last true wildernesses in the world, let alone North America. The authors were lucky enough to be afforded the opportunity to spend extended trip time in this backcountry, and came back reporting the majesties and beauties we can only hope to share ourselves one day. As I read the accounts and looked at the pictures of their camps, I could only hope that someday I will be so fortunate as to visit this beautiful (mostly) frozen piece of the world.
Amazon.com:  More Information or Purchase
Journey of Heart. By Sequoia Schmidt. Di Angelo Publications, Houston, TX. ISBN 978-1-942549-12-3
.
Reviewed by G. David Parris
(To reach Dave, email him at: Email)
.
Daughter of a mountain guide, Sequoia Schmidt relates the true story of the loss of her brother (named Denali) and her father (Marty) on K2, and her quest to recover their remains.Sparked by a Facebook post of a video that she believes to be her brother's severed head (found as the result of a landslide, along with several other dismembered body parts of unknown origin), she is "livid" and travels halfway across the world for answers.
Heeding the credo, "Respect the mountain and the climbers who came before you", she takes up the cause for numerous families seeking lost loved ones over the years, the words "I never got to say goodbye" haunting her along the way. Whether or not the head belongs to her brother, or any of the other found body parts, is up to the reader to discover. It is, however, well worth the read to discover for yourself how this journey into the unknown reflects as much of the author's interior landscape as the exterior she explores.
Amazon.com:  More Information or Purchase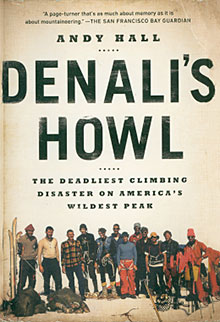 Denali's Howl: The Deadliest Climbing Disaster on America's Wildest Peak By Andy, Hall. Penguin Group, New York, NY. ISBN 978-0-14-218195-9
As the title suggests, "Denali's Howl" chronicles the "Deadliest Climbing Disaster on America's Wildest Peak". In the summer of 1967, twelve men went up Mount McKinley, but only five came down. This true story is a vivid and gripping book, moving the reader along, showing exactly how this tragedy unfolded.
This is a featured review. You'll find the continuation of this review here: Denali
Amazon.com:  More Information or Purchase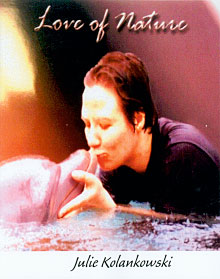 Love of Nature By Julie Kolankowski. CreateSpace, San Bernadino, CA. ISBN 9781494439545
.
Reviewed by G. David Parris
(To reach Dave, email him at: Email)
.
This book falls somewhere near the gray area of prose poetry, being a collection of short stand-alone chapters outlining the author's reminiscing on personal experience with nature. Much of the language used is full of imagery and emotionally charged.
The book follows a progression starting with her earliest interactions with the natural world on Alameda Island, California. She progresses to domesticated pets, investing four chapters to dogs and cats. She then moves on to wild animals, starting with birds, telling stories of her observations and ascribing proper names like "Harry the Hopeless Harrier" to many of them.
Chapters Seven through Twenty-One chronicle her many travels around the world, documenting facts about the flora and fauna there, along with abuses of the environment in general by mankind. Chapter Twenty-Two, "The Impact of Man", is essentially a list of the kinds of animal mistreatment and environmental pollution and degradation that has occurred historically and into the modern era. The final two chapters return to her travels and experiences with whales, culminating in the fulfillment of a life-long desire to actually touch one in the wild.
Amazon.com:  More Information or Purchase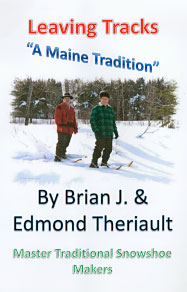 Leaving Tracks: "A Maine Tradition" By Brian J. & Edmond Theriault. Brian J. Theriault Publisher, Aroostook, ME. ISBN 9780991006991
.
Reviewed by G. David Parris
(To reach Dave, email him at: Email)
.
Winter backcountry travel enthusiasts with an interest in the do-it-yourself ethic will enjoy this book. Part history lesson, mostly how-to manual, it provides a comprehensive set of information on snowshoes and their construction.
The Theriaults each have over 40 years of experience building traditional snowshoes, and offer up a complete set of directions for the beginner. There are numerous illustrations and diagrams, along with photographs, to guide the entire process from selecting appropriate tools, to sourcing materials like wood and rawhide, all the way to a tutorial on how to properly utilize snowshoes in the field. The Theriault's passion for the subject shows as they pass along their "Maine Tradition".
Amazon.com:  More Information or Purchase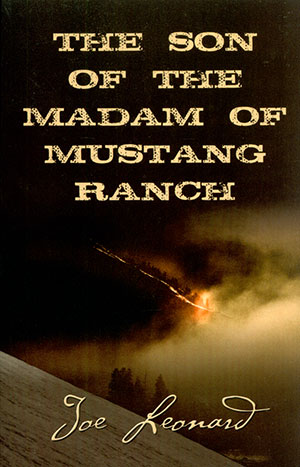 The Son of the Madam of Mustang Ranch. By Joe Leonard. 
The title of this book certainly piques your interest.  But why would I be reviewing it here?  This is, after all, a review site for outdoor books. 

That's because it is an outdoor book.  Admittedly, it seems like an unlikely combination: the shadowy world of prostitution and the sunlit realm of the outdoors.  It almost seems to be more suited to the stuff of fiction.  But it is indeed true - and it is one of the most fascinating true stories that I've read in a long time. 

The Son of the Madam is the autobiography of Joe Leonard, a pioneering climber, kayaker and backcountry skier. 
This is a featured review with accompanying photographs. You'll find the continuation of this review here: The Son of the Madam of Mustang Ranch
2015 - Books that have come across our desk . . .
Race to Tibet By Sophie Schiller. Tradewinds Publishing, NY. ISBN 9780692254097
Race to Tibet is a historical novel about the French explorer Gabriel Bonvalot and his attempt to reach Lhasa in the late 1800's, a time in which Tibet's borders were closed to world. 
I had never heard of Bonvalot, and Sophie Schiller's book was a pleasant introduction to the man and his exploits. 
Below is a quick synopsis of the novel from the author's website but a featured review will be posted soon:
An intrepid band of explorers headed by Gabriel Bonvalot, France's greatest explorer, and his partner, Prince Henri d'Orléans, attempt to be the first living Europeans to reach Lhasa. Before they leave Paris, Bonvalot meets Camille Dancourt, the beautiful, strong-willed wife of a French surveyor who disappeared in Tibet, who desperately wishes to join the expedition.

When the caravan sets out they face freezing temperatures, violent winds, mountain sickness, hostile Tibetans, duplicitous Chinese Mandarins, and a beguiling Tibetan Buddhist princess with a deadly secret.

When the explorers reach Tibet, they discover a land of mystery and intrigue, a land of danger that promises them only one thing: death. On the verge of collapse, Bonvalot realizes they must resort to deadly force if they ever wish to escape Tibet alive.
Amazon.com:  More Information or Purchase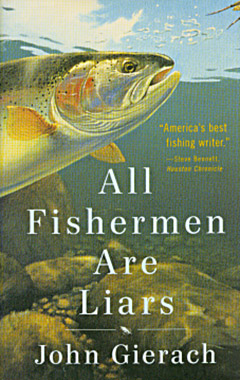 All Fishermen Are Liars By John Gierach. Simon & Schuster, NY. ISBN 9781451618310
John Gierach is surely in the top echelon of outdoor writers, but there is nothing rarefied about his writing. He emerges from his books and articles as an easy going, down-to-earth guy, not much into fancy clothes, who simply loves to fish.
It comes, then, as no surprise that his writing style isn't fancy either. He doesn't write at his readers. He writes with his readers.
But there's something else, a quality evident just below the surface, that makes Gierach such a pleasure to read, and that's his warmth. Reading his books is like sitting down with a favorite uncle and listening to his stories while a fire crackles and pops in a nearby wood stove. What could be better?
All Fisherman are Liars consists 22 stories, ranging far and wide from way up north in Canada to Michigan's Upper Peninsula to his home fishing streams in Colorado. In all of these, his simple but highly effective story telling skills are on full display.
Thoreau who once wrote that "many men go fishing all of their lives without knowing that it is not fish they are after." There's no better proof of that truism in the writings of John Gierach.
Amazon.com:  More Information or Purchase
Defending Idaho's Natural Heritage By Ken Robison. Boise, ID. ISBN 9870578140933
Defending Idaho's Natural Heritage is an impressive and penetrating history of Idaho's conservation movement, and there was no better person to write that history than Ken Robison.
Ken Robison is a journalist and for many years served as the editorial editor at Idaho's flagship newspaper, the Idaho Statesman. He was later elected to the Idaho legislature, but he continued reporting and writing on environmental issues, founding a magazine called the Idaho Citizen.
He was present on the scene, a keen-eyed observer and reporter, during the most tumultuous — and productive — times in the Idaho conservation movement. 
It was during the three decades of the 1960's, 70's and 80's that monumental battles were waged over Idaho's wild lands and rivers. These were David and Goliath battles: small Idaho-based conservation groups and individuals with little or no funds up against business lobbyists and corporate lawyers with unlimited expense accounts. What came from those struggles are such national treasures as the River of No Return Wilderness, the Sawtooth Recreation Area, the Selway-Bitterrroot Wilderness, and Hell's Canyon National Recreation Area. 
Robison's book is one of the most important works on the Idaho conservation movement ever to be published, and it will long be a reliable source of historical information.
For a more lengthy review, see Defending Idaho's Natural Heritage
Defending Idaho can be purchased directly with the author's site: Defending Idaho 
---
2014 - Books that have come across our desk . . .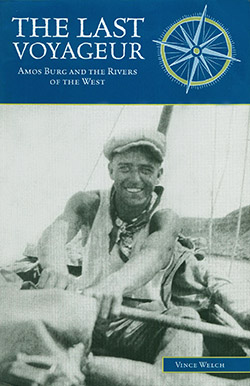 The Last Voyageur: Amos Burg and the Rivers of the West by Vince Welch The Mountaineers Books, Seattle.  
ISBN 9781594857010
This labor-of-love book is a vivid portrait of a pioneering river explorer and a welcomed addition to outdoor literature.  
Vince Welch co-authored the Doing of the Thing, an outstanding biography about another pioneering river runner Buzz Holmstrom which won the National Outdoor Book Award in 1998.
After a long period of research, he is back with a new book, this time about Amos Burg.  Entitled The Last Voyager, the book fills in the blanks and has greatly expanded our knowledge of this adventurer extraordinaire. 
In a burst of activity over a 20-year period from 1920 to 1940, Burg ran the Columbia, Snake, Green, Colorado, Yukon, Mackenzie, Yellowstone, Missouri, and Mississippi Rivers.  Gone for months at a time, he was both consumed and seduced by rivers and never married until very late in life.
Burg was determined and ambitious, but he was also refreshingly modest.  "Burg would have been embarrassed to find himself hoisted on a pedestal," Welch writes. "Nevertheless, he serves as a marker on the river of time, a witness to change who wore his heart on his sleeve when it came to rivers.  He traveled the western waterways in pursuit of beauty, adventure and excitement . . . . His explorations were as much of the landscape as the human heart."
Bravo to Welch for putting an equal amount of heart into this fine biography and giving us front row seat into Amos Burg's fascinating life. 
For a more lengthy review, see The Last Voyageur
Amazon.com:  More Information or Purchase
Cabin Creek Chronicle: The History of the Most Remote Ranch in America By G. Wayne Minshall, Streamside Scribe Press.
ISBN 9780984949014
The central Idaho wilderness has left an indelible mark on author Wayne Minshall.  It was plainly evident in his first historical work, a fascinating account of the Caswell brothers who through plain hard work and inventiveness eked out a living along Big Creek, a major stream in what is now known as the Frank Church River of No Return Wilderness. 
Minshall returns to the Big Creek country in his second book Cabin Creek Chronicles, and once again, recounts the drama of human life far away from civilization.
Even in this remote country where only a handful of people live, there are murders, adultery, and greed intermixed with a modicum neighborly goodness.  His book is all focused on one piece of ground — and the succession of changes that occurred there — at the mouth of Cabin Creek, first homesteaded by the Caswells. 
Cabin Creek Chronicle is another exceptional work by a fine historical writer.  Put this one on your "must read" list.  You won't be disappointed.
For a more lengthy review, see Cabin Creek Chronicle
Amazon.com:  More Information or Purchase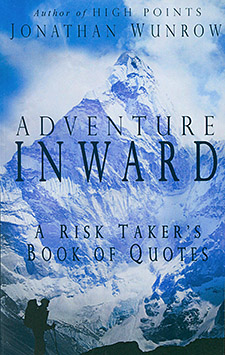 Adventure Inward:  A Risk Taker's Book of Quotes by Jonathan Wunrow, Life is Twisted Press.  ISBN 9780985188146.
I have several books of quotes on my bookshelf, but with the publication of Jonathan Wunrow's Adventure Inward, I've moved all of the others aside.  This 200-page volume is packed full of quotes by famous writers, poets, climbers, and philosophers.  It also includes quite a few names that you probably won't recognize and which gives the book a down-to-earth feel, adding to its appeal. 
It's an eclectic collection of quotes, from the ancient words of Li Po and his love of a
mountain . . .
We never grow tired of each other,
the mountain and I
To Edward Abbey's benediction of the outdoor life . . .
May your trails be crooked, winding, lonesome, dangerous, leading to the most amazing view.  May your mountains rise into and above the clouds.
You'll find plenty of gems.  There are words of inspiration . . .
Twenty years from now you'll be more disappointed by the things you didn't do than by the ones you did.  So throw off the bowlines, sail away from the safe harbor, catch the trade winds in your sails.  Explore.  Dream. Discover.  (Mark Twain)
And the humorous . . .
You have to stay in shape.  My grandmother started walking five miles a day when she was sixty.  Now she's ninety-seven and we don't know where the hell she is.  (Ellen DeGeneres)
Wunrow divides the book into sixteen sections.  Here are a few:  "Why Play a Risky Game," "The Beauty of Nature," "The Moment," "Find Your Path in Life," and "Being Open to the Possible."  Each section is introduced by Wunrow with brief commentary which nicely sums up the collection of quotes that follow.
As I read through them, every so often I'd wonder about the author of the quote – particularly those by little known authors.   Did Wunrow overhear it?  Is it re-quoted by someone else?  Did he come across it in a book or an article?  Albeit, it is understandable that Wurow wasn't able to include source notes.  Books are expensive to print and there's only so much space, but perhaps we can prevail upon Wunrow to include source information some day on his website.
But I'm splitting hairs here. What's important is that Wunrow has done a commendable job with Adventure Inward — and done us all a favor by putting together this fine assemblage of quotes.
Amazon.com:  More Information or Purchase
Personal Best - Fishing and Life: An Obsessive Weekend Tournament Angler's Pursuit of Perfection. By Kurt Mazurek JLS Mazurek Publishing  ISBN 9781940474021
This is a warm-hearted novel about weekend fishing tournaments.  What are fishing tournaments?  They are contests in which fishermen attempt to catch as many fish as they can of a certain species. 
The fish are kept in live tanks in the competitors' boats until, at the end of a certain amount of time, officials weigh the fish and return them to the water.  The fisherman with the heaviest catch is declared the winner.
If you're looking for seamy scenes, or guns blaring and fists flying, you won't find it here.  There are, however, some very competitive characters in the novel, and one in particular who will stop at nothing to win. 
If you're a fisherman — and particularly if you're keen on competitive fishing — you'll find Mazurek's novel an entertaining read.  Take it with you fishing.  Keep it handy for that day when you need a little encouragement, sitting alone in the boat, trying everything, and no matter what, the fish just aren't biting.  Who knows?  After reading it, your luck may change.
Amazon.com:  More Information or Purchase
---
2013 - Books that have come across our desk . . .
The Sparks Fly Upward: A Novel. By Jon Correll, Inkwater Press, Portland, OR. ISBN 9781592998883
Sparks Fly Upward takes place in the Blue Ridge Mountains of North Carolina in the early 1970's.  It's about Nate Miller as he finishes high school, leaves his rural home, and goes on to college in the big city.  It's about young romance and homespun decency - and one inevitable, fatal flaw, the consequences of which are foreshadowed on a hunting trip taken by Miller in which he drives himself to near collapse tracking a deer that he has wounded. 
What impressed me most about this book is the author's ability to capture dialog.  There's nothing contrived about the characters.  They are well developed, and real enough that you feel like you're in the midst of the hill country, standing with Nate Miller as he interacts with family and friends.  I found it a fine first effort by a new author and quite worthy of having a look.
Amazon.com:  More Information or Purchase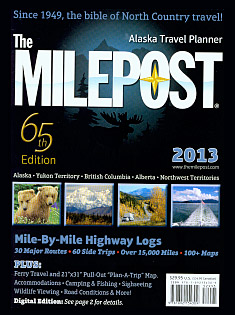 The Milepost: Alaska Travel Planner. Edited by Kris Valencia, Morris Communications Company, Anchorage, AK. ISBN 9781892154309.
Since 1949, the Milepost has been the bible of North Country travel.  This is the 2013 version.  Like the versions before, it provides mile-by-mile descriptions of all major highways and roads in Alaska and northwestern Canada.  It's indispensible if you drive from the lower 48 to Alaska as well as a useful resource if you travel by plane, ferry or even bicycle.
Amazon.com:  More Information or Purchase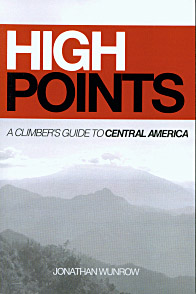 High Points: A Climber's Guide to Central America. By Jonathan Wunrow. Life is Twisted Press, Kasaan, AK. ISBN 9780985188115
High Points is both a guidebook and travelogue.  It covers the climbs of the highest peak in each of the seven countries of Central America.  Route descriptions are supplemented with journal  entries from the author's own climbs, as well as information on the country in general and other helpful travel information for climbers.
Amazon.com:  More Information or Purchase
---
2012 - Books that have come across our desk . . .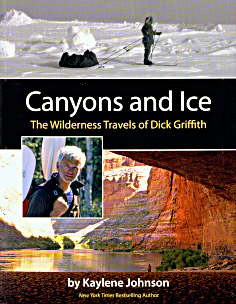 Canyons and Ice: the Wilderness Travels of Dick Griffith. By Kaylene Johnson, Ember Press, Eagle River, AK. ISBN 9781467509343
There is no doubt in my mind.  Alaskan Dick Griffith is the most hardened and experienced wilderness traveler of our age.  Canyons and Ice is his story.
Griffith has walked and skied more than 6,000 miles across Alaska and the Canadian Arctic.  Think about that.  It's just under 3,000 miles across the entire U.S. from Albany, New York to San  Francisco.  Dick Griffith did that distance twice over - twice over!  He had no roads to follow, no trails to guide his way -  persevering, alone, through wild, remote country and bitter cold temperatures. 
That's not all. Griffith was among the early river runners of the Colorado River through the Grand Canyon. He was the first to run the formidable Lava Falls in an inflatable raft. Along with his wife, he traversed the length of Copper Canyon in Mexico.
Canyons and Ice is Dick Griffith's story - and it's one story well worth reading.
For a more lengthy review, see Canyons and Ice
Amazon.com:  More Information or Purchase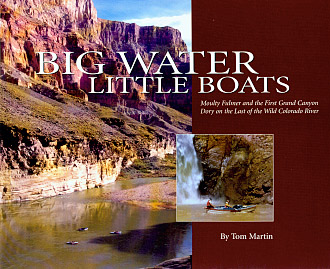 Big Water, Little Boats. By Tom Martin, Vishnu Temple Press, Flagstaff, AZ. ISBN 9780979505560
In this elegantly designed book, Tom Martin chroncles the adventures of the pioneers of wooden dories on the Colorado River through the Grand Canyon. Martin focuses on Moulty Fulmer and Fulmer's innovative and ground breaking dory that he constructed named the "Gem."
The river was truly wild then before the advent of the Glen Canyon Dam, and in one chapter, Martin tells the story of a 1957 trip when the Colorado was running at an amazing 126,000 cubic feet per second. (The average flow on the Colorado River these days is 15,000 cubic feet per second.)
His descriptions of 1950's river trips are a joy to read and revealing, in many ways, of the dynamics of egos and personalities when a group of people live closely together and face the challenges of a wilderness river. 
At the conclusion of the book, Martin re-constructs a replica of Fulmer's "Gem" and with it attempts a run down the canyon. It turns out to be the perfect finishing touch to this fine, new historical text, certain a find a place among exceptional works about the river runners of the Grand Canyon.
For a more complete review, see Big Water, Little Boats
Amazon.com:  More Information or Purchase
Walking the Amazon: 860 Days. One Step at a Time. By Ed Stafford, Penguin Group, New York. ISBN 9780452298262

Honorable Mention: Best of 2012
Tangled jungles, sweltering humidity, fetid swamps, bitting ants, lethal snakes, and a beaucratic maze of governmental and native permits, author Ed Stafford lived and survived a nightmare. He set out with a friend at the Pacific Ocean in Peru and together they crossed the Andes, reaching the real starting point of the journey: the source of the Amazon.
Somewhere afterwards, his friend bows out and others join him from time to time, but finally, he ends up with forestry worker "Cho" Rivera who, committed as he is, walks all but four months of the twenty-eight month epic.
There's nothing fancy about Stafford's writing. It's a plainly told narrative, but I guarentee that once you start the book, you won't be able to put it down - even if you're like me and don't have a particular affinity for jungles. He re-creates the journey: the day-to-day grind, the dark and wet, steamy forest, and the internal debate going on his mind which leads him chillingly close to madness.
The Amazon is not all tangled jungle. We learn that towns and roads have increasingly encroached on this last outpost of rain forest wilderness, and where they lie close to the river, he follows roads and forest trails. At night, when near outposts of civilization, he stays with families, or recovers in hotels in small and large cities. Frequently, he is re-stocked with food and supplies. He keeps admirers informed of his progress with regular blog reports.
But, he is never lured away from his goal, and along with his trusty and grounded companion Cho, he heads back again and again for days and weeks at a time in the dark Amazon forest.
Amazon.com:  More Information or Purchase
Eastern Alpine Guide: Natural History and Conservation of Mountain Tundra East of the Rockies. Edited by M.T. Jones and L.L. Willey, Beyond Ktaadn, Inc., New Salem, MA. ISBN 9780988353510
This well-done, colorfully illustrated guide covers the high elevation biozones of New England, New York, Quebec, Newfoundland and Labrador. Written by a variety of experts - biologists, geologists, geographers, explorers and naturalists - it begins with several informative chapters on Eastern mountains in general: geological history, climate and weather, flora and fauna. From there the book delves into detail on each mountain region, starting with New England and working it way up through Newfoundland to the Canadian Shield. If you're a hiker, climber or sightseer who likes to get above tree-line, this is one companion to take with you on your next journey.
Amazon.com:  More Information or Purchase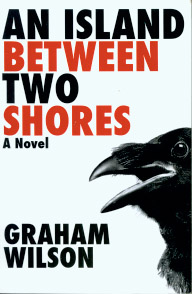 An Island Between Two Shores: A Novel. By Graham Wilson, Friday 501, Whitehouse, Canada. ISBN 9780978036768
This is a spare, haunting tale of escape and survival. Taking place in the time of the Klondike Gold rush, it centers on an 18-year old girl who, after her father is killed, must find her way through the Arctic wilderness to Dawson. Travelling downriver in a canoe, she capsizes in a rapid, and finds refuge on an island, but she is also finds herself imprisoned since the fast flowing current on either side of the island prevents her escape.
Written by an author who is experienced in the ways of the North, it's imbued with realism and brutal honesty. The realism, however, doesn't carry over to its sudden and distorted ending. Of course, mine is only one opinion. It's a short novel and it can be read in a sitting or two. Have a look for yourself and you can be the final judge.
Amazon.com:  More Information or Purchase
Eagles in the Flesh: A Wild Hang Gliding Adventure. By Erik B. Kaye, n.p., ISBN 9780615674155
Eagles in the Flesh is a memoir of Erik Kaye's hang gliding experiences: the joys, near misses, tragedies and downright debauchery of Kaye and his pals playing out against the fickle realm of sky and clouds. Kaye clearly could have used a hard-nosed developmental editor to bring some order to this rambling narrative, but if you have an interest in hang gliding - and late-night carousing with the boys - then you might find something of interest here.
Amazon.com:  More Information or Purchase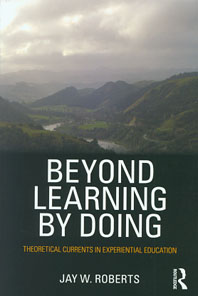 Beyond Learning by Doing: Theoretical Currents in Experiential Education. By Jay W. Roberts. Routledge, New York. ISBN 9780415882088
In this meditative work, Jay Roberts mines deeply into the philosophical underpinnings of experiential education. The book is organized around the metaphor of a river: Roberts walks us up to the edge of the canyon rim above the river, and then we're off on a hurry, hiking with him "down to the details." From there on, we follow the swirling currents of thought: romantic, pragmatic, critical, normative and hopeful. It's a highly academic and thought provoking narrative. Before launching a boat upon this winding river, however, readers will want to have an understanding of educational philosophy and theory, but with the requisite background, there are certainly gems to be found.
Amazon.com:  More Information or Purchase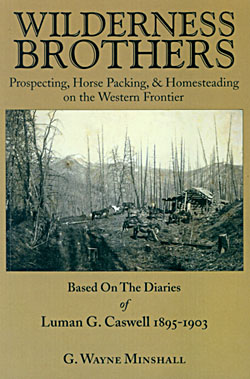 Wilderness Brothers: Prospecting, Horse Packing & Homesteading on the Western Frontier. By G. Wayne Minshall. Steamside Scribe Press, Inkom, ID. ISBN 9780984949007

Honorable Mention: Best of 2012
The book centers on the diaries of Luman Caswell who along with his brother in the 1800's, take a 2,500-mile journey by buckboard wagon and horseback, eventually settling along Big Creek deep in the mountainous wilderness of central Idaho. It is, in fact, still wilderness to this day.
There's much here more than homesteading. In the wilderness, a day or two journey from their small ranch, Caswell and his brothers eventually discover enough gold that they set off what would become one the last great gold rushes: the Thunder Mountain rush.
For a more complete review, see: Wilderness Brothers
Amazon.com:  More Information or Purchase
---
2011 - Books that have come across our desk . . .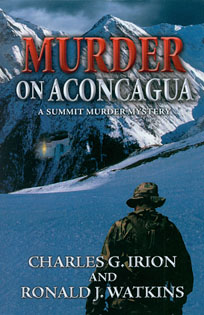 Murder on Aconcagua: A Summit Murder Mystery By Charles G. Irion and Ronald J. Watkins. Irion Books, Phoenix, AZ. ISBN 9780984161850
Murder on Aconcagua is the fifth novel in a series about deadly characters and devious deeds on climbing expeditions. In Aconcagua, the plot revolves around the possible existence of three ancient Incan idols and an attempt by Hugo Chavez (yes that's the arch, anti-imperialist Hugo Chavez of Venezuela) to possess the idols. Why? Because, of course, the idols will bring him supernatural power.
Our hero, mountaineer Scott Devlon is there to investigate on behalf of the US Government which is concerned that Chavez might actually end up with the idols and achieve - well, whatever he might achieve by getting his hands on golden Incan idols. The CIA agent Fowel from one of the previous novels (Murder on Elbrus) makes a return appearance. Somehow the sixty-something, creaky-kneed, chain smoking Fowel makes his way to the top of the 22,841-foot summit along with Devlon.
Even with such improbable premises, the book does move along. Through most of the book, the reader is kept waiting for the murder: you know it's coming . . . it's got to happen . . . it's in the title of book for Pete's sake! It doesn't occur until very late in the narrative. When it finally does occur, after the summit and while the climbing team is on the journey back down, it's hard to understand how the exhausted murderess Kira pulled it off.
Never mind. At that point the book is coming to a rapid close. But is the book leading to a resolution? Bloody hell no! It's a cliff-hanger (this is mountaineering after all), and on the final page, Scott Devlon is off chasing the dangerous Kira (who "has the killing bug now") and a new character named Ainsworth, "one of those super-rich lefties."
Where are they going? Another mountain, naturally. This time it's Mount Vinson, the highest summit on Antarctica - where, no doubt, there's bound to be . . . another murder.
Amazon.com:  More Information or Purchase
Flooding Granite: A Novel By Tom Mahony. Casperian Books, Sacramento, CA. ISBN 9781934081341

Honorable Mention: Best of 2011
This is a fine first novel by an author who has nicely captured the ambiance of a whitewater river trip: the interactions between guides and members of the party, the challenges of the river, all played out against the backdrop of the natural environment.
The story centers on Zack Pruitt who is a guide on three-day trip down a Class V river in the Sierras. In his boat is a family of three: father, mother and their grown daughter. The father comes across as a potent and masculine figure who works for a security firm providing protection to select clients. Victoria, the daughter, is in her twenties and possessing with a rebellious streak, drops hints to Pruitt that she's open for something more than a client-guide relationship.
Pruitt senses danger in both the father and Victoria, and that's mirrored by the dangers of the river. The river, however, is getting the best of him. He keeps making mistakes while maneuvering the boat through rapids, and at one point, dumps the father overboard. His confidence diminishing, he is haunted by the thought of the last rapids on the river, the most treacherous one. He needs to pull himself together before they reach it.
It begins to rain. The river rises dramatically. The dangers increase and demons appear. Pruit is facing his own demons. When not re-hashing his performance on the river, his mind is occupied by his ex-girlfriend and their young son. Slowly it is dawning upon him that he has made a mess of things and that he may be slipping beyond the point of saving the relationship and having a chance to be a father to his son.
Victoria has her demons as well, and one night, roused by them, she slips into Pruitt's tent. How does Pruitt respond? Has Victoria been seen entering Pruitt's tent - and, if so, by whom? What does the father learn? The tensions between the characters - Victoria, the father and Pruitt - rise as the water rises and floods the granite walls of the canyon. One last rapids looms . . . .
Amazon.com:  More Information or Purchase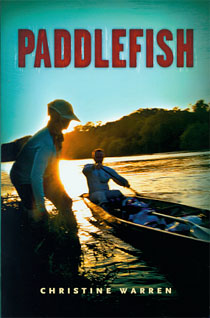 Paddlefish By Christine Warren. Departure Publishing, Austin, TX. ISBN 9780983385721

Honorable Mention: Best of 2011
Christine Warren is a divorced mom, very much devoted to her daughter, and a "girly-girl-tomboy" as she describes herself. But somewhere along the line, she develops a fascination with the idea of racing in the Texas Water Safari, a grueling 260-mile paddle race down the San Marcos and Guadalupe Rivers. The term "grueling," however, doesn't quite describe this race. It's downright brutal: a punishing paddling marathon which pushes contestants to the limits of their endurance.
Paddlefish is the well told story of that race and one woman's quest to survive it .
Warren and her paddling partner Phil Meyer spent 73 hours trying to reach the finish line. For most contestants, the race turns into a complete blur of endless broiling days, slippery muddy banks, innumerable portages - and in the absence of sleep, hallucinations. Somehow, Warren manages to re-construct those 73 hours, recalling her own thoughts as the race proceeds, capturing the dialog between Phil and herself, and laying bare the tensions and emotions that invariably crop up when two people are placed under the stress of a race like the Safari.
Conflicts between the two come up early. Phil is an experienced paddler. Warren, although she has trained with Phil, is not so experienced. He's been in the Safari race on a previous occasion, and he clearly has a competitive bent, occasionally snapping at her blunders.
"What the . . . ?" She thinks to herself after one of his outbursts, "Who is THIS Phil?" But later she gets even. Phil, as it turns out, has a bit of a problem with right and left and sometimes confuses the two. At one point while they approach a bridge, he yells "Draw right! Draw right!" Warren knows that she should draw left or otherwise they'll end up turning toward a concrete bridge piling. She draws right as instructed and they end up slamming into the piling.
They bounce off the concrete. The boat is unhurt and they continued down the river. Touché!
They both know, however, that conflicts left to fester can destroy the partnership and their chances to finish the race. As the day stretches into night and fatigue sets in, they gradually come to understand one another better and work together as team. In the dark of night, they navigate the river by headlight. When the exhaustion becomes too much, they pull off, catching a short hour of sleep and then they are back at it.
On the river, there are rapids to navigate, log jams to avoid, and portages in which they must carry and drag their boat around old dams. At times, they capsize. The boat full of sloshing water must be pulled over to the shore, hefted up and emptied before continuing. Christine has an encounter with poison ivy and the itching drives her nearly mad.
The last of the race is a 6-mile crossing of the exposed waters of Guadalupe Bay, but as luck would have it, upon reaching it, the winds are howling and the waves splashing over the sides of their boat. It's at night. It's pitch black and it's too dangerous to attempt a crossing. Hope is at low ebb. Can they finish within the 100 hours cut-off time? Will she reach the goal she has worked so hard to achieve? There's only one way to find out.
Amazon.com:  More Information or Purchase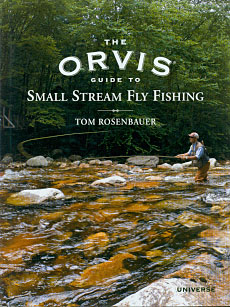 The Orvis Guide to Small Stream Fly Fishing. By Tom Rosenbauer. Universe, New York. ISBN 9780789322258
With the publication of this large format, scrumptiously illustrated work, Tom Rosenbauer has added another splendid book to his burgeoning list of titles on fly fishing.  His previous Guide to Fly Fishing has been exceptionally successful among the fishing kindred, and the Orvis Fly-Tying Guide authored by Rosenbauer was a 2001 National Outdoor Book winner.
In this book, Rosenbauer concentrates on small streams - that is streams less than 30 feet across.  Or to put it another way, streams where a single cast can, without much effort, end up snagged in the brush on the other side. 
Why small streams?  James Babb the editor of Gray's Sporting Journal who wrote the introduction to Rosenbauer's book, posits that these are the streams where one can truly learn about fly fishing.  Most importantly, these are the streams on which one can really get away from the crowds and still find solitude.  Babb explains it this way: 
"Fly fishers these days seem mostly inspired by magazine covers featuring buff dudes wearing flashy clothes and brandishing big fish caught from name-brand waters, where their long, carefully schooled casts unfurl like candy canes.  But on a small stream, there's no room for that beautiful school room cast.  And your reward, if you make the cast and don't fall splat into the pool?  A wild trout the length of a dollar bill, most likely.  Try that for a magazine cover."
If you want to get away from streams found on magazine covers - and experience the essence of fly fishing - Rosenbauer's book is a fine and pleasant way to get underway.
Amazon.com:  More Information or Purchase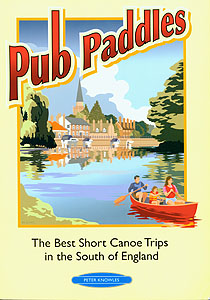 Pub Paddles: The Best Short Canoe Trips in the South of England. By Peter Knowles. Rivers Publishing, Keswick, Cumbria, UK. ISBN 9780955061417.
Can there be a better way to explore southern England? Not if you love water and tranquil rivers! With this colorful and superbly done guide, you can enjoy some of England most famous tourist attractions from the seat of a canoe, kayak or rowboat: paddle past royal palaces, castles and country houses; slip quietly under ancient stone bridges; and stop for refreshments at pubs and tea houses along the way. Don't have a canoe? No problem. Author Peter Knowles provides information on where you can rent boats for the trips - some liveries will even deliver and pick up boats for your trip. Whether you live in the UK or you're visiting from elsewhere, this book is just the ticket. Guides don't get any better than this. Well done Peter Knowles!
Amazon.com:  More Information or Purchase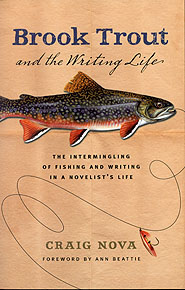 Brook Trout and the Writing Life: The Intermingling of Fishing and Writing in a Novelist's Life. By Craig Nova. Eno Publishers, Hillsborough, NC.. ISBN 9780982077146.
Craig Nova is a novelist of note, having written twelve fictional works and one autobiography. This book is a little bit about trout fishing and a lot about his writing life and family. Throughout the book, these three subjects intersect at times, diverge and intersect once again. Nova has a nice way with words: they tumble out over the page, soothingly and revealingly, like water flowing over a stony river bed.
Amazon.com:  More Information or Purchase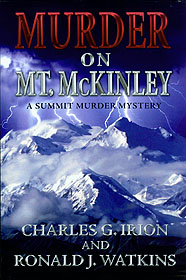 Murder on Mt. McKinley: A Summit Murder Mystery. By Charles G. Iron and Ronald J. Watkins. Irion Books LLC, Phoenix, AZ. ISBN 9780984161836
Let's see. In this murder mystery, we have two oil executives who for some obscure reason decide that a climb of Mt. Mckinley might be a suitable place to conduct business. They each drag along an aide-de-camp both of whom it appears have never climbed before and one of whom seems to have an endless supply of bottles of booze stuffed in his pack allowing him to get plastered every night on the climb. We also find an environmental group on the mountain at the same time which we learn earlier in the book has tortured a pipeline worker and hung the body scarecrow-like along the highway. They are clearly a tough bunch of enviros, some of whom don't bath on regular basis. On McKinley, of course, no one is bathing. Not satisfied with pipeline workers, the environmental group is out for bigger fish and they use dynamite to start avalanches in an attempt kill off the oil executives. When that doesn't work, a knife fight ensues at 19,400 feet. Yep. You're absolutely right. The whole premise is so silly that the book almost seems like a farce - which, perhaps, it is.
Amazon.com:  More Information or Purchase
[End of Listing]
---